Watch for Better Beef Prices at the Meat Case
By Julie Murphree, Arizona Farm Bureau Communication Director: Have you noticed? Do prices for meat seem lower? That's because you and I are already experiencing better prices at the meat case this holiday season. Prices that will stay low beyond the New Year.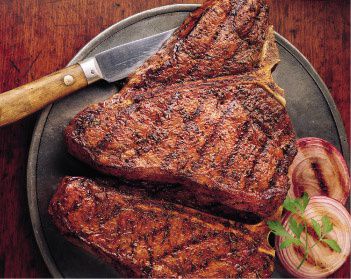 The lower retail prices on beef, including popular holiday cuts like the tenderloin and rib roast, can already be felt. Arizona Farm Bureau's most recent quarterly food price marketbasket was down 10% from a year ago. Both of the beef items (ground chuck and sirloin tip roast) were down in the quarterly survey's 16 food items. The fourth quarter marketbasket, which comes out in January, is also anticipated to be down in price.
And on the industry side beef industry analyst firm, CattleFax, reported beef prices are down more than 10% from the highs of late 2014.
A large supply of cattle across the American landscape are the biggest reason you and I are enjoying lower beef prices at the meat case, but it also means tougher times for ranchers. This last November was the largest beef production month since 2010, prompting the U.S. Department of Agriculture to raise its beef production forecast for 2016 in its World Agricultural Supply and Demand Estimates (WASDE), released December 9.
"Market forces definately favor the consumer over the producer right now, which means everyone should beef up their diets and fill their freezers with protein," suggests southern Arizona Rancher and Arizona Farm Bureau First Vice President Stefanie Smallhouse. "As a producer I'm happy to broaden our customer base through affordability but prices are barely at break even for the grower. We will take another look at efficiencies and lean more heavily on diversification during this very low market."
In Arizona, we raise enough quality beef to feed 5 million Americans. "Gathering around a delicious tenderloin or rib roast evokes cherished family memories during the holidays and, thanks to beef ranchers raising the most high quality beef, Arizonans can continue these traditions with affordable options at the meat case," said Lauren Scheller, assistant executive director for the Arizona Beef Council. "Year round, beef is a nutritional powerhouse offering zinc, iron, protein and B vitamins, while helping to maintain healthy weight and allowing us to stay fuller longer."
Beef production is currently on an upward trend, with production projected to rise 6 percent in 2016 and another 4 percent in 2017, according to CattleFax. "As beef production has increased and demand remains exceptionally strong, better prices will be passed on to consumers," said Lance Zimmerman, market analyst, CattleFax. "This holiday season, it means consumers can expect to see lower pricing reflected in retail advertising, better promotions on beef and more limited-time offers on menu items."
"With more beef available, it's an ideal opportunity for consumers to take advantage of lower prices at the meat case," said Tracy Brunner, a beef producer from Ramona, Kansas, and current president of the National Cattlemen's Beef Association, a contractor to the Beef Checkoff. "We're helping consumers do exactly that with valuable promotions and tips for easily incorporating beef into their meal planning during the holidays and into the New Year."
In addition to favorite holiday cuts, consumers will also find good deals on lean beef cuts, such as top sirloin and strip steak – good news for consumers who are looking to curb their craving heading into the holidays and the New Year.
"Research shows that lean sources of protein like beef can support a healthy weight by helping you feel fuller, longer, making high-calorie snacks and desserts less tempting," said Dr. Shalene McNeill, Ph.D., R.D., executive director of human nutrition at the National Cattlemen's Beef Association, a contractor to the Beef Checkoff.
For roasting tips and beef appetizer ideas, visit www.beefitswhatsfordinner.com for your beef preparation needs. Also, Arizona Farm Bureau hosts a variety of beef recipeson Fill Your Plate, an online directory of direct market farmers and ranchers to help Arizonans buy locally. Our most popular food item categories searched are beef and wine.