What No One Tells You about Arizona Agriculture
By Julie Murphree, Communications & Education Director for Arizona Farm Bureau: Thanks to more than a century of counting American agriculture, The United States Department of Agriculture (USDA) Census of Agriculture provides Americans with some fascinating facts about farming, certainly Arizona Agriculture. Census results are published every five years.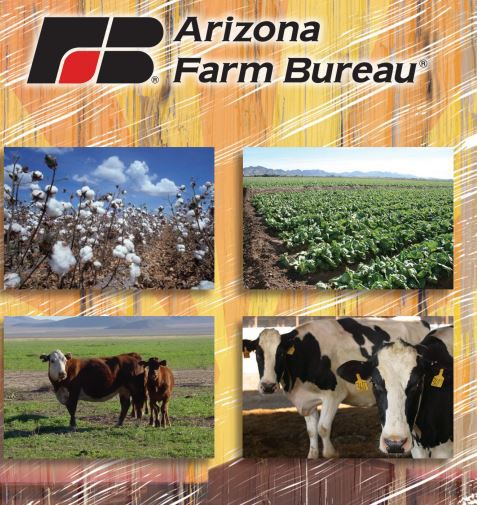 Ag census information gathered provides the most comprehensive picture of the state of American agriculture. All farms and ranches and dairy farms that have at least $1,000 in real or potential livestock or crop sales are counted in the census. In addition to collecting data about farming and ranching operations, the census gathers detailed farm operator characteristics to help paint a picture about the types of people involved with agriculture and their business structure. Additionally, detailed economic data is collected to monitor the huge economic contribution made by agriculture. All of the information is gathered at the national, state and county level. For the 2012 census (the most recent census numbers available), it took almost two years to collect and analyze responses from more than 2 million producers in the United States.
For Arizona agriculture, we also gather information from our state universities in order to track the industry's economic impact on a regular basis. As a result, we can share surprising and exciting things about Arizona Agriculture, things no one tells you – or may even know – about our farm and ranch families in this desert state.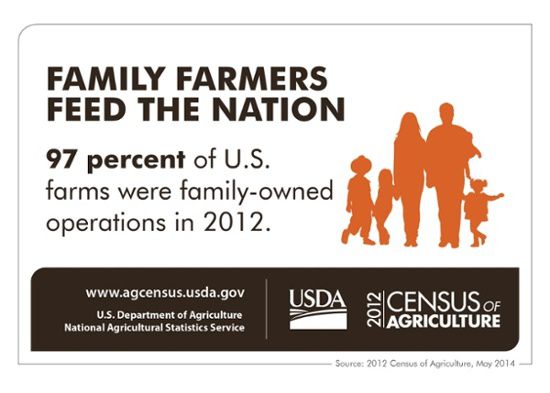 First, Five Facts to Know about Family Farms
1. Food equals family – 97 percent of the 2.1 million farms in the United States are family-owned operations.
2. Small business matters – 88 percent of all U.S. farms are small family farms.
3. Local connections come in small packages – 58 percent of all direct farm sales to consumers come from small family farms.
4. Big business matters too – 64 percent of all vegetable sales and 66 percent of all dairy sales come from the 3 percent of farms that are large or very large family farms.
5. Farming provides new beginnings – 18 percent of principal operators on family farms in the U.S. started within the last 10 years.
To highlight some of these exciting and surprising facts about Arizona Agriculture check out this sample below:
Arizona ranks second in the U.S. in head lettuce, leaf lettuce, romaine lettuce, cauliflower, broccoli, and spinach and cantaloupe production.

Arizona has more than 20,000 farms and ranches across the state, in 2007 the Ag Census reported 15,000. The majority of added farms come from tribal lands.

Thanks to a recent economic study (November 2014) by the University of Arizona and with the help of USDA Ag census numbers, we can report that Arizona agriculture contributes $17.1 billion to our state's economy.

Cattle and calves are Arizona's leading agricultural product followed by dairy production.

Arizona produces enough beef annually to feed over 4.6 million Americans.

215 pairs of jeans can be produced from 1 bale of cotton grown in Arizona.

Yuma, Arizona is the winter lettuce capital of the world.

Nationally, Arizona ranks second in the production of lemons, third in tangerine production. Our Arizona lemons and tangerines value of production was $55.6 million in the 2013/14 crop year.

Apple growers in 2012 harvested 8 million pounds.

In 2012, there was an average of 188,000 milk cows in Arizona with a yearly milk production of 23,978 pounds per cow.

Arizona has a $17.1 billion agricultural industry and growing.

Livestock production in Maricopa County, particularly cattle and dairy production, has taken the lead accounting for 55 percent of the county's total agricultural product sales.

Most farms in Maricopa County are less than 10 acres (Surprising, I know).

Less than 6% of all Maricopa County farms are larger than 500 acres. However, these relatively small number of larger farms account for the majority of agricultural sales in the County.

Statewide, this trend of "Big" farms" comprising most agriculture sales prevails with nearly 5% of the largest farms accounting for nearly 95% of all agricultural sales.

The average age of an Arizona farm operator in 2007 (the previous Census of Agriculture) was 58.5 years old. In 2012, the average producer was 58.2 years old. This is the first time in decades that the average age of farmers has declined, although minimally.

Arizona weather plays an important role in allowing Arizona to supply the nation with winter vegetables otherwise unavailable in most areas of the country.

In fact, in Arizona farmers can be planting and/or harvesting every month of the year!
Here at Arizona Farm Bureau we continue to crunch the numbers to uncover more amazing facts about our state's agriculture. Arizona agriculture has an amazing story to tell!