When You Buy it, You Know It, You Can Sell It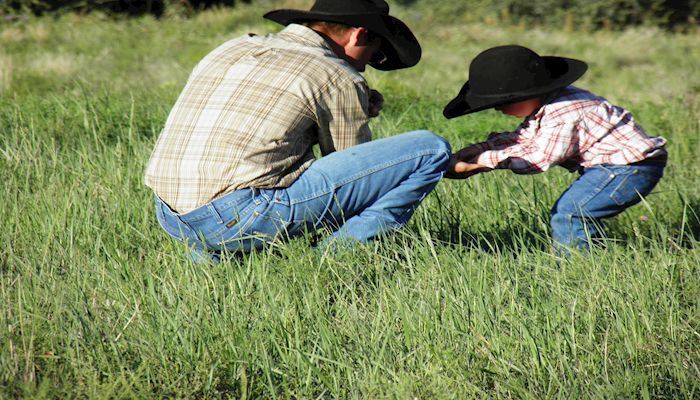 Rancher Jill Wilson needed crop insurance for her family's X4 Ranch in Gila County, Arizona. She purchased Farm Bureau Financial Services' (FBFS) crop insurance product, the pasture, range and forage (PRF) coverage. And, that's when they say, the rest is history.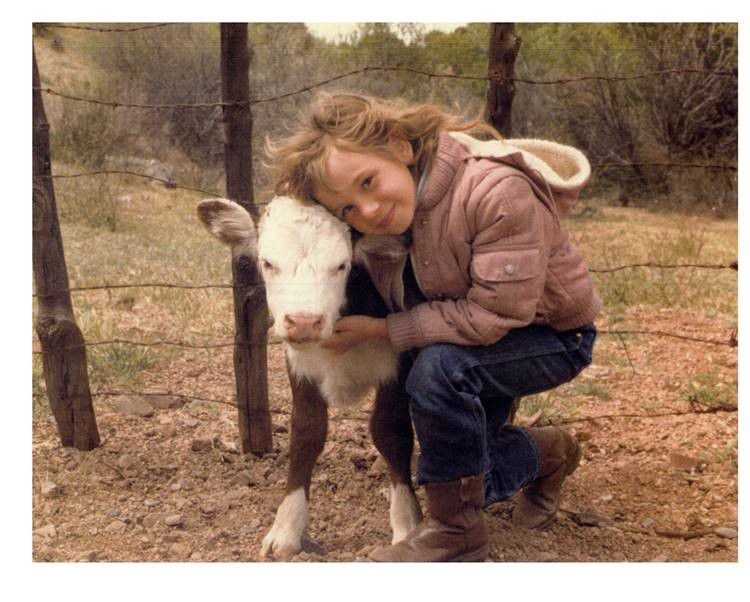 Jill as a little girl growing up on the ranch.
Wilson is also an FBFS agent. Perhaps one of its best kept secrets, Farm Bureau has offered crop and livestock insurance for its customers for some time through a partnership with Rain and Hail, a Chubb Company, headquartered in Johnston, Iowa. And, when Wilson discovered how robust the product was in protecting her own family's ranch, she realized becoming certified to sell the crop insurance product only made sense.
"As a ranching family, and having purchased the pasture, range and forage product for 2016 personally, I saw the benefit to ranchers, as well as the demand that would be coming from neighbors," says Wilson. "There wasn't anyone in our state selling it (PRF) and our past PRF agent came from Texas, so I knew there would be a great opportunity for me to get in where I fit in."
As Carla Stephenson, Director of Crop Marketing for FBFS explains, "With a lot of help from our crop insurance partners at Rain and Hail, Jill was able to obtain her certification on October 27, 2016, a short 19 days from the end of the sales period for this product. The amazing part of this story is how much business Jill wrote in those 19 days -- $3,391,952 on 22 policies."
Now it's 2017 and another November 15, 2017, deadline is looming for the pasture, range and forage coverage. But Wilson and other insurance agents are ready and focused on taking care of agriculture clients that need the coverage.
You need crop and livestock insurance and need a good product? Contact your FBFS agent. In the meantime, keep these 7 things in mind about crop and livestock insurance, according to FBFS.
1. Timing is everything: There are multiple important deadlines for purchasing crop insurance and completing farm duties to guarantee insurance coverage. Ask your Farm Bureau agent about sales closing dates for filing applications; you'll also need to follow the acreage reporting date, earliest planting date, and final planting date to ensure your crops are covered. It's essential to have crop insurance in place before you suffer a loss.
2. A range of crops are ccovered:What does crop insurance cover? In the past, not much. Crop insurance was only offered on a handful of crops. However, current policies are available on more than 130 commodities, ranging from field crops, like corn and cotton, to pasture, range, forage and livestock products. The Federal Crop Insurance Program also protects against natural disasters and the loss of revenue due to declining prices.
3. Cost calculators are available: How much does it cost to insure a crop? The truth is that it varies. The Risk Management Agency offers a cost estimator tool to help you approximate the crop insurance premium based on information about your insurance plan, county/state, commodity, acreage and other data.
4. Can I afford crop insurance? The Federal government subsidizes the farmer-paid premiums to reduce the cost to farmers. Subsidies can range anywhere from 38 to 80 percent depending on the product, level of coverage and unit option chosen. Through this Federal support, crop insurance remains affordable to a majority of America's farmers and ranchers.
5. The 2014 Farm Bill expanded coverage: To enhance the farm safety net, the Farm Bill added new products and expanded coverage. One of the new products, Whole-Farm Revenue Protection, is of particular note for farmers who grow organic and specialty crops; it covers all farm revenue in a single policy, making it easier for diversified farms to cover their crops.
6. New farmers have special privileges: The USDA Risk Management Agency, the organization that manages the Federal Crop Insurance Corporation, gives those who qualify for the beginning farmer and rancher designation an extra 10 percent premium subsidy. The program also waives the administrative fees, allows new farmers to use the production history of the previous grower on the same piece of land and offers higher substitute yield adjustments.
7. Combination coverage has advantages: Based on your crops, acreage, and location, a combination of crop insurance products might be better than a single policy. Your Farm Bureau agent can help you consider your financial needs and risk and offer suggestions for products that will provide the right amount of protection.
Again, if you're unsure about the best crop insurance options for your farm or ranch, talk to your Farm Bureau agent about your options.
Join Our Family