Arizona Farm Bureau on Water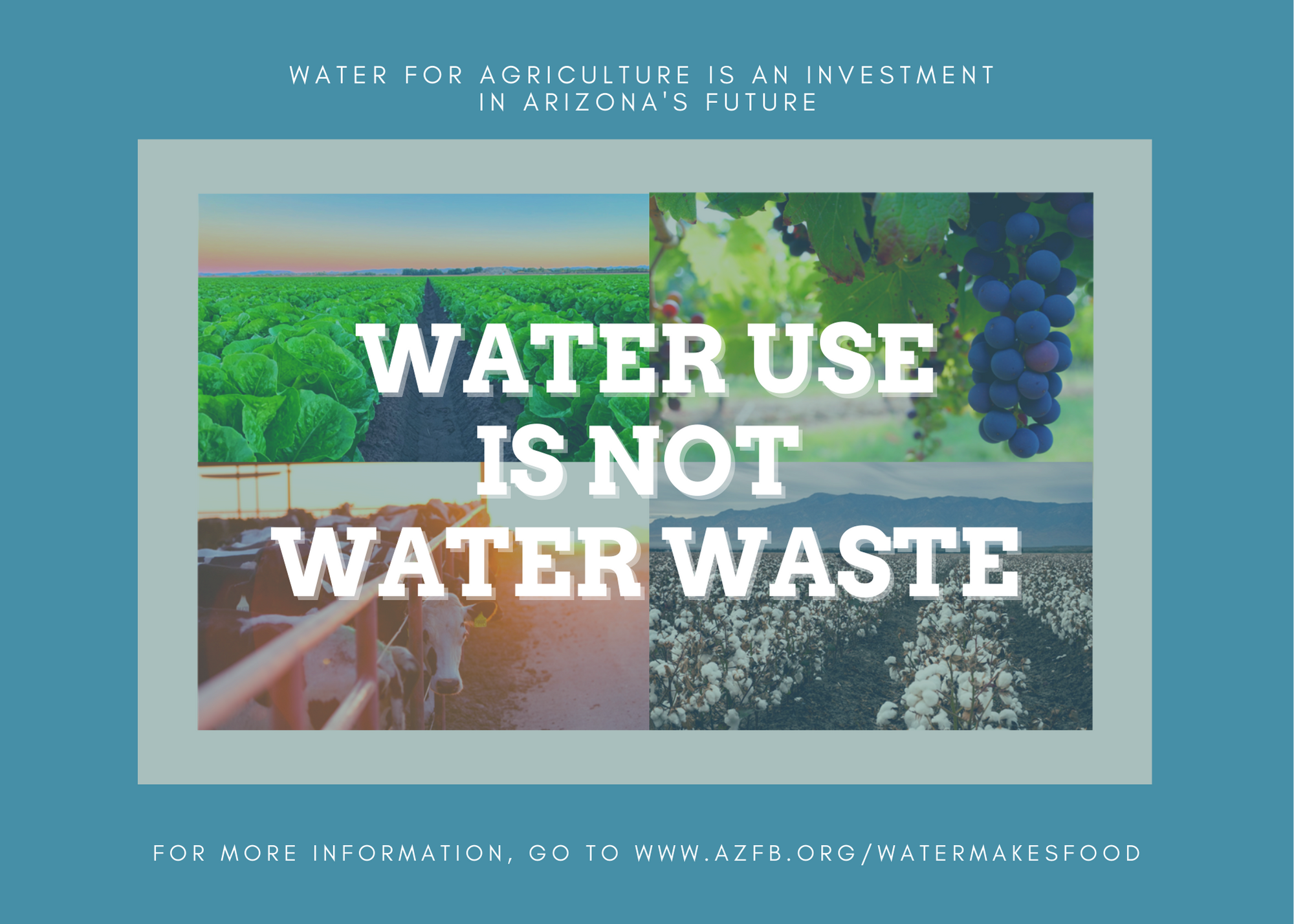 What are farmers doing to conserve water? 
The short answer: everything they can! Farmers know that water is their most precious resource. To make sure that they don't waste a single drop, they have invested millions of dollars in technology like drip irrigation, sprinkler systems, laser-leveling, and soil monitors to make sure water goes where it needs to go, precisely when it needs to go there. 
In a lot of ways, farmers are obsessed with water. 
Why do we grow alfalfa, cotton, and other "thirsty crops" in the desert? 
Sustainability isn't just a state-wide conversation; it's a nation-wide one. And it's crucial that we grow what we need in the places that grow it the best – where we can get the most crop per drop. 
Arizona's sunny days and rich soils make it the ideal climate for growing crops like cotton and alfalfa. The proof is in our numbers: Arizona cotton crops average nearly 1500 pounds of cotton lint per acre, in comparison with a national average of just over 900 pounds per acre. Alfalfa in Arizona can produce more than 8.5 tons per acre, compared with a nation-wide average production of around 3.2 tons per acre. 
To replicate Arizona's production of these key crops outside of our state, it will take more land, more water, more fuel, and more of every other resource that's necessary to produce a quality crop. 
What about farms that sell crops to other countries, effectively "exporting" Arizona's water? 
It's true that not all crops grown here in Arizona are used here in Arizona, or even in the nation. But that's true of everything we manufacture here and sell somewhere else – we call it "trade." 
Think about every pair of jeans or t-shirt that we import into the US. Or about every blueberry or grain of rice we consume. How about the microchips that empower everything from our phones to our cars to our TVs? Water, or more accurately, the goods that it makes possible, is traded across borders every single day, so much so that it's likely that Arizona is a net importer of water. Restricting free agricultural trade and business just because it moves resources out of our state will set precedent with disastrous consequences, now and into the future. 
What does Arizona Farm Bureau believe about regulating water?

We need statewide efforts when it comes to water planning, but those efforts should be subject to local community support and control. 
We believe any statewide water plan should be designed to support increasing city populations in the Active Management Areas (AMAs) while maintaining a significant agricultural industry in Arizona. Where development occurs within AMA's and INA's, it should be on land with a historical use of water.
We support the use of groundwater on agricultural lands and grandfathered irrigation rights on lands with historic water use. We also believe that, where feasible, surface water should be used rather than groundwater.
We support the continued use of the best management practices alternative conservation plan, as part of a workable, economically and environmentally sound plan for agricultural water management and conservation.
Any mandatory conservation program for agriculture must be economically, agronomically and technically feasible and reflect differences in farming conditions and cropping patterns.
No government policy should be used to interfere with agricultural use of water, as long as a source of water is available.
We support water augmentation efforts for communities and watersheds, where those efforts enhance supplies without negatively impacting another area.
Water transfers should be transparent, consider all community impacts and be subject to local control.
The Department of Water Resources should be adequately funded to meet public expectations and legal obligations.



While Arizona agriculture represents a $23.3 billion economic contribution, the industry has decreased per acre water usage due to technologies and efficiencies. We produce more and better with less.
Arizona uses the same amount of water today as it did in 1957. It is quite a success story, and agriculture's conservation efforts play a large part.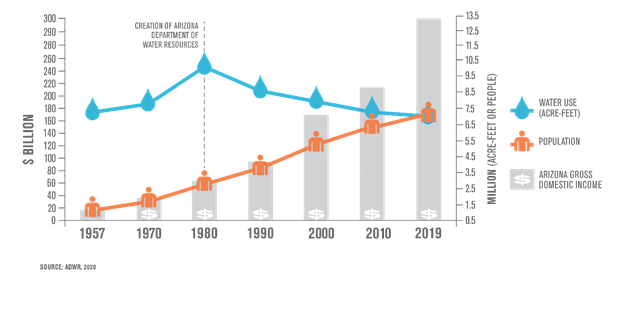 Water for agriculture is an investment in Arizona's future.