Arizona Agriculture Keeps Getting Better at Knowledge Transfer
By Julie Murphree, Arizona Farm Bureau As are all Farm Bureau years, 2013's beginnings have been a whirlwind of activity, enlightenment and excitement! Much of it began in January when I was privileged to interview Howard Buffett for Arizona Agriculture. President of the Howard G. Buffett Foundation, Buffett met with me at his 1,400-acre Willcox farm. The interview, featured in the March 2013 issue of Arizona Agriculture, gives us a window into this humanitarian's soul. What the interview didn't share in detail is his great desire to see more collaboration between researchers and farmers.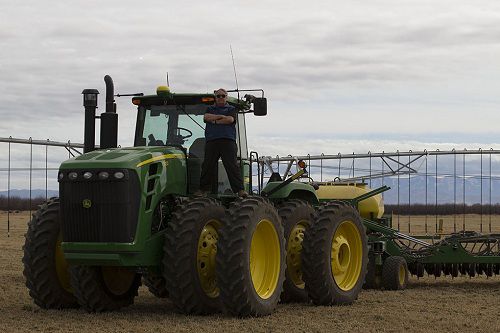 While you might not be surprised at the Howard G. Buffet Foundation's focus on research, you might be pleasantly surprised to find out how hard they're working to create even greater synergy between farmers and researchers. "As it relates to the transfer of solid research to the field," says Howard G. Buffett, "we want to see a greater blending of farmers and university researchers together. You do see this but the greater value is to make it a common practice."
"We're playing a role in this effort," Buffett further explains. "In 2013, we're getting everything set up to make it work. I hope by 2014, we can sit down and talk with ASU and U of A to discuss what we have and what we can absorb."
Certainly, if we get to be a "mouse in the corner" as farmers and researchers sit down together, they might spend valuable time just arguing the case of synergy from both sides. In other words, that it already exists. And, yes, both sides probably have very valid points.
Shane Burgess, the dean of the College of Agriculture and Life Sciences (CALS) for the University of Arizona in Tucson might be one of those on the education/research side to argue that much effort already exists for effective and successful transfer of knowledge from lab to land. "We are Arizona's land grant university and we need to be that to everyone in Arizona. All of the U.S. land grant universities are the product of three federal acts - the Morrill Act of 1862; the Hatch Act of 1887; and the Smith-Lever Act of 1914. In short, these three acts together say that we must teach everyone, especially those who do not come from wealth and/or privilege; conduct research, and maintain 'experiment stations' which should have a direct bearing on, and contribute to, a permanent and effective agricultural industry (as well as any other industries today); and establish an educational outreach arm to "extend" the results of our research programs to all citizens who might benefit from them. Again today this includes agriculture and more."
Listening to these two voices - the professor/researcher and the farmer/humanitarian - one quickly sees the common goal and the common ground. But lab to land synergy and back again always has challenges, must be planned and typically takes more time than any of us are willing to wait for.
"The reason why ASU and U of A ultimately are so important to us," says Buffett, "is Arizona." In our interview in January, Buffett went on to discuss the value of proximity and infrastructure issues. In research, time and money are often the biggest obstacles to furthering advances in technology and more.
Perhaps an even more robust relationship between farmer and researcher is closer at hand than imagined from the perspective of the Buffett Foundation. "Once we have a good handle on getting everything started, we'll be ready to go," says Buffett. "We're concentrating on the basic infrastructure issues we're creating [for the Willcox farm]."
And most important to the foundation, "We can't fund anything that doesn't ultimately become public," he adds.
Regardless, today we have stakeholders eager to support each other's efforts. As resources are married to efforts, we'll see the agriculture industry in Arizona continue to benefit.