Arizona Agriculture Well Represented at EPA Hearing
By Julie Murphree, Arizona Farm Bureau: It was really one of those events where "you should have been there." You really should have been there. Seriously. Yesterday's joint field hearing in Phoenix regarding the Environmental Protection Agency's (EPA) newly proposed water rule memorably highlighted everything that's wrong about EPA's latest power grab.
A packed hearing room down at the state capitol held a variety of interested parties; Arizona agriculture was especially well represented thanks to leaders like Stefanie Smallhouse, Arizona Farm Bureau's First Vice President.
Hosted by U.S. Congressmen Paul Gosar and David Schweikert, four other members of the United States Congress including Lamar Smith (R-TX), Chairman of the House Science, Space, and Technology Committee also attended.
"Resounding testimony today from Arizona witnesses confirmed that the EPA's proposed water grab runs contrary to state and tribal water laws and would have devastating economic consequences for farmers, ranchers, small businesses, and water users in Arizona and throughout the country," declared Congressman Gosar.
"The EPA is once again overreaching and attempting to seize control of more of our resources - in this case water - by attempting to expand the definition of navigable waters to include things like intrastate waters, farm and stock ponds, prior converted crop lands, prairie potholes and trenches that contain rainwater. Arizonans can't afford more economic hurdles and thieveries of precious water supplies from an overzealous, unaccountable federal government operating in hyper mode.
"It's unfortunate the EPA and the Army Corps of Engineers refused to participate in the hearing. I think they would have learned a lot from hearing from the people on the ground in Arizona. I would encourage them to hold regional listening sessions in the future to ensure they hear from the citizens that will be most impacted from this flawed rule."
Arizona Agriculture's Own Stefanie Smallhouse...
What really seemed to "strike a chord" with those in attendance was testimony from First Vice President Smallhouse. "The newly proposed EPA rule for the Waters of the U.S. would be devastating to my family's farming operation, as well as hundreds of others in agriculture in Arizona…This proposed rule is an economic disaster, and a dream killer for my kids. There is no way a family farm such as ours would be able to withstand the hefty fines which would be enforced as a result of this rule."

Smallhouse went on to outline the negative impact EPA's proposed rule would have on farming and ranching in Arizona and across the country. "To farm and ranch is to be at the mercy of Mother Nature not the whims of regulators at the EPA and the Corp. When it's time to plant, it's time to plant. When it's time to move cattle it's time to move cattle. We must be flexible depending upon the weather, we cannot wait a year, a month, or even 3 weeks for a permit which is not guaranteed and will likely be stacked with erroneous, inflexible, and illogical compliance criteria. The newly proposed rule would have us applying for multiple permits, multiple times a year for ordinary land-use activities or face thousands of dollars in fines and penalties.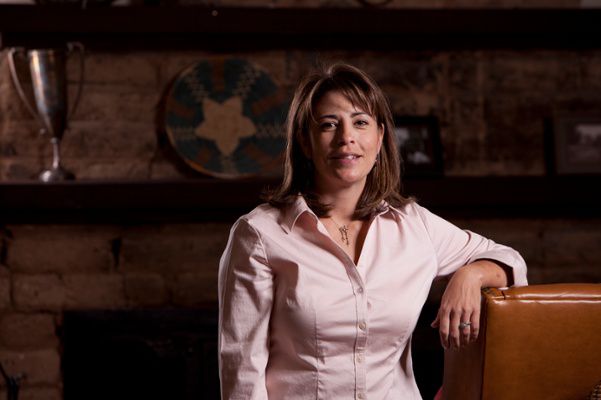 Stefanie Smallhouse
"Not only would the proposed rule suffocate our normal operations erroneously in the name of water quality, but it also unnecessarily opens up our daily lives to EPA compliance with the Fish and Wildlife Coordination Act. The ambiguous wording of the rule is ripe for litigation as left to the interpretation of agency enforcement and environmental litigants."
She not only highlighted the hazards the proposed rule would hang on farmers and ranchers, but the negative impact on you and me. "The proposed rule would have far reaching negative economic impacts related to food costs, the vitality of rural communities, and dissolution of family farms. There is no way a family farm such as ours would be able to withstand the hefty fines which would be enforced as a result of this rule. I have no doubt, that my family and hundreds of other Arizona farming families will be forced to break the rule, given that it is unavoidable to manage a farm or ranch without the ability to make critical decisions on the hour based upon changing conditions. There is no possibility we could account for these costs in our operation. I would love to speak more specifically to the economic impacts just to Arizona agriculture in general, but this would be very difficult to do considering the broad ambiguity and unknowns in the implementation of this rule.
"A recent report by economist and University of California-Berkley faculty member Dr. David Sunding has given a failing grade to the EPA's economic study of the proposed rule. According to the report, the EPA excluded costs, under-represented jurisdictional areas and used flawed methods to arrive at much lower economic costs of the proposed rule. There is a serious lack of transparency in the report making it difficult to understand or replicate EPA's calculations, examine the agency's assumptions or understand discrepancies in its results. For example, the EPA alleges that only 1,300 acres will be affected by the rule. This is ludicrous. That would not even account for one farm such as mine."
Finally, Smallhouse brought it home by talking about her own household. "My daughter, Hannah, is 10 and my son, Johnny, is seven. They live, work, and play on the land where five generations of family have lived and worked before them. In 130 years we have overcome adversity in everything from the fight over territorial land and decades-long droughts to extreme commodity price swings. We have done this through determination, hard work, and ingenuity. Now we face a new challenge for which I am determined to fight, but it pains me to think that after all those hard fought battles, our own federal government wants us to fail and take away the rights and desire of my children to grow food."
After the panel that Smallhouse sat on was dismissed and the group dispersed to sit among the audience participants again, one women in the row ahead of us turned around to Smallhouse and said, "That was the most compelling testimony of the day; I wanted to stand up and clap after you spoke."
Earlier in the day, Smallhouse was on national television telling the Fox channel's Fox and Friends the impact of EPA's proposed rule.
Other Notable Quotes from the Hearing:


Bob Lynch, testifying on behalf of the Irrigation and Electrical Districts' Association of Arizona said, "The EPA and the Corps have driven a truck through Justice Kennedy's opinion in Rapanos. According to them, everything is relevant, everything affects everything, and everything is jurisdictional… How many permits will the Central Arizona Project need? Will it have to treat the water before it stores it in Lake Pleasant? Before it releases it back into its system to deliver to cities, towns, industries and agriculture? And who will be able to afford it? Certainly not agriculture…This may be the biggest jurisdictional overreach that I have witnessed in 50 years of law practice. I hate to say it but the only people who come out ahead on this proposed rule are lawyers."

Michael Lacey, testifying on the behalf of the Arizona Department of Water Resources said, "The EPA's proposed rule may serve to jeopardize the viability and resiliency of Arizona's existing water portfolio and water delivery infrastructure and threaten development of the additional water supplies that will be necessary to sustain Arizona's economic development. We are both puzzled and troubled as to why EPA has not worked with the states in this rules development."

Governor Gregory Mendoza testifying on the behalf of the of Gila River Indian Community said, "The Community is concerned that the Proposed Rule constitutes an over-reach of the Agencies' CWA authorities that will result in increased permitting costs, delays, and potential litigation...The Proposed Rule should not have been issued before the EPA is able to confirm the scientific conclusions upon which the Proposed Rule has been based."
Background:
On March 25, 2014, the Environmental Protection Agency (EPA) and the U.S. Army Corps of Engineers (USACE) released a proposed rule that would assert Clean Water Act (CWA) jurisdiction over nearly all areas with any hydrologic connection to downstream navigable waters, including man-made conveyances such as ditches. Contrary to claims made by the EPA and USACE, this would directly contradict prior U.S. Supreme Court decisions, which imposed limits on the extent of federal CWA authority. Although the agencies have maintained that the rule is narrow and clarifies CWA jurisdiction, it in fact aggressively expands federal authority under the CWA while bypassing Congress and creating unnecessary ambiguity. Moreover, the rule is based on incomplete scientific and economic analyses.
The proposed rule can be downloaded here and the corresponding study released with the rule can be downloaded here.
Participants on the Dais:


U.S. Congressman Lamar Smith, Chairman of the House Science, Space, and Technology Committee
U.S. Congressman David Schweikert, Chairman of the House Science, Space, and Technology Subcommittee on the Environment
U.S. Congressman Paul Gosar, D.D.S., Member of the House Natural Resources Subcommittee on Water and Power
U.S. Congressman Matt Salmon
U.S. Congressman Trent Franks
Arizona State Senator Gail Griffin, Chairman of the Arizona Senate Committee on Water, Land Use and Rural Development

Witnesses: Michael Lacey of the Arizona Department of Water Resources, Governor Gregory Mendoza of Gila River Indian Community, Jay Johnson of the Central Arizona Project, Dr. Kirsten Engel of the University of Arizona, Stefanie Smallhouse of the Arizona Farm Bureau, Bob Lynch of Irrigation and Electrical Districts' Association of Arizona, Spencer Kamps of the Home Builders Association of Central Arizona, Matthew Hinck of the Arizona Rock Products Association, and Nicole LaSlavic - Arizona Association of Realtors
Environmental Protection Agency (EPA) Administrator Gina McCarthy and Army Corps of Engineers Commanding General and Chief of Engineers Lieutenant General Thomas P. Bostick were invited to attend but refused the invitation to participate.