Arizona Agriculture: What's all the Buzz About!?
By Staff Reports, Arizona Farm Bureau: There's a new children's book on the market – one written specifically to tell kids about modern agriculture in Arizona. The book is narrated by Pee Wee Bee, who flies around the state to showcase a variety of crops and livestock.
Arizona Agriculture: Bee's Amazing Adventure brings farming and ranching in the Grand Canyon State to life, exploring the state's rich agricultural diversity.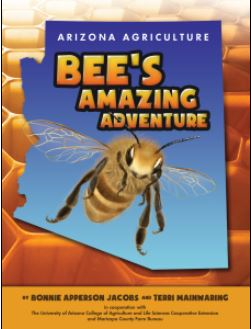 "You won't find red barns and gray silos in this book," said Monica Kilcullen Pastor, who heads the Agricultural Literacy program for the University of Arizona College of Agriculture and Life Sciences Cooperative Extension. "The photos in this book were all taken right here in Arizona."
But this book is more than photos and descriptions. Pee Wee Bee describes herself as "one proud and gorgeous" Arizona honey bee and narrates the book with humorous comments. "What's the Buzz?" boxes add fun facts throughout.
Authors Bonnie Apperson Jacobs and Terri Mainwaring are lifelong educators and they insisted that the book not only be packed with facts but also be colorful and fun for kids to read.
The book is a collaborative effort between the authors, The University of Arizona College of Agriculture and Life Sciences Cooperative Extension (CALS-CE), and Maricopa County Farm Bureau (MCFB). Jeannette Fish, Executive Director of MCFB and Monica Pastor, Associate Programmatic Area Agent, Ag and Natural Resources of CALS-CE, provided technical advice.
"This book was developed because none of the existing children's books about farming depicted irrigated farming and high desert ranching the way it operates in Arizona," explained Fish and Pastor. "We needed a book for children that would showcase the reality of Arizona agriculture for the University of Arizona's Arizona Agriculture Literacy Day program." Agriculture Literacy Days are the three days before Thanksgiving each year.
The Agriculture Literacy Days program started in 2005 and after only a few years it became obvious that the books selected to read to elementary school students did not depict Arizona agriculture accurately. Mrs. Pastor made a proposal to the Maricopa County Farm Bureau for funding to create a book that would fill this need.
The Maricopa County Farm Bureau (MCFB) Board of Directors approved a proposal in 2010 from Extension for the initial investment to find an author and begin the process of publishing the book.
"As we developed this project, we wanted students to understand how deeply their lives are impacted by agriculture," explained Mrs. Pastor. "Farmers and ranchers play a critical role in our lives, and we are thrilled with this opportunity to help children appreciate how important agriculture is to us all."
MCFB board members also served on the committee to select the authors and the concept for the book. But then began the extensive process of actually writing the book, multiple edits, choosing the right photographs, finding a publisher and raising the funds to get it published.
Little Five Star Publications, which prints a number of children's books about the natural wonders of Arizona, was selected.
"We are so excited about this amaz-z-z-ing project!" says Linda F. Radke, President of Five Star Publications, Inc., the parent company of the book's publisher, Little Five Star. "Little Five Star books are geared toward shaping growing minds, and Bee's Amazing Adventure makes learning so much fun. This book is truly a tribute to the men and women who dedicate their lives to farming and ranching in Arizona. It's such a pleasure to help raise awareness of their important work."
Here's how Little Five Star describes Bee's Amazing Adventure: "Educating students about the vast impact of agriculture on Arizona's economy, the story both educates and entertains young readers with fun facts, vibrant photography and captivating illustrations. Incorporating extensive research, phonemic awareness and rich vocabulary into an engaging storyline, Pee Wee Bee's adventure showcases Arizona's diverse agricultural products and services. The book also includes an accurate accounting of the use of farm and ranch technology, highlighting an intrinsic love of the land that draws farmers and ranchers to agribusiness and emphasizes the value of preserving the environment and caring for the earth."
Little Five Star has launched a campaign to give every third grade student in the state a free copy of the book. The project immediately garnered support from McDonald's. "McDonald's of Arizona is excited to help sponsor the gifting of Arizona Agriculture: Bee's Amazing Adventure to our state's third-grade students this November during The University of Arizona Cooperative Extension's Arizona Agricultural Literacy Days," says Michelle Slayton, president of McDonald's Owner/Operator Association of Phoenix and northern Arizona. "McDonald's proudly supports the hardworking farmers and ranchers of Arizona. Many of the quality ingredients for our great-tasting menu options are purchased from Arizona suppliers. On an annual basis, McDonald's in Arizona spends more than $43.7 million on food, sourcing local farmers and ranchers, purchasing millions of pounds of lettuce, beef, tomatoes, and lemons. We support literacy and believe this book will help educate our next generation about the importance of Arizona agriculture in our daily lives."
To purchase the book or donate to the campaign to give a book to every third grade student, call (480) 940-8182 or visit www.ArizonaAgricultureBook.com. Classroom presentations, author engagements and volume discounts are available.
Arizona Agriculture: Bee's Amazing Adventure is funded, in part, by the Arizona Department of Agriculture, Agricultural Consultation and Training Program using Specialty Crop Block Grant funds from the USDA's Agricultural Marketing Service.