Arizona Agriculture's Alcantara Vineyards Earns Value-Added Producer Grant
By Julie Murphree, Arizona Farm Bureau: The USDA awarded $25 Million to agricultural entrepreneurs to turn commodities into Value-Added Products. The funding supports local and regional food systems, beginning farmers and ranchers. One awardee was Arizona agriculture's Alcantara Vineyards and Winery.
Alcantara means bridge and may be a fitting moniker considering that the 10-year-old winery in the Verde Valley in northern Arizona just received more than $100,000 in USDA grant monies to help take Alcantara Vineyards to the next level. This woman-run business has a great focus on agriculture, contributing to the community and supporting other small business in the area.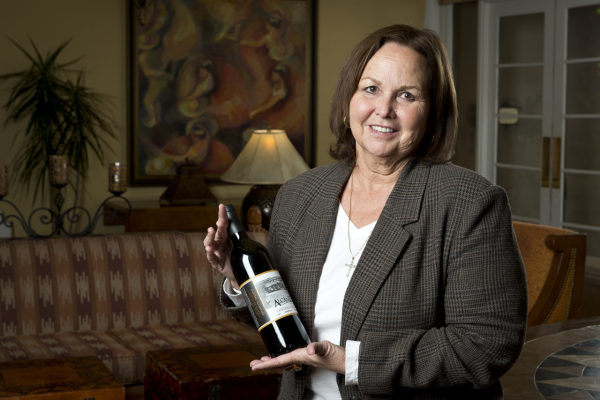 Barbara Predmore of Alcantara Vineyards and Winery.
The funding is being provided through USDA Rural Development's Value-Added Producer Grant program. The program helps agricultural producers grow their businesses by turning raw commodities into value-added products, expanding marketing opportunities and developing new uses for existing products. This year, 247 farms nationwide received at total of $25 million to help rural businesses grow, diversify and create jobs.
Agriculture Secretary Tom Vilsack recently highlighted the importance of rural entrepreneurs to the U.S. economy. "The funding will have far-reaching, positive impacts in rural communities across the country," Vilsack said. "The investments will help businesses create new products, expand their operations, and support local and regional food systems. The new Farm Bill expands this program to provide even more of these opportunities."
For Alcantara, it means furthering the dream that owner and proprietor Barbara Predmore, a Farm Bureau member, started more than a decade ago. "It's all about slowing down and appreciating both the land and the wine," said Predmore in a recent publication.
The 87-acre vineyard and winery is located at the confluence of the Verde River and Oak Creek and currently produces 12 different varietals. "The rocky limestone soil and sunny climate in the Verde is very similar to the wine making regions of France and Italy and after two years of experimentation the results are everything we hoped for and then some," Adds Predmore. "We have the most estate grapes. Alcantara's wine maker and vineyard manager helps other Arizona-based wineries with vineyard and wine consulting."
The Alcantara tasting room is designed in the traditions of a quant Tuscan farmhouse. The outside deck is surrounded by beautiful scenery including the river. In the middle of the vineyard is a chapel used for weddings and other events.
The Rural Development funds awarded to Alcantara will be used as working capital for increasing the vineyard's operational capacity for winemaking and expanding their market program. "They're not just giving us the money. We have to first invest our own dollars and they then reimburse us; this contribution will work out to about 50 cents to the dollar. The idea is to assist and inspire us, and other businesses awarded grant monies, to invest and go to the next level with our businesses. We're absolutely thrilled that USDA is looking at the rural communities and helping us grow them. I am so enthusiastic about the economic contribution agriculture gives to us and this grant is part of that process."
In all, three other Arizona agriculture businesses were awarded dollars from the grant.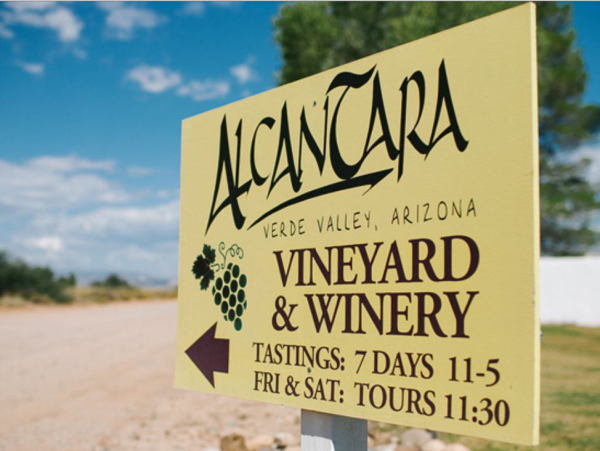 About the Value-Added Producer Grant
Since 2009, USDA has awarded 863 Value-Added Producer Grants totaling $108 million. Twenty percent of the grants and 16 percent of total funding has been awarded to beginning farmers and ranchers. The 2014 Farm Bill increases mandatory funding for the program from $15 million to $63 million over five years (while also reauthorizing an additional $40 million in discretionary funding).
The grants can be used for a wide range of purposes. They can support local and regional food systems, further the development of the growing bioeconomy, and finance the distribution of local and regional products.
For example, Miles Smith Farm LLC in Loudon, N.H., has been selected for a $127,732 Value-Added Producer Grant to market and produce burgers made from 55 percent grass-fed beef and 45 percent organically raised pork. By mixing ground pork with extra-lean, grass-fed ground beef, the farm can produce a burger with the ideal fat and flavor levels that grass-fed ground beef does not have alone. Miles Smith Farm's owner calls the mix "the burger that squeals with flavor." Value-Added Producer Grants often help business develop markets for niche and specialty products.
In neighboring Vermont, North Hollow Farm LLC, in Rochester, is receiving a $161,204 grant to expand processing and marketing of grass-fed beef and natural meats. FarmieMarket Online LLC in Rensselaerville, N.Y., has been selected for a $24,490 grant to expand its online presence for 16 small farmers who produce a broad range of fresh foods that are aggregated and sold online, expanding their customer base.
Value-Added Producer Grants are an element of USDA's Know Your Farmer, Know Your Food initiative, which coordinates USDA's work to support local and regional food systems. Previous Value-Added Producer Grants supporting local and regional projects are mapped on the Know Your Farmer, Know Your Food compass.
USDA is awarding Value-Added Producer Grants in 46 states, Puerto Rico and Micronesia. A full list of recipients is available here. Funding for each project is contingent upon the recipient meeting the terms of the grant agreement.
The announcement of funding was made possible by the 2014 Farm Bill. The Farm Bill builds on historic economic gains in rural America over the past five years, while achieving meaningful reform and billions of dollars in savings for taxpayers. Since enactment, USDA has made significant progress to implement each provision of this critical legislation, including providing disaster relief to farmers and ranchers; strengthening risk management tools; expanding access to rural credit; funding critical research; establishing innovative public-private conservation partnerships; developing new markets for rural-made products; and investing in infrastructure, housing and community facilities to help improve the quality of life in rural America. For more information, visit www.usda.gov/farmbill.