Arizona Agriculture's Hickman's Family Farms Earns Special Recognition by State Legislature
By Julie Murphree, Arizona Farm Bureau: Introduced by Representative Brenda Barton (LD-6), recognition was given to Hickman's Family Farms for their agriculture contribution to Arizona last night on the floor of the Arizona House of Representatives.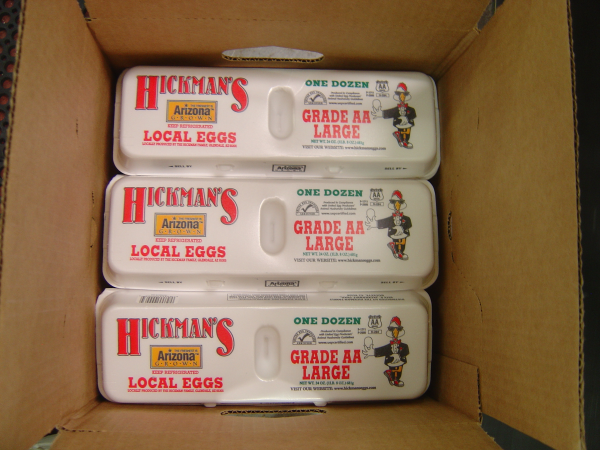 Members of Arizona Farm Bureau, the Hickman family has served up fresh eggs to Arizona families since 1944. Yesterday's recognition celebrates a farm family and Arizona agriculture. The proclamation is below.
Arizona House of Representatives
House Recognition
of
Hickman's Family Farms
Whereas, Hickman's Family Farms is celebrating its 70th year in business in Arizona; and
Whereas, the business was established in 1944 by Nell Hickman in Glendale, Arizona and over the subsequent years it was expanded from 50 hens to a modern agricultural production by Nell's son Bill Hickman and his wife Gertie; and
Whereas, Hickman's Family farms is currently owned and managed by Bill and Gertie's children Glenn, Billy, Clint and Sharman – 3rd generation Arizona farmers and 4th generation Arizona natives; and
Whereas, Hickman's family Farms raises 6.5 million hens and 1 million pullets in Arizona; and
Whereas, Every morning Hickman's Family Farms supplies breakfast for over 5 million people; and
Whereas, Their business is a "sustainable" enterprise, with all waste streams being processed and sold as fertilizer to produce more crops to feed more people and animals; and
Whereas, Hickman's Family currently employ approximately 400 women and men and they are growing; and
Whereas, They are building a state of the art farm in Tonopah, Arizona with the first eggs to be produced in September 2014. The new farm will add another 35 jobs to the Arizona economy; and
Whereas, Hickman's Family Farms is a good neighbor, and excellent steward of the environment and a significant part of Arizona's $12.4 billion dollar agricultural industry.
Therefore, The Arizona House of Representatives hereby recognizes Hickman Family Farms for their dedication and commitment to the continued growth of Arizona Agriculture.
Dated this 23rd day of April, 2014
Andrew M. Tobin
Speaker of the House
Brenda Barton, LD - 6
Agriculture & Water Chair
Darin Mitchell
House of Representative, LD - 13
Steve Montenegro, LD - 13
Reform & Human Services Chair
We celebrate our Arizona farmers and ranchers too!