Arizona Agriculture's Livestock Industry Seeing Potentially Positive Times
By Julie Murphree, Arizona Farm Bureau: An expanding supply and strong demand for meat and poultry will create a positive outlook for future livestock markets, according to Dr. Glynn Tonsor, associate professor in the Department of Agricultural Economics at Kansas State University. Tonsor presented to farmers and ranchers from across the country including Arizona Farm Bureau's more than 50-member delegation during a featured workshop on the livestock market outlook at the American Farm Bureau Federation's 96th Annual Convention in San Diego last month.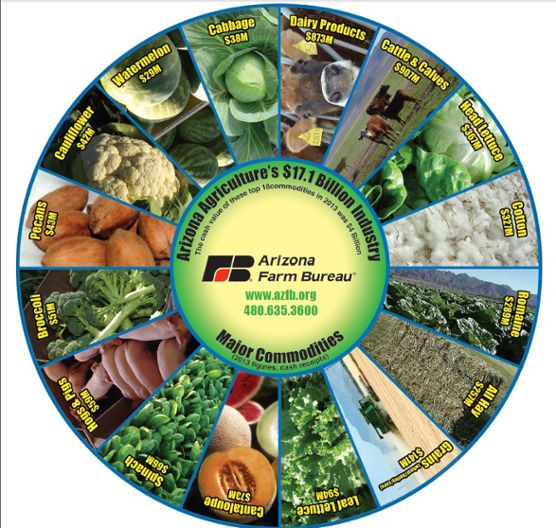 Our 2015 Arizona Agriculture Pie Chart reveals cattle and dairy as the largest 2 commodities in terms of cash receipts.
"The meat-to-feed price ratios will be very attractive, which will create a multi-year period of industry expansion," Tonsor said. Producers can look for an expansion in pork sooner than in beef, but an overall increase in U.S. red meat and poultry will occur in the first quarter of 2015, according to projections. Tonsor also mentioned that global demand for meat provides a long list of reasons to be confident.
This news bodes well for Arizona agriculture since of the 20,000 farms and ranches currently in Arizona, 14,896 are livestock farms or operations. And since the dominate agriculture in Arizona is livestock, it's notable that the two largest agriculture commodities based on cash receipts is cattle and dairy: $907 million in cash receipts for cattle and calves, $873 million for dairy (2013 figures, according to the USDA). Our swine industry in Arizona contributes $59 million in cash receipts.
Certain circumstances in the U.S. could have effects that push the market in either direction. Changes in the economy like lower gas prices and perhaps wage increases could allow for additional expendable income for consumers to spend on protein, yet the impact of pork diseases such as porcine epidemic diarrhea virus and porcine reproductive and respiratory syndrome as well as pasture and range conditions have not yet been fully determined, Tonsor said.
Key political issues to keep an eye on that could have major effects on livestock markets include country of origin labeling, international poultry trade bans, and public acceptance of scientific advancements, he pointed out.
Tonsor ended his presentation by challenging producers to understand that the livestock industry is constantly changing.
"This is not your father's world anymore," Tonsor said. "Recognize what it is going to be like to be a producer in the coming years because it is going to be different."