Arizona Agriculture's Mr. Kelly Goes to Washington
By Christy Davis, Arizona Farm Bureau: In February, Arizona Farm Bureau's Young Farmer & Rancher Committee (YF&R) took a delegation of 13 members to Washington D.C. to discover the importance of producer meetings with law makers on their home turf. Several issues were discussed during meetings with Arizona's Congressional delegation highlighting the direct impact some of our federal laws and regulations have on farming and ranching, especially an issue that Apache County rancher Ty Kelly brought with him.
Kelly has been to Washington D.C. before but this time he was ready to share an issue that had a direct impact on his ranching operation. The issue relates to ranchers' annual operating inventory when they meet with the U.S. Forest Service to determine how many cattle they can run on their Forest Service permit.
During Kelly's recent meeting with the U.S. Forest Service, he was told the appeals process no longer existed. Through a series of scientific evaluations and processes cattlemen can appeal inventory numbers given by the Forest Service if a rancher believes the number should be different.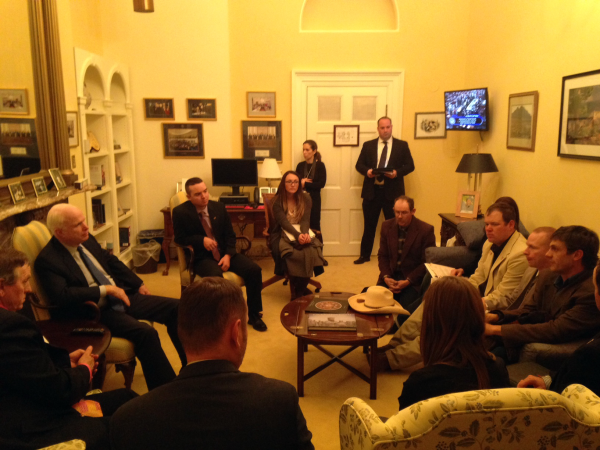 Arizona's Young Farmers & Ranchers met with Senator John McCain in February to share their concerns. Counter clockwise, beginning with Senator McCain: Senator John McCain, Arizona Farm Bureau President Kevin Rogers, Reed Flake, Reba Klump, Rancher Ty Kelly, Brian Stotzman, Young Farmer & Rancher Chair Eric Rovey, Angie Newbold (hidden from view), Cole Newbold, Shavan Flake, Tyler Bowen.
Ranchers are boots on the ground and oftentimes can assess and understand the grazing requirements and potential as good as or better than others. Ranchers approach this effort with business focus as their livelihood and business depends on it.
"The fact is ranchers basically grow grass," says Pima County rancher and Arizona Farm Bureau's First Vice President Stefanie Smallhouse. "Ranchers are going to be the first ones to appropriately modify their numbers because they know that grass must be sustainable into the future. Many times these range decisions are made with broad strokes without the agency being on the ground. This could either be due to staffing constraints, funding or political pressure. Which doesn't make it right; therefore any decision should be postponed until proper evaluation can be made."
Concerned about the range decision for his operation and knowing that not many people were aware of the changes in the appeals process, Kelly planned to share the experience with lawmakers during the upcoming trip to Washington D.C. Though a rancher or farmer might have concerns about what's happening on the ground with their farms and ranches, when he or she talks to a senator or representative the hope is that they're at least listening and that if there is ever a need to vote in favor of the agricultural industry they will remember the visit.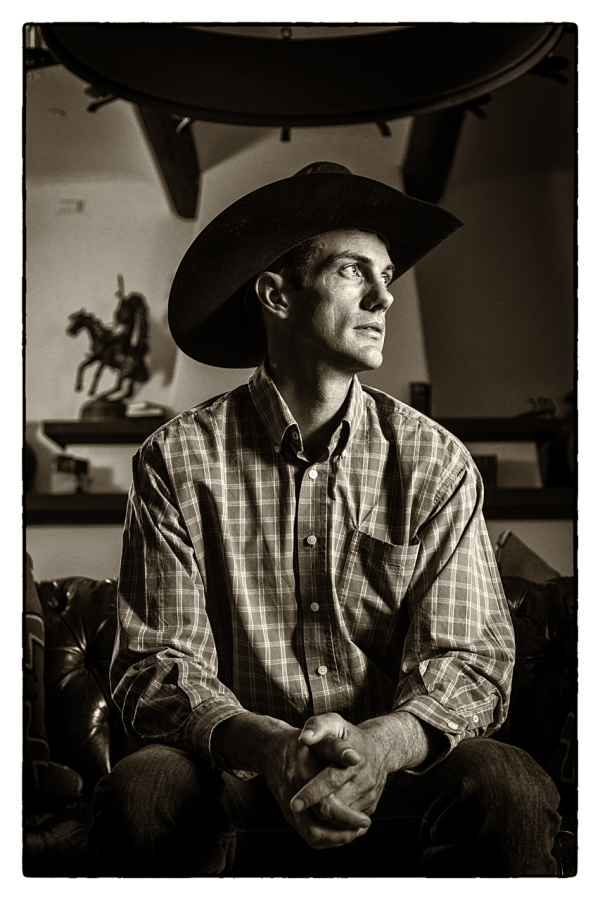 One of our earliest "Faces of Arizona Agriculture," Ty Kelly has been an active member of Farm Bureau for some time.
Along with the others in Arizona's Congressional delegation, Kelly shared his experience with Arizona's Senator John McCain. Senator McCain responded with great concern and had his staff draft a letter to the Undersecretary of Natural Resources and Environment explaining the issue and the need for an explanation of why the appeals process is no longer available.
The issue has now been brought to the forefront and action is being taken to deal with the changes.
This is a great example of the need to have a voice and through organizations like the Farm Bureau our voice is not only heard, but has the potential to get results.
"We are thankful that Senator McCain was so responsive and quick to assist," says rancher Smallhouse who also has a U.S. Forest Service permit to graze cattle.
Join our Family!