Arizona Agriculture's Winemakers are Winners!
By Julie Murphree, Arizona Farm Bureau: Arizona Farm Bureau members are award-winning winemakers! Yes, Arizona agriculture is diverse, successful and full of winners. This last weekend was confirmation of that truth at the annual Festival at the Farm wine event hosted by the Arizona Wine Growers Association. The event, sponsored by the Arizona Republic and judged by a variety of wine experts, brings out the best of Arizona's wines.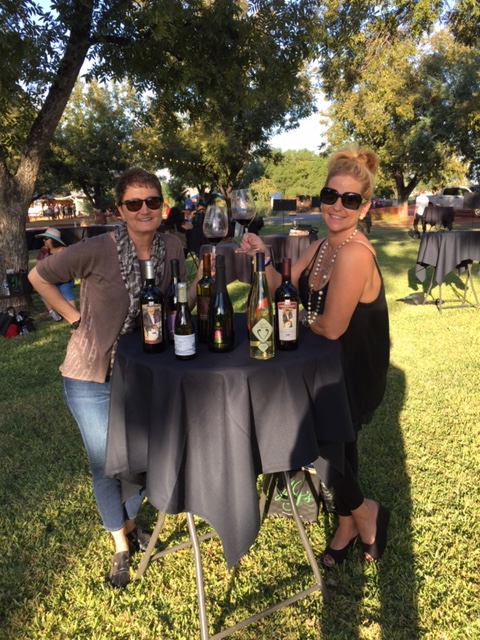 Farm Bureau member Diann Prechel (right) and I had a wonderful time November 15th sampling some of Arizona's finest wines. Several of our award-winning winemakers are members of Arizona Farm Bureau.
Attending with retired cotton farmer and current Farm Bureau member Diann Prechel, I met with several of our Farm Bureau members last Saturday who also happen to be some of the best wine makers in the state! We got to sample the variety of wines at the event too!
To view all the winners, the Arizona Republic list offers insights into Arizona Farm Bureau's member winemakers. At least five of the big winners, if not more, are currently members of Farm Bureau: Dos Cabezas Wine Works, Alcantara Vineyars, Carlson Creek, Lawrence Dunham Vineyards and Golden Rule Vineyards.
Jim and Ruth Graham of Cochise County and owners of Golden Rule Vineyards, current members and in previous county leadership roles for Cochise County Farm Bureau are a great example of some of the amazing winemaking going on in Arizona. Here is their awards story for this latest competition:
Golden Rule Vineyards wants to share with you its success in the 2014 Arizona Republic and Arizona Wine Growers Association wine competition.
In October we entered eight of our recently released wines for judging against the best wines that our fellow Arizona wine producers make. A total of 140 wines were submitted of which 114 received recognition. Twenty judges rated the wines and were asked to identify their favorites among the entries.
Following are the awards Golden Rule Vineyards wines received:
Gold Medal - Wines of Distinction (90-100 points)

GRV 2012 Zinfandel
GRV 2012 Commonwealth (Syrah-Petite Sirah blend)
Silver Medal (85-89 points)

GRV 2012 Cabernet Sauvignon
GRV 2012 Sangiovese
GRV 2012 Syrah
Bronze Medal (80-84 points)

GRV 2013 Copper Queen Rose' (Syrah-Zinfandel blend)
GRV 2012 Eureka (Sangiovese-Cabernet Sauvignon-Syrah blend)
GRV 2012 Manzora Red (Zinfandel-Sangiovese-Petite Sirah blend)
Best Cabernet Sauvignon

First Place - GRV 2012 Cabernet Sauvignon
Best Syrah

Third Place - GRV 2012 Syrah
Best Sangiovese

Second Place - GRV 2012 Sangiovese
Best Zinfandel

First Place - GRV 2012 Zinfandel
Best Rhone-Style Blend

Second Place (tie) GRV 2012 Commonwealth
Judge's Favorite

Ryan Wolf - GRV 2012 Zinfandel
If you would like to read the article regarding the competition you can search "Victorious Vino" at the Arizona Republic newspaper website.
Said Jim and Ruth Graham, "Having our Golden Rule Vineyards wines mentioned among the best wines in Arizona is a great honor for us. We are extremely pleased to have this kind of recognition leading up to our Grand Opening of our tasting room at our farm. We hope you can all come for a visit sometime soon and see for yourself if you agree with the judges."