Arizonans Help with Pork's Six-Year Growth in Foodservice
By Julie Murphree, Arizona Farm Bureau Outreach Director: Just ask Arizona's local chef and media celebrity Jan D'Atri why she thinks pork is so popular and she'll give you a dozen stories and even more recipes. While cooking up a Guava Glazed Pork Tenderloin with Cuban Salsa on her One Minute Kitchen video she said, "If you're looking for an easy but exquisite meal that will knock your socks off but won't knock you off your resolution to eat lean, you can't go wrong with this pork specialty."
So why is D'Atri and so many other Arizonans super excited about pork? Its versatility, price, nutritional value and taste are only a few of the reasons. And, Technomic can tell you it's one of the fastest growing proteins too.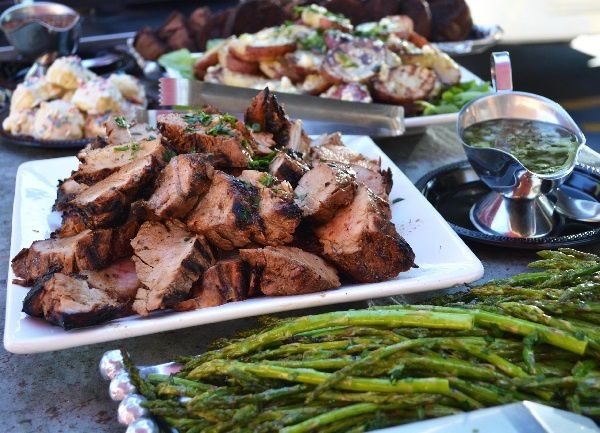 Celebrity Chef Jan D'Atri's Guava Glazed Pork Tenderloin with Cuban Salsa. Arizonans love their pork!
Since 2011, pork ranks as the fastest-growing protein in foodservice, according to Technomic, Inc.'s 2017 Volumetric Assessment of Pork in Foodservice. Over the past six years, pork use has grown on a pound basis by more than double chicken, which is the next fastest growing protein.
Added D'Atri, "It doesn't surprise me at all that pork is on the rise in popularity. First of all, we've seen a total trend in eating bacon! Thick-cut, uncured, seasoned, smoked, you name it bacon is back in a big big way, and not just for breakfast. Homemade candied bacon is one of the hottest most fantastic appetizers on Gourmet platters these days."
Pork use increased by 1.145 billion pounds, while chicken use grew by 515 million pounds. On a percentage basis, pork grew three times the rate of turkey, which is the next fastest growing protein, at 3.6 percent versus 1.2 percent. During this same time period, pork represents 61 percent of all protein growth in the foodservice industry (1.145 billion pounds of a total growth of 1.867 billion pounds).
Arizona's pork industry is somewhat small compared to other states but still averages in agriculture's "cash receipts" of more than $50 million. Last year's hog and pig inventory was around 110,000. Our peak was in 1980 and 2011 both at 180,000 head, according to USDA-NASS.
Arizona Chef Kevin Binkley recently featured his Hazelnut finished pork short ribs that he had slow cooked over lump coal for 11 hours. Chef Binkley's menu changes often featuring well-curated creative, seasonal fare that is French-influenced with a modern American twist. He often features pork on his menus.
The pork category continues to increase in foodservice, with a growth rate of 0.8 percent from 2015 to 2017. Totaling 5.9 billion pounds, the growth reflects a volume increase of 114 million pounds over the 2013 to 2015 period.
Processed pork continues to be a strong performer in foodservice, making up the majority of total volume. The five largest categories driving pork category growth are bacon, processed ham, breakfast sausage, ribs and pepperoni. Collectively, the categories represent 66 percent of the total volume. The love of bacon shows no signs of slowing and represents the largest share of volume, at 20 percent, or 1.2 billion pounds, growing 4 percent since 2015.
And if bacon or a pork loin isn't what you're after, consider a charcuterie board. Explained D'Atri, "Charcuterie boards have become very popular. Beautiful platters that are laden with all sorts of different meats and cheeses, mustards and condiments, pickled vegetables and salumi. Salumi is basically cured meats -- primarily pork – that's sliced and served as an appetizer."
"We are pleased to see continued growth of pork use in foodservice," said National Pork Board President Jan Archer, Goldsboro, North Carolina. "The volumetric study shows that pork continues to be a strong performer in the foodservice industry, underscoring pork's popularity specifically in value-added pork products such as ham, bacon and sausage."
As consumers demand more interesting flavor profiles and global cuisine, there has been an increase in authentic fresh pork applications. Since 2015, carnitas showed a compound annual growth rate of 5 percent and porchetta had a 15 percent increase. Notable growth in fresh pork also was seen in belly, chops and ground pork.
"I absolutely love ground pork as a perfect companion to ground beef in many sauces," said D'Atri, who while having the longest female run as a media personality in Arizona also ran D'Atri's Cinema Paradiso earning recognition as one of Arizona's Top 100 Restaurants. "Italian Bolognese sauce or meat sauce, is given a very special flavoring when pork is added to the ground beef. A new Joe's special, sloppy Joe, or any mixture like that is greatly enhanced by using a 3 to1 split. Generally three parts ground beef, and 1 part pork. Same with meatballs. And of course, we can't say enough about the popularity of pork tenderloins especially with Cuban and Argentinian influence like chimichurri sauce."
Queen Creek, Arizona's Pork Shop is another anecdotal story of how popular pork is in our state. If you've ever been there, you're always in a line because during hours of operation a steady flow of customers constantly occurs. Every Saturday this month is Gourmet Sausage Tasting Month. Said one customer, "Gotta shop early. Never had better ham than your honey baked ham."
"Fresh pork presents a huge opportunity in foodservice by offering a range of cuts and applications to deliver a variety of authentic and innovative dishes. Also, fresh pork's value has never been better," Archer said. "Fresh pork allows the foodservice industry to deliver what consumers want while turning strong profits."
Over the past two years, limited-service and full-service restaurants represented the largest user groups of pork in foodservice, accounting for 67 percent of all pork volume. The growth in limited-service restaurants has been mainly driven by the all-day breakfast additions by major chains.