Arizona's High Cotton Status Might Be the Worst Possible Outcome During Current Trade Wars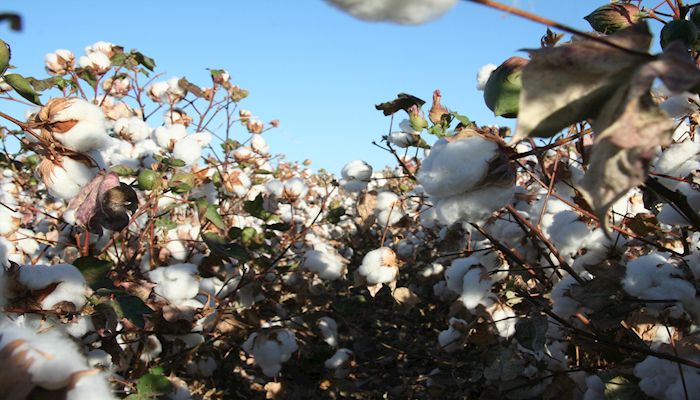 The other day via my @CottonAggie Twitter account I reported, "Arizona farmers expect this year's upland cotton crop to yield an average of 1,527 pounds per acre, the third-highest yield ever recorded," according to the United States Department of Agriculture National Agricultural Statistic Services (USDA-NASS) August report. As a cotton farm kid, I've always maintained a sense of awe about what our state's farmers can do with this very high-maintenance crop. But we may be too good for our own cotton breeches.
Yes, we're that good, along with California. Compare this figure to the United States' average cotton yield of 855 pounds per acre. With 163,965 acres of Upland cotton planted this season, we regularly rock our yields. Our good yields, today's cotton prices and the trade war with China seem like a perfect storm.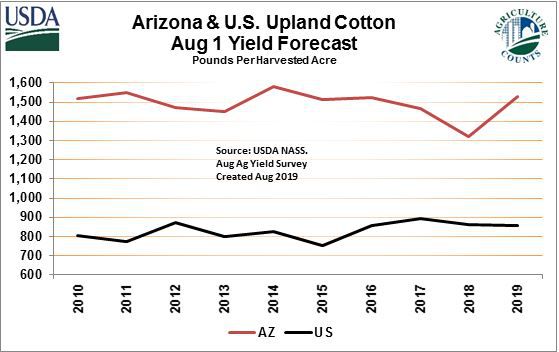 "In my part of the world [Pima County] we have as good of a cotton crop as I've ever seen," says Arnold Burruel, owner of Burruel and Burruel Farms and second-generation Arizona cotton farmer. "If the U.S. comes up with a monster crop, you might see prices as low as the 40s. We'll have a complete saturation in the market; we have the trade wars going on. My cotton crop looks average to above average but some of my neighbors and friends have fantastic looking cotton; as good as I've ever seen it."
The price of cotton as of August 14, 2019, was $0.60 per pound. To grow this fluffy, white stuff in Arizona, it will cost you, on average, 83 cents per pound. The price of cotton has dropped more than 20% over the past four months, since mid-April, and even more if one goes as far back as last year.
To make matters worse, right now cotton demand is weak while exports are uncertain. Price and basis should eventually improve (it always does), but only if this trade mess improves. Says Arizona cotton farmer and Arizona Farm Bureau member Ron Rayner, "Trade disruptions have driven down cotton consumption worldwide." A third-generation Arizona Farmer, Rayner is a partner in A-Tumbling-T Ranches with his two brothers, Earle and Robert and his nephews John and Perry, growing cotton, alfalfa and grains in the Goodyear, and Gila Bend, Arizona areas. He also farms in California.
As market uncertainties prevail, even economists are noting the challenges.
"I don't believe I have ever seen farmers, always the eternal optimists, this disillusioned," said Don Shurley, University of Georgia Cotton Economist in a July 13 editorial in AgFax.com regarding the current cotton market. "Not just this season, but some have suffered through two to three consecutive years of production struggles of some type. Now, on top of that, markets for the second year in a row, are being ripped apart by trade disagreements."
Economist Shurley has devoted the last 30 years of his career to cotton growers and the cotton industry.
Besides the earlier USDA numbers shared on Arizona's cotton increase in production, USDA released its August cotton estimates for the overall U.S. market. The expectation for the U.S. cotton crop was raised 520,000 bales from the July estimate due to increased acres planted and higher expected cotton yields. Many expected the increase, something reflected in the Arizona numbers. Additionally, the projection for U.S. exports for the 2019 crop marketing year was increased to 200,000 bales. In contrast, however, global cotton use and demand were cut 1.2 million bales from the July estimate. This is the 3rd consecutive month that global use has been cut or down. Most of the reduction was due to lower use projected for China and India.
Many cotton market economists are questioning why the USDA would raise U.S. exports potential by 200,000 bales when the industry has been told for months that worldwide demand is shrinking due to the trade war and its impact on the world economy. Some feel it's even stranger that production estimates in every other major cotton-producing country went unchanged or declined except here in the United States.
Ultimately, the biggest worry involves trade wars. "Our main concern is the long-term effects of the trade. The Chinese government through the imposition of import tariffs is forcing their textile industry to source cotton elsewhere," explains Paul Bush, President for CALCOT, the Arizona marketing arm for most of our Arizona cotton farmers.
Regularly in contact with their global buyers, CALCOT is aware that Chinese mills do not wish to source non-U.S. cotton; they're being forced to due to the 25% import tariff imposed by their government.

So, with this type of outlook, it stings a bit to look at big production numbers, even when we're proud of what we can do with Arizona's soil, sun, and water. As we track the price of cotton, let's hope China and the U.S. settle their stand-off and prices move in a better direction.
For Arizona cotton farmers Burruel, Rayner and others, this perfect storm needs to dissipate.
Join Our Family