Celebrating Sustainability: Arizona Agriculture's 130-year Ranch
By Stefanie Smallhouse, partner with her husband, Andy, in Carlink Ranch: In July of 1879, the Arizona Territorial Newspaper headlines read, "A Double Murder at Tombstone" and six months later the Earp brothers would arrive in this now legendary town. Everyone knows their story, but few know of another pioneering family who would also arrive in Southeastern Arizona that same year. William Henry Bayless moved his ranching operation from Highlands, Kansas to Arizona, seeking out a drier climate for his asthma, and fulfill a beef contract with the nearby military fort. It did not take long for Mr. Bayless to realize that the Chiricahua Mountains were not the place to make a home, as Apache Indian raids were a regular occurrence. For this reason, in 1884 he moved further north along the San Pedro River and settled his operation for good in the area of Redington, Arizona. The town of Redington has its own storied past, as an active stop over for folks traveling to Tucson, with a general store, a one room school house, a post office, and stables.
This year Carlink Ranch celebrates its 130th Anniversay. Their ranching story represents sustainability.
The Carlink Ranch was surrounded by homesteaders in the valley, but many sold out over the next several years and William expanded his ranching operation all the way from Redington to Oracle, AZ. The Carlink Ranch raised beef cattle in Redington and sheep in Oracle. The operation was very diversified for the time and included a couple of stores in Tucson selling meat, ice, and general goods.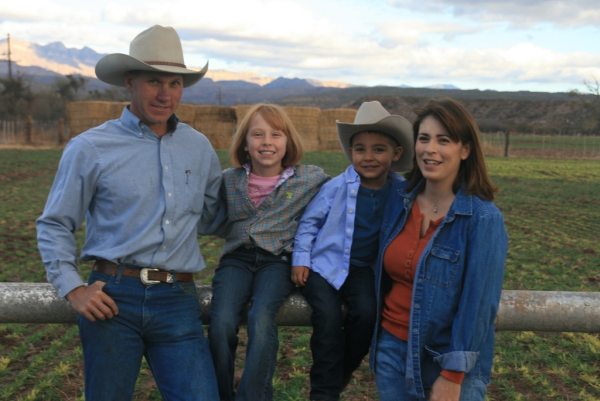 Andy and Stefanie Smallhouse represent five generations of sustainable ranching and farming on the Carlink Ranch in southern Arizona. Their children may take their ranching heritage into the 6th generation.
After William's health took a turn, his two sons Charles and Stuart moved to Arizona to help with the family business. Stuart's daughter Margaret married Kingston J. Smallhouse of California, and so the ranch would be run by Margaret, Kingston and their heirs for the next 75 years.
The family has a long record of resource conservation planning, from Charles Bayless advocating for the Taylor Grazing Act, to Kingston Smallhouse being a founding member of the Redington Natural Resource Conservation District, and now with Andrew Smallhouse installing water and soil conservation practices. Jack Smallhouse, William's great-grandson, began planning for drought by clearing invasive mesquite thickets which had choked out historically sacaton areas. The cleared land was planted with pasture seed, simulating those sacaton fields, and augmenting their grazing rotation plan during these dry years. These farms allow for better range management by resting the range during the summer growing season.
Beginning in 2001 the ranch began milling mesquite lumber, and in 2011 began growing saguaro cactus using a cold hearty, local seed source. Sustainability for this family business can be attributed to continued diversification, conservation, a focus on herd genetics and health, and good old fashioned hard work and determination to overcome life's challenges.
This year, the ranch will celebrate 130 years of raising beef and families in Redington, AZ. The sixth generation is not more than 11 years old and is living a life along the river learning the ways of farming crops and raising livestock on the same soil of their Great-great-great- grandfather.
Editor's Note: The Smallhouse family believes one reason their family has been able to farm and ranch on the same land for so long is adapting to change and adopting technologies that improve farming and ranching practices. Members of Arizona Farm Bureau, they also believe in staying engaged with other leaders in their industry. Today, Stefanie Smallhouse serves as Arizona Farm Bureau's First Vice President.