Congress Votes to Protect Arizona Agriculture
By Julie Murphree, Arizona Farm Bureau: Yesterday, the U.S. House of Representatives successfully passed H.R. 5078, Waters of the United States Regulatory Overreach Protection Act, by a bipartisan vote of 262-152. This bipartisan effort ultimately protects agriculture and certainly Arizona agriculture.
For background, back in March the Environmental Protection Agency (EPA) and the U.S. Army Corps of Engineers (USACE) released a proposed rule (found HERE) that would assert Clean Water Act (CWA) jurisdiction over nearly all areas with any hydrologic connection to downstream navigable waters, including man-made conveyances such as ditches. Contrary to claims made by the EPA and USACE, this would directly contradict prior U.S. Supreme Court decisions, which imposed limits on the extent of federal CWA authority. Although the agencies have maintained that the rule is narrow and clarifies CWA jurisdiction, it in fact aggressively expands federal authority under the CWA while bypassing Congress and creating unnecessary ambiguity. Moreover, the rule is based on incomplete scientific and economic analyses.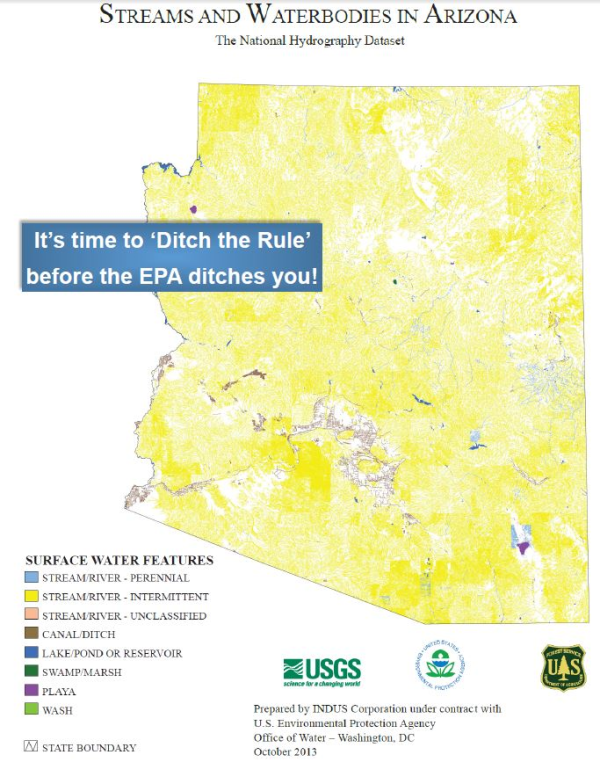 Though the EPA will try to tell you the impact of the new rule is minimal, their own map (seen here) shows just how expansive this rule will be. Plus, most experts will tell you it does nothing to improve, support or help the Clean Water Act. They contend the EPA is simply hiding behind the Act.
Said Arizona's U.S. Congressman Paul A. Gosar, D.D.S. (AZ-04), "Today, the House took action to prevent the Environmental Protection Agency (EPA) and Army Corps of Engineers from blatantly expanding their jurisdiction and imposing a new regulation that runs contrary to state water law, previous Supreme Court decisions and existing compacts. If adopted, this proposed rule would yield devastating economic consequences for farmers, ranchers, small businesses and other water users in Arizona and throughout the country. H.R. 5078 rejects the proposed rule to expand the definition of "navigable waters" and this overreach. The bill requires these federal agencies to go back to the drawing board and consult with state as well as other local officials to formulate a proposal that will then be submitted to Congress for approval."
"The House of Representatives today stood with farmers and ranchers and against the regulatory overreach of the EPA," said American Farm Bureau President Bob Stallman. "Passage of H.R. 5078 isn't just a clear rejection of the overreach that lies in the EPA's proposed Waters of the U.S. rule. Today's action is an unmistakable signal that the tide is turning against those who ignore the constitutional separation of powers in the United States. We will ditch this rule."
Nearly all of Arizona's Congressional delegates voted in support of the bill. "I want to thank Mr. Salmon, Mr. Franks, Mr. Gosar, Mr. Schweikert, Mr. Barber, Ms. Sinema, and Ms. Kirkpatrick for voting to reign in the EPA," said Arizona Farm Bureau President Kevin Rogers, who is currently in Washington D.C with a delegation of Arizona Farm Bureau leaders. "This was truly a bipartisan effort to reign in the unprecedented overreach by this government agency. We must ditch the rule!"
"It is refreshing to see the bipartisan support shown for Arizona's Agriculture families in the passage of HR 5078," added First Vice President Stefanie Smallhouse, also in Washington D.C. and an earlier panelist who testified on behalf of farmers and ranchers against EPA's new rule. "This should serve as a clear message to the Administration that the EPA has overstepped its authority and distorted the intent of the Clean Water Act. The proposed rule has little to do with clean water and everything to do with micromanaging Arizona growers out of existence."
In May, 230 House members sent a letter to Gina McCarthy, Administrator of the Environmental Protection Agency, and John M. McHugh, Secretary of the Department of the Army, urging them to withdraw a scientifically and economically flawed rule that would expand the federal government's role under the Clean Water Act. The full text of that letter can be found HERE
"This continued push by the EPA to expand their bureaucratic control over waters of the U.S. would be especially harmful for Arizona jobs and rural economies," added Arizona's Representative Gosar. "Additionally, it's unthinkable that the EPA did not conduct the necessary economic assessment on small businesses resulting from the impact of the proposed rule as required by law. I am proud to have played a lead role in checking this government overreach and alerting the American public to this critical issue. The hearing I held in Arizona this past June provided some great insights from real people who will be negatively impacted by the proposed water rule if it is enacted by bureaucrats in Washington D.C. I am encouraged by today's action in the House and I am committed to restraining this administration from imposing its agenda through regulatory and bureaucratic fiat."
It goes next to the Senate where many suggest it will most likely not pass.