Crushing Arizona's Wine Grapes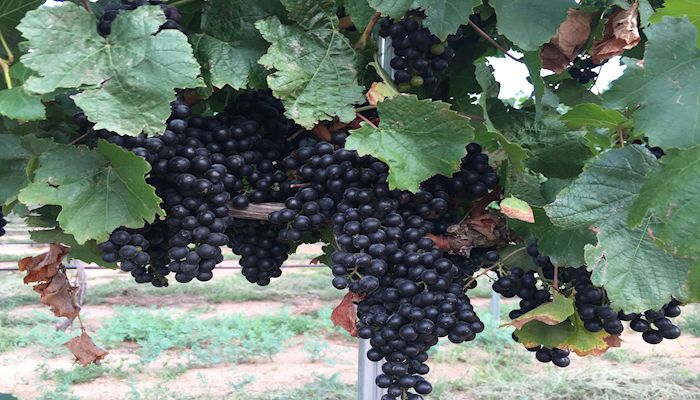 During their annual summer retreat, I and about 20 Arizona Farm Bureau Young Farmers and Ranchers, along with Field Managers Christy Davis and Amber Morin met Mark Beres, President & CEO of Flying Leap Vineyards, Inc., an Arizona farm winery and craft distillery headquartered in Vail, Arizona. Beres and the Flying Leap team were gracious enough to host a wine tasting and discuss the wine industry in southern Arizona.
A native of Walla Walla, Washington, Mark is a 1991 graduate of the U.S. Air Force Academy, with more than a decade of service to his country as a pilot in many roles, including special operations and developmental flight test before succumbing to combat injuries and retiring to Arizona in 2006.
Not done with an adventurous lifestyle, Beres took a flying leap into Arizona's wine business. Today, he, along with his business partners Marc Moeller and Tom Kitchens, crafts and executes Flying Leap's business strategy and oversees the company's sizable agriculture, production, and sales operations.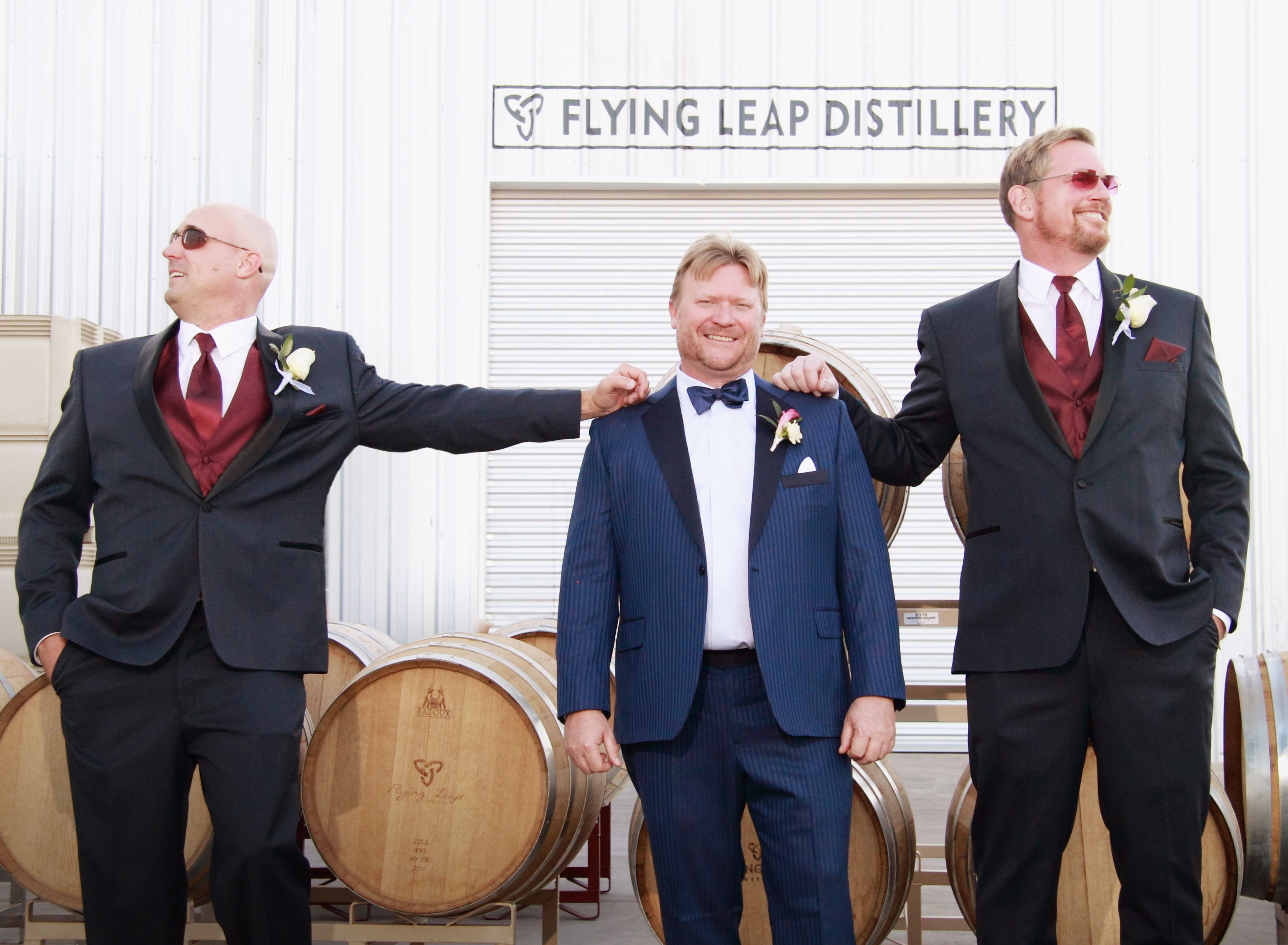 The Three Amigos: As lifelong friends and business partners, Marc Moeller, Mark Beres, and Tom Kitchens may never have imagined themselves in the wine business when they were all pilots in the military. But they're knee deep in the business now.
While many identify three major regions of vineyards and wineries, Verde Valley, Sonoita, and Willcox, the overwhelming majority of wine grape production is in the Cochise County area. Arizona's number of commercially-viable wineries, with farm wineries (people growing grapes, making and selling wine under a single banner), is about 40 to 60.
Says Beres, "In my view, the small size of Arizona's wine industry is what gives it its charm and character. Moreover, the small scale of the industry means the wines are rare - that is, limited supply. Because there is demonstrated strong demand for a quality wine sourced from Arizona vineyards the limited supply of such wines means the prices are quite high."
And, perhaps why searching, selecting, purchasing and enjoying these wines is so worth it.
For a little history, viticulture in Arizona began in the 16 th century when missionary Spanish Jesuit priests began to plant grapevines and make wine for use in religious ceremonies. So, while this resurgence in quality winemaking might be considered rather recent, our legacy in wine grapes is almost as old as our legacy in cotton farming in Arizona that was begun with the Hohokam people in the 15 th century.
Beres gave such an interesting talk to our young farmers and ranchers, highlighting some economic insights, that we felt his conversation deserved a larger audience.
Beres and his wife Michelle, along with their Siberian huskies Comrade, Indigo, Yukon, and Balto reside in Vail, Arizona and enjoy classical music, cooking and traveling the world.
Arizona Agriculture: Tell the story of how Flying Leap got started?
Beres: Flying Leap Vineyards was founded in 2010 by three lifelong best friends: myself, Marc Moeller and Tom Kitchens. We met as freshmen in our late teen years at the U.S. Air Force Academy in Colorado Springs, Colorado in the 1980s. Following graduation and commissioning, we all three served our country as Air Force pilots in multiple theaters of war and in a number of different roles and aircraft. I flew as a special operations pilot in the MH-53M Pavelow IV and later graduated from the U.S. Naval Test Pilot School, serving as a developmental test pilot until succumbing to combat injuries. Marc, a native of San Diego, California flew Boeing 757s, serving two U.S. Vice Presidents, First Ladies and Secretaries of State as a distinguished pilot of Air Force Two for many years. Tom "Kitch" Kitchens, a native of Costa Mesa, California, flew global airlift missions, flying the Lockheed C-17 for many years in both active duty and in the Air Force Reserve.
We performed a tactical rejoin in Arizona following our years of service to found Flying Leap Vineyards, which was incorporated in Vail, Arizona in 2010. Initially envisioned as a collaborative small business venture, primarily as a small-scale wine grape farming operation with the goal of selling wine grapes to the local wine industry, the company began in earnest developing what would later become its Block 1 vineyard in a small, rural agricultural growing area south of Willcox, Arizona known as the "Kansas Settlement." These initial vines were planted in April 2011 and developed and trellised over three full growing seasons.
During these years and as serendipity would have it, a very young, unknown and somewhat disorganized Flying Leap would purchase a small farm winery called "Canelo Hills" located in the heart of Arizona's most scenic wine country. The purchase of this property in Elgin in February 2013 launched Flying Leap's wine retail operations, and it was at this exact time that Flying Leap discovered Rolf Sasse, a European native of Bavaria with experience in the alcohol production trades and sciences who had recently relocated to Tucson after retiring from military service with the German Air Force. Initially hired as a tasting room manager, Rolf's skills as a winemaker become readily apparent and he was quickly moved from sales to production. With a new portfolio of ultra-premium wines and a place to market and sell them, Flying Leap's sales soared. The growing demand for the company's wines required more planting, more expansion and the creation of more jobs.
Flying Leap's Block 2 vineyard was planted in 2012 and the estate vineyard was restored and expanded from 2013 to 2016. In 2016, we planted the Block 3 vineyard, and Block 4 is already designed and slated for planting in 2020.
Recognizing the folly, frivolity and sure economic foolishness of fruit sales in the small Arizona wine market (where fruit is selling for a small fraction of its worth), Flying Leap chose instead to design and build a distilling capability so that surplus fruit could be distilled into immediately salable products rather than sold off to other wineries or converted into wine (at great expense) and wholesaled at a huge markdown. Thus, Flying Leap began distilling in the fall of 2016 and opened its distilled spirits tasting room at the winery estate in April 2017.
Today, Flying Leap produces between 3,000 and 8,000 cases of wine annually depending on market demand and fruit allocations to the winery and distillery, which share the company's annual harvest. Flying Leap operates seven wine tasting rooms and one distilled spirits tasting room in our market, with two new venues planned for 2018. Our products are wholly grown, produced and bottled by Flying Leap. Our wines and brandy-based spirits, including vodka are made from wine grapes harvested by hand at our southern and southeastern Arizona vineyards. They genuinely express the distinctive terroir of Arizona's unique growing sites and our microclimate, as well as the skill and patience of our production staff.
Arizona Agriculture: Why the wine business and why Arizona?
Beres: In short, there is a strong demand for wine in Arizona, and 99% of this demand is being satisfied by out-of-state wine producers.
In 2016, Arizona wineries produced 190,008 gallons of wine [i], or 79,835 cases. In 2015, wine consumption in the United States rose to an all-time high of 2.73 gallons per resident (The Wine Institute). In FY 2015/16, Arizona's Department of Revenue collected $16,160,560 in wine sales transactions (Arizona Department of Revenue). The Arizona tax on table wine is $0.84 per gallon (Tax Foundation). The approximate amount of wine sold in Arizona in 2015 is therefore 19.2 million gallons or 8.1 million cases. Arizona's per capita wine consumption is then estimated to be 2.8 gallons per person, slightly higher than the national average but consistent with the national trend towards higher wine consumption.
In-state wine production is a glaringly tiny fraction of the state's demand, with in-state producers meeting just under 1% of the state's demand. The record high in-state demand for wine is being overwhelmingly satisfied by out-of-state wineries.
Arizona Agriculture: From your perspective as a business founder and owner and viticulturist, what makes Arizona wine special?
Beres: Arizona wine is special because of its unique character. This uniqueness derives from the fruit grown here enjoying two key benefits: extended hang time and wine grapes whose juice has a wonderful balance of sugar and acid attributable to a meteorological phenomenon known as diurnal shift:
1. Being situated at 32deg north latitude, Arizona's southern and southeastern growing sites enjoy a 257-day growing season. The long growing season produces bolder fruit that can hang on the vine much longer than in colder climates to our north. " Extended hang time" is the primary reason well-made Arizona wines tend to be richer, bolder, denser and more flavorful than similar wines from similar varietals grown elsewhere.
2. Arizona's southern and southeastern growing sites enjoy 30+ degree diurnal shift during the grape ripening season, defined as a meteorological phenomenon for the difference between the daily high and nightly low temperatures. Wines produced from grapes grown in climates with large diurnal shift are more balanced. Daily heat promotes sugar accumulation, while chilly night air preserves the fruit's natural acidity.
Arizona Agriculture: And on that point, where is the wine industry in Arizona and where is it going?
Beres: In the past decade, Arizona's wine production has grown at an average rate of about 16% per year, but its growth has not been constant. Rather, in the past decade the industry's production has increased in two distinct steps – the first from 2011-2012, and the second from 2016-2017. The steps coincide with two significant increases in planted acreage, which occurs usually 2 to 3 years before the step increase in wine production. Thus, the state saw a significant increase in new vineyard plantings in 2009-2010, and again in 2014-2015. I've plotted out the state's volume production by year over the last decade to illustrate these step increases in production. [See box below]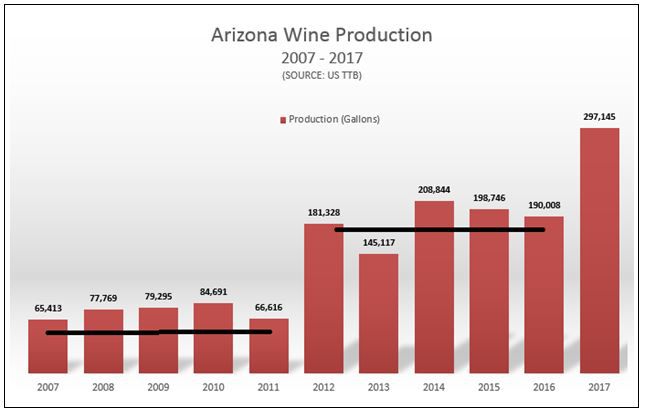 Clearly, in Arizona production follows planting and the industry has grown in distinct spurts. We know that about 75% of all wine grapes grown in Arizona are grown in the Willcox region, thus the agricultural issues facing Willcox will impact the future growth of the Arizona wine industry. No reasonable discussion of that can be made without focusing on water rights and the ongoing over drafting and depletion of the groundwater in the Willcox basin, as well as the prolonged impact of drought in our region. On July 25 th, 2018 the Arizona Department of Water Resources published a report titled, "Groundwater Flow Model of Willcox Basin Completed." In this report, the ADWR reported that modeling showed the water table dropping as much as 917 feet in the aquifer system near the Kansas Settlement, which is right in the middle of Arizona's premium winegrowing acreage. The same report concluded that a " significant portion of the remaining groundwater in storage is found at considerable depth and may not be practical to remove." Thus, given the prolonged drought and significant depletion of groundwater resources, it is highly unlikely that there will be significant development of new vineyard acreage in the region going forward. What increases there will be will likely come from existing growers with established and demonstrated water usage for vineyard crops because legislative action to put a stop to new well drilling the region is very likely in the coming years. Given the likelihood of diminished new vineyard development in the state's largest winegrowing region, it is probable that Arizona's wine production will level off in the 180,000 – 300,000-gallon volume over the next decade.
Arizona Agriculture: Water and labor are two of Arizona agriculture's biggest issues. Hearing you talk to a group of young farmers and ranchers recently, you highlighted this same point. In your area, what does all this mean to wine grape growers?
Beres: As to my comments above, water is the big one, and over-drafting of the aquifer in Arizona's largest winegrowing region (Willcox), combined with ongoing drought will tamp down new vineyard development. Existing growers with demonstrated usage will survive forthcoming legislative restrictions on new development, especially those who had the foresight to drill their wells deep. For others, they will need to deepen their wells considerably to remain viable as grape growers.
Arizona Agriculture: What advice would you give up-and-coming agriculturists, especially if they had a keen interest in the wine industry?
Beres: Learn about the economics of wine and viticulture before embarking on a career in the wine industry. Too many wholly ignore the economics and end up woefully under-capitalized in a capital-intensive business that can – and has on many occasions – bankrupted many.
Arizona Agriculture: What's the future for Flying Leap Vineyards?
Beres: Flying Leap is planting a new vineyard ("Block 4") in 2020 and making a significant expansion in the wholesale market. We are also considering expansion into the California wine industry.