DeWayne Justice Receives the 2021 Lifetime Service to Agriculture Award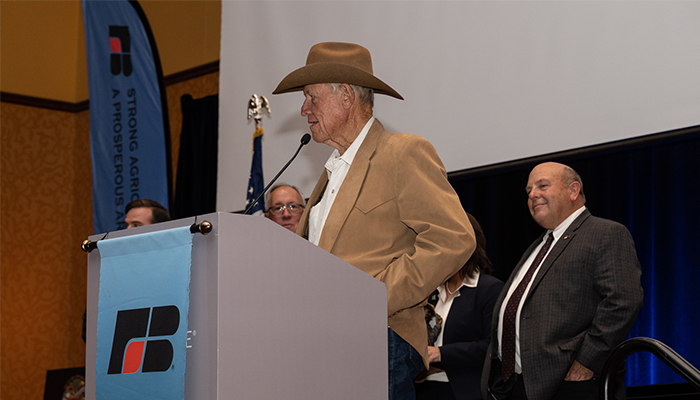 Maricopa County's DeWayne Justice received the 2021 Lifetime Service to Agriculture Award this past November during Arizona Farm Bureau's (AZFB) Annual Meeting. The recipient of this award has contributed significantly to Arizona's agriculture and in Justice's case, also Farm Bureau.
Justice operates the Justice Brother Ranch. Their operation is the definition of a family farm having farmed in Arizona since 1928. Justice was born into agriculture, and his family runs a cattle ranch and a citrus farm. The Justice family also runs the U of A Extension Citrus farm.    
Justice has created quite a legacy of service for Arizona agriculture while at the same time considered a leadership icon for Maricopa County and Arizona Farm Bureau. Justice serves on the Arizona Farm Bureau Board of Directors and is an Electrical District Number 7 Board of Directors member. Justice is also the president of the Irrigation and Electrical Districts Association of Arizona.  
An AZFB member since 1970, Justice started working in leadership roles with AZFB around 1980 when the 1980 Groundwater Act was first created, alongside Rick Saylor and other AZFB leaders. These individuals testified on water rights, dust, pesticides, and many other issues. They also made the framework for "Effective Communications," which was used to train current and future leaders to testify at the legislature, give speeches, and talk on-camera.
Justice and his colleagues have also worked tirelessly to ensure Arizona Farm Bureau was financially sound. Serving continuously on the county's Board of Directors for over 30 years, Justice is also a former Maricopa County Farm Bureau president serving from 1989-1990.
A wealth of knowledge, former AZFB president Kevin Rogers has relied on Justice's advice during the time that Justice served on Rogers' Executive Committee. Arizona Farm Bureau's current President Stefanie Smallhouse values Justice's insight and knowledge as well.
Justice's continuing legacy will be the mentoring he has provided to staff and volunteers over the past few decades, never short of imparting knowledge to AZFB's staff and volunteers.
Father of two children, Terra O'Brian and Selwyn, Justice is also grandfather to Connor, Brayden, and Scarlett.
Join us in congratulating DeWayne Justice on being the 2021 recipient of the Lifetime Service to Agriculture award.