Farm Bureau Benefit: Save with Propane Power
By Peggy Jo Goodfellow, Arizona Farm Bureau: As a clean versatile energy source, propane is used for a wide variety of applications. Farm Bureau members use propane for space heating, water heating, cooking. Since 2007, Arizona Farm Bureau members have been able to receive AmeriGas propane at a discounted rate of 5 centss off per gallon. AmeriGas' motto is, "We are dedicated to delighting the customer."
Propane is also used to power over-the-road vehicles, forklifts and stationary engines. Agricultural members use applications that include crop drying, fruit drying, and chicken brooding. Propane shows promise as an environmentally friendly fuel source for commercial lawnmowers, energy efficient combined heat and power generation, and liquid injection systems designed to enhance mileage on diesel-powered vehicles.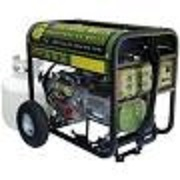 Portable Propane Generator
Propane applications can be found anywhere you look, and are utilized year-round. This safe fuel serves approximately 60 million people in the United States in millions of homes, industry, farming and more.
At home, you can find propane powered appliances from your range top and oven, dryer, fireplace or furnace, to your backyard pool and spa heater, patio heater or fire pit. Most of us use it for our barbeque grills and have a propane powered back-up generator if need be.
Landscapers are turning to propane powered mowers and commercial fleets (law enforcement, taxis, and school buses) across the country are converting to propane autogas.
The agricultural applications of propane are numerous. According to The Propane Education & Research Council (PERC) propane is used on 865,000 U.S. farms for irrigation pumps, grain dryers, fruit dryers, standby generators, and other farm equipment.
Propane is a safe, efficient and environmentally friendly energy source when properly stored, transported, handled and used. The folks at AmeriGas hold a core set of safety beliefs and principals that guide every employee and ensure that they operate with the highest safety standards. At AmeriGas, they don't just talk about safety, they live it. When it comes to your comfort, security, and your safety, why settle for anything less?
AmeriGas is proud to be a member benefit provider to Arizona Farm Bureau members.
Source: AmeriGas