Getting to Know Your Arizona Farms
While Arizona has a robust agriculture industry valued at $12.4 billion (for this desert state that's pretty impressive), do we really know our Arizona farms? The best way to discover our Arizona farms is to study the U.S. Census of Agriculture.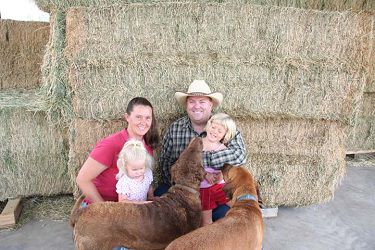 The U.S. Census of Agriculture has been conducted for more than a century with census results published every five years. Information gathered the United States Department of Agriculture (USDA) provides the most comprehensive picture of the state of American agriculture. To be counted as a farm, all farms that have at least $1,000 in real or potential livestock or crop sales are counted in the census. In addition to collecting data about farming and ranching operations, the census gathers detailed farm operator characteristics to help paint a picture about the types of people involved with agriculture and their business structure. Additionally, detailed economic data is collected to monitor the huge economic contribution made by agriculture. All of the information is gathered at the national, state and county level.
While the USDA is currently in the midst of the next census, the 2007 census is the latest census we can look at numbers and assess our Arizona farms by.
The Look and Feel of our Arizona Farms; Specifically Maricopa County
For the last 20 years, Maricopa County farmers focused on crop production. In fact, as recently as 1997 crop sales accounted for 58 % of Maricopa's entire agricultural products sold. According to the 2007 Census of Agriculture, livestock production, particularly dairy production, took the lead accounting for 51 % of the county's total agricultural product sales.
Think we operate just big farms in Arizona? Think again. Most farms in Maricopa County are less than 10 acres. Average farms sales are just under $454,000. It might surprise you that less than 8% of all Maricopa County farms are larger than 500 acres. However, these relatively small number of larger farms account for the majority of agricultural sales in the County. In Maricopa County, only 278 farms (16% of farms) accounted for 98.5% of all agricultural sales. Statewide, this trend also prevailed with nearly 7% of the largest farms accounting for nearly 98% of all agricultural sales.
In Maricopa County, urban development has reduced the amount of land dedicated to agriculture. The downward trend first emerged in 1987 and has continued with each census since that time. In 2002, we saw a dramatic downward shift as the number of farms decreased 14%, land in farms decreased 15% and total cropland acres decreased 19%. In 2007 the trend has continued. The 2007 Census validated what most people thought; that the loss of farmland in Maricopa County was continuing at a very rapid pace. Between 2002 and 2007, the total number of farms has decreased another 15%, land in farms decreased 23% and total cropland decreased by 7%. The following chart demonstrates these trends for Maricopa County throughout the last decade:
Maricopa County Farm Statistics
| | | | | | |
| --- | --- | --- | --- | --- | --- |
| Item | Unit | 1997 Census | 2002 Census | 2007 Census | % Change 1997-2007 |
| Number of Farms | No. | 2,444 | 2,110 | 1,793 | - 27 % |
| Total Land in Farms | Acres | 742,287 | 627,254 | 485,469 | - 35 % |
| Total Cropland | Acres | 356,639 | 288,387 | 267,295 | - 25% |
SOURCE: USDA-NASS – Census of Agriculture
The census did not ask why a producer reduced their acreage or left farming. There are numerous factors contributing to the decrease in Maricopa County agriculture during the last decade. Nevertheless, a dramatic shift has taken place.
Arizona Farms Beyond Maricopa County
Beyond Maricopa County, Arizona's other counties have interesting numbers, in particular Pinal and Yuma counties. As far as shifts from crop sales to livestock sales, Pinal County was much more pronounced than Maricopa. The 1997 census showed Pinal County sales of crop and livestock commodities were fairly even at 52% and 48%, respectively. However, in 2007 the census showed the livestock industry had sales representing 71% of total agricultural commodity sales. The cattle inventory in Pinal County has more than doubled since 1997 (this trend may be in part because of so many dairies moving further south to these more rural counties).

The census also showed that there are fewer small farms in both Pinal and Yuma counties. Only a third or so of farms in Pinal and Yuma counties have less than 10 acres and the average sales per farm are considerably higher than Maricopa. Pinal County farms had average sales of just over one million dollars and Yuma County farms averaged more than $2.1 million. About a fifth of the farms in these two counties have more than 500 acres.

Unlike Maricopa County, the number of farms in Pinal County has increased rather than decreased. In 2002, there was a 4% increase in the number of Pinal County farms and in 2007, farm numbers increased another 14% to 785 total farms. The total cropland acres in Pinal County is not decreasing but only rose 1.5% between the 2002 and 2007 censuses.
In looking at Yuma County, although agriculture is still a major part of the county's economy, farm numbers and land in farms have decreased between 2002 and 2007. The number of farms decreased 15% while land in farms and total cropland both decreased 9%. In 2007, Yuma County had 452 farms, nearly 210,500 acres of land in farms and more than 193,000 cropland acres.
So the make up of our Arizona farms is varied and interesting. The one commonality? The majority are family owned and operated. In fact, 97% of Arizona farms and ranches are family owned and operated. They may be incorporated; they may be large, but they are family owned.
New ag census numbers will be out next year. We'll again revisit our Arizona farms and find out what's changed. Stay tuned!
Arizona Farm Bureau is dedicated to the purpose of protecting and improving the bottom line of our farms and ranches. Join us in supporting this vital and important industry.