Global Demand for Ag Products Good for Arizona Agriculture
By Julie Murphree, Arizona Farm Bureau: A recent report by the United States Department of Agriculture's (USDA) Economic Research Service (ERS) should be good news for Arizona agriculture; certainly for our beef, cotton, and grain farmers.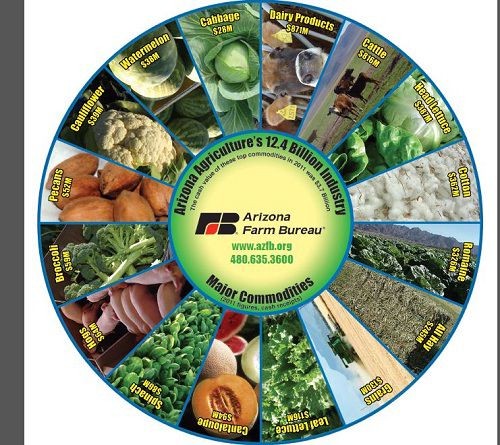 According to the report Developing Countries Dominate World Demand for Agricultural Products, developing countries will account for the majority of the increase in projected growth in global consumption of meats and crops from 2013 to 2022. Research concluded developing-country shares of the projected growth include 81 percent for meat, 83 percent for grains and oilseeds, and 95 percent for cotton. Developing countries' demand for agricultural products is expected to rise at a faster rate than production, resulting in the countries accounting for a large percentage of the world's imports.
So why this rapid and high increase in demand by developing countries? High and fast growth in population and income. According to the report, "Factors behind the rapid increase in developing countries' demand [for ag products] are high rates of population and income growth, accompanied by increased urbanization and an expanding middle class."
Such demand means our agriculture exports can grow.
Arizona agriculture exports lots of ag products to other countries. In fact, our cotton crop is nearly all export. Because Arizona grows it well and our cotton is high-quality cotton, the global markets love our product. According to the report, world demand for cotton is projected to rise 15% to 122 million bales during the next 10 years. Most of the world's demand for cotton comes from developing countries with low labor costs for production of textiles and apparel. Cotton use in developing countries is projected to expand 17% over the next decade and account for 95% of the increase in world use. Imports of cotton by these countries are projected to expand 12% and account for nearly all of the growth in world imports.
Crops Arizona grows that Developing Countries Want
While we don't grow soybeans or field corn on the mass scale of the Midwest, we do grow several crops that developing countries are hungry for, literally.
The list below, pulled from the USDA report, highlights the crops Arizona grows and grows well.
Grains, mainly wheat, sorghum and barley
Cotton
Meats, mainly beef and pork
For our most recent cash receipt figures available from the USDA, Arizona grew $130 million worth of grains, $362 million worth of cotton and cotton seed oil and combining our beef and pork, we raised $880 million dollars worth of beef and pork. If USDA's study portends a future of high demand from developing countries on these farm and ranch products we product, and we're successful in continuing to produce these agriculture products, then these current cash receipt numbers should continue to increase.
Celebrating our Local and International Markets
Arizona agriculture and Arizona Farm Bureau celebrate both our local farm markets and our international markets. We certainly need both and these markets bring revenue to Arizona. In fact, Arizona agriculture can claim a $12.4 billion contribution to this sunshine state.
Not long ago, Arizona Farm Bureau's President discussed Arizona agriculture's success at being productive. "Because we farm in the southwest and have higher production costs we have to be on top of our game," says Arizona Farm Bureau President Kevin Rogers. "Our percentage differences indicate Arizona producers get more out of their agriculture enterprises than our peers across the country. Also, I've found that Arizona farmers and ranchers are often first to embrace technology to survive in our environment. We have to evaluate every innovation and consider its application to survive and thrive in agriculture in this state."
He further stated, "Arizona agriculture is an important and integral part of the state's economic growth."
Ultimately, growing global demand for agriculture products means those key crops we export will help support Arizona's economic activity.