Immigration Reform Needs to Transcend Politics; But Can it?
By Joe Sigg with Contributions by Julie Murphree, Arizona Farm Bureau: Arizona Farm Bureau represents production agriculture and our agenda is a reliable labor supply, but the immigration issue transcends our agenda.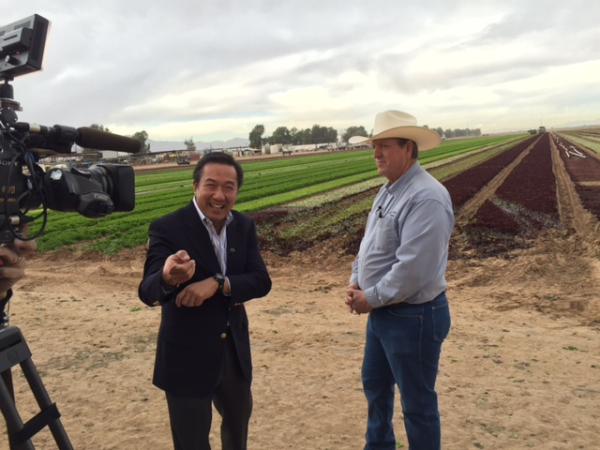 NBC News Correspondent John Yang and Arizona Farm Bureau President Kevin Rogers during taping of a news segment for NBC's national Meet the Press show.
The five pieces of immigration reform are not the five easy pieces: 1) visa reform, 2) the border, 3) interior enforcement, 4) justice for the young, and 5) opportunities for those working in limbo. Ultimately, the pieces must fit together – it's hard, but we have too much history to know what happens when one piece or the other is neglected.
Immigration policy is as much about the principle of freedom. Freedom for business and economic forces and freedom for individuals and families. Einstein reminded is that the great and the inspiring is created by individuals who labor in freedom. Immigration policy will be forged in compromise, but it will be enshrined in the principle of freedom.
Complete immigration reform is beyond any of our individual agendas, but if the pieces are to fit together, we must act together to urge Congress to enact meaningful reform.
The Impact on Agriculture Impacts us All
Regardless of one's position on this important issue, the impact is being felt in agriculture across the country. And since Arizona and other border states happen to be the "tip of the spear" when it comes to this issue, Arizona Farm Bureau President Kevin Rogers has been willing to discuss immigration reform along with others in agriculture, on numerous occasions for the past 15 years.
This most recent occasion was with NBC News Correspondent John Yang. And while the Sunday morning show, Meet the Press, aired a short segment on November 23rd prior to a more extended discussion, the 3-second soundbite did not tell the entire story.
Of great concern, what will President Obama's Executive Action ultimately have on labor issues for American industry (Whether that be agriculture, hopitality and others) and the U.S. Congress' earlier and future actions on this issue?
Arizona Farm Bureau President Kevin Rogers calls for reform but shares his concern that President Obama's actions might have "poisoned the well."
Regardless of Presidental action, Congress must still act due to the current legal framework employers operate under. Rogers highlighted this fact in one of his points to Correspondent Yang.
The president took action, but it still leaves unanswered legal questions for employers.
Agriculture is not the only industry grappling with the new environment this unprecidented Executive Order sets for the country. Every industry needs a fix to the labor industry, suggests Rogers, who farms cotton, wheat and alfalfa in Arizona.
The U.S. Congress is the one to truly fix the labor challenges that exist across industries.
Finally, specifically relating to agriculture, the urgency for legitimate immigration reform in reality comes down to what's on our dinner tables. Crops growing across this country need a labor force willing to work in agriculture.
While most Americans won't work in agriculture, those that do are highly skilled at what they do.
The debate continues. Arizona Farm Bureau, along with other stakeholders, plans to be front and center hoping to one day have a legitimate fix to the current challenge.
The full Meet the Press show only gave a snapshot of the agriculture industry's commitment to reform.