It's Time We Connect Arizona Agriculture to All
By Arizona Farm Bureau President Kevin Rogers: Yes, we connected with 3,797,202 Arizonans with a positive message about Arizona agriculture in 2012. Over the last four years we have aggressively added new communication avenues and activities to connect a public that is far removed from today's agriculture. One example is visits to our Farm Bureau and Fill Your Plate websites are running from 6,000 to 10,550 per week. Others are the continual exposure at the Phoenix Zoo – Harmony Farm exhibit and the 118,000 students touched by Ag in the Classroom. This effort and more continues in 2013.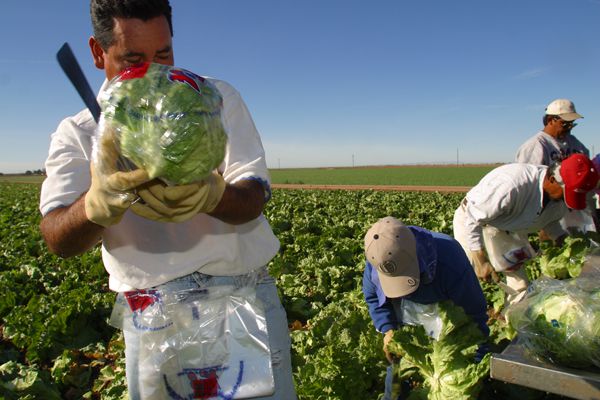 And that 3.8 million number includes the nearly 3,000 new urban members signed by our Farm Bureau Insurance Agents.
Air quality, visa reform and farm and ranch property taxes dominated and covered the political spectrum this last year and we plan to move on such critical issues as we progress in the current year.
We know that Arizona is the epicenter of the immigration issue and we played a prominent role in assisting American Farm Bureau Federation (AFBF) in developing a solution and strategy. We continue to call for resources to secure our southern border and AFBF has clear policy to support any effort that adds resources to that effort. In 2013, we have a never-before-seen opportunity to get this thing right this time.
We were recognized in January by the AFBF at the annual meeting in Nashville for outstanding programming in education, leadership training, services provided to members, public relations and public policy work. To cap it all off, we won the Pinnacle award, the highest recognition a Farm Bureau can obtain.
We grew membership last year including growth in our farm and ranch members. County Farm Bureaus that grew this last year were Apache, Cochise, Graham, Greenlee, Maricopa, Mohave, Navajo, Pima, Pinal and Yuma.
We, as is the AFBF, are only a few years away from celebrating 100 years. At the AFBF level we have been participating in the Centennial Project. AFBF President Stallman has engaged us in a discussion of what AFBF will look like at we enter our second century.
In my tenure as president, here in Arizona, we have been blessed with growth in membership and the resources to provide effective programming in the political, public and member relations arenas even as this economy struggled.
To continue our relevancy as an organization, influencing public policy at the local, state and national levels must continue as our number one priority AND with so much of the public detached from agricultural production today, we must have the resources to develop public support for our policy initiatives that keep American and Arizona agriculture profitable for the benefit of everyone.
But we must stay engaged. This year, while many of our outreach efforts remain focused on connecting with Arizona families, we're also making a point to work to have them engage with us. So in 2013, we're asking Arizona Mom's what they want to learn about Arizona agriculture. We're even regularly asking them to ask us questions.
As a result, we've begun a blog series called, "Ask a Farmer." So far, our farmer and rancher members have answered 3 questions Arizona moms have asked us.
In fact, we've learned about their concerns by asking them to ask us questions. Their questions to our farmers and ranchers are allowing us to understand better what their concerns and interests include and to make sure we find our farmer and rancher members willing to answer them.
So far, we've answered questions about produce freshness, organics and GMOs. In the meantime, we're looking for additional farmer/rancher members to answer three more questions our Arizona Moms have produced for us.