Long-time Farmer Wins Arizona Agriculture's Heritage Award
By Julie Murphree, Arizona Farm Bureau: He's an entreprenuer through and through. He believes in America's ability to make a way for the individual. In fact, if you get in a conversation with this farmer entreprenuer, one of his favorite things to say is, "A free market is nothing more and nothing less than multiple willing participants committing capitalism in a forum of multiple, similar transactions where the participants believe their transaction property right are sufficiently secure for them to participate."
He love's talking about economics, American business and free enterprise. Rock Cramer, La Paz County farmer, will spend as much time talking about these subjects as farming. He loves them both.
He recently received the Arizona Farm Bureau Heritage Award during the organization's 93rd Annual Conference celebrating farmers and ranchers throughout the state at Scottsdale Resort and Conference Center.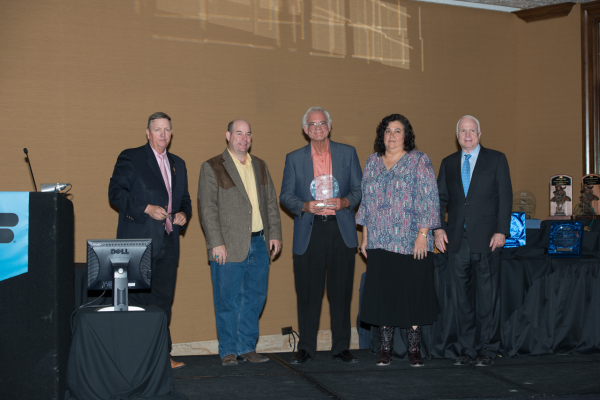 Arizona Farm Bureau President Kevin Rogers presented La Paz County Farmer Rock Cramer with Arizona Farm Bureau's Heritage Award November 6th during its annual Service to Agriculture Awards Banquet. La Paz County President Ava Alcaida, Arizona House of Representative David Gowen (second from left) and U.S. Senator John McCain were also onstage to recognize Cramer for his achievement.
The Heritage Award is given to individuals and families that are involved in agriculture and have given extraordinary voluntary service to their industry and to their Farm Bureau.
Rock Cramer has farmed in La PAz County for 22 years, starting with the purchase of the Vicksburg Farm in 1992 from the Resolution Trust Corporation - better known as Charley Keating's "water farm" for a large development in Phoenix. Over the next 22 years, Cramer converted much of the 14,000 acres from ditch system furrow flood to sub-surface drip irrigation with 40" and 60" tape spacing, constantly seeking ways to innovate and conserve water.
Today, the farm typically grows melons, alfalfa, cotton, silage and specialty seed crops. Cramer sold the farm acreage and surrounding desert lands in late 2005 to several dairymen and developers. As a condition of the sale of the core farm, about 4,000 acres were leased back including all of the drip fields.
In 2005, in conjunction with the University of Arizona, he built a controlled environment green house facility that produces hydroponic tomatoes, cucumbers, peppers and leaf lettuce. In December 2005 he is retired from operation of the main farm, but continued developing the greenhouse operation.
In the midst of all this, Cramer committed himself to Farm Bureau. In Farm Bureau leadership since 2001, Rock served on Arizona Farm Bureau's Board of Directors until 2013 which included being a member of the Executive Committee and the Budget and Investment Committee. Cramer also served on La Paz's County's Farm Bureau board.
Rock continues to farm 4,000 acres and spends time between Parker and Santa Barbara where he farms with his brother.