Meet Arizona Agriculture's Alcaida Family
By Julie Murphree, Arizona Farm Bureau: The rich agriculture heritage of this farm and ranching family goes back almost more generations than we can count. Part of the Colorado River Indian Tribe, Ray and Ava Alcaida celebrate their roots and remain focused on community and family and active engagement in Farm Bureau.
An Interview with Ava Alcaida, president of La Paz County Farm Bureau and partner with her husband in various farming operations.
An ongoing series of Arizona's farmers and ranchers.
Tell us about your farm and ranch
We farm in the valley below Parker with about 5,100 acres, mostly alfalfa. We're growing about 400 acres in cotton. We also are going to grow about the same in wheat. Sometimes we do onions.
We also ranch around Dolan Springs which is outside of Kingman.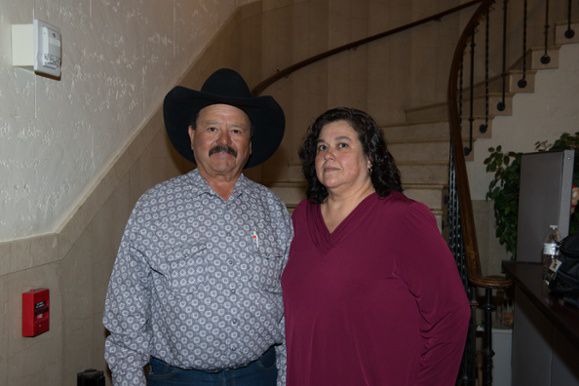 Ray and Ava Alcaida come from a great tradition of farming and ranching in Arizona.
What changes have you seen in your lifetime as it relates to farming and/or ranching?
The biggest change is how agriculture is perceived in the media. There is a lot of negativity these days. The media leaves the viewer to think that traditional agriculturalists don't care about the land. But we have to care because that's what provides for our living.
On another front, since the economic downturn it's harder to get financing for agriculture. Prior to the downturn we had a five-year revolving line of credit that was called when the banking crisis emerged. Six years later, we haven't had a loan to date. I can't even imagine the difficulty a young person in farming must face trying to get financing.
Why did you choose to go into agriculture?
Ag is big on my husband, Ray's, side of the family. Ray started out running his dad's farm. Then, when his dad was ready to retire we bought him out. We were only able to do that because Ray's dad let us make payments. Then, Ray's parents also co-signed a loan with us for the first two years of farming. If it wasn't for them supporting us starting out, we would not have been able to get into farming on our own. It was truly a family affair.
On my side of the family, my grandfather was a subsistence farmer. He grew a variety of crops for the family.
Will anyone in your family - younger generation - pursue farming and/or ranching?
We have a daughter who married into a ranch family, Ollie Prosser. They live in Golden Valley. They actually help us in Dolan if something is going on and Ray can't get up there. So we do see that interest. Ollie also has a menagerie of animals. She has milk cows, chickens and more. She's just an animal person.
From her animal agriculture she even makes cheese. She also just received her RN.
I also have a daughter who lives in Lake Havasupai City who is going to school. She wants a degree in agri-business.
Plus, when we're working cattle they all participate. They've been on the ranch with Ray ever since they were little; branding, doctoring … just everything.
Would you ever consider growing an emerging crop or changing your farm or ranch model? Well, we are working toward expansion of our ranching. But our biggest capital expenditure or endeavor, if you will, was investing in equipment. In one area, this was equipment so we could do our own chemical applications instead of contract this out. Plus, updating our hay harvesting technology with equipment that allows us to apply the right amount of moisture.
What are your community activities? Why are you involved?
Ray is a former Rotary member. I'm secretary/treasurer for Poston Rotary. We're involved in Farm Bureau. We help out lots at the fair.
We're involved in fundraising for a variety of things. We sponsor a little league team. We get lots of request from the community.
Our La Paz County Farm Bureau has also been very active in raising money and gathering food donations for our local food bank.
What is one fact/experience/achievement no one knows about you?
For Ray, his dad, Bill, helped the Colorado River Indian Tribe start the tribal farm.
When I was a child, my family lived in Havasupai. My mom reopened the pre-school in Havasupai years ago. My dad was a law enforcement officer. We lived there for two years with no electricity except for what was provided by the generator that supplied the government housing and the school and store.
I remember my dad would get up and start the generator in the morning and then turn it off at night. He'd come out of the canyon once a month to go shopping in Phoenix. He'd come out with carts of groceries and people would just look at him wondering what he was doing with so much food. He'd pack the perishable stuff on dry ice and pack it down the canyon
What do you think you do really well? Explain.
Accounting and computers are my thing. I've always been the one that put our business packets together to get financing. I do our budgets
Ray grows cotton really well.
Why are you a farm bureau member?
I'm a Farm Bureau member mainly because Ray has been a Farm Bureau member for so many years. He was a Farm Bureau member when I married him.
Ray was always so active including being a past president. At first, I didn't really participate but then we had young children. I would help sometimes and just got more familiar with the organization. I joke that they conned me into being president of our county.
How will the next generation of farmers have to operate?
I think the next generation will use new technologies to the fullest. Our young people will take it to the next level. Seeing what some of them are doing gets me excited.
A Heritage to Be Proud of
Ava, from the Mohave tribe and Ray, a Chemehuevi, are part of the Colorado River Indian Reservation tribes.
From the Colorado River Indian Tribe's website we learn the following:
The Colorado River Indian Tribe's (CRIT) include four distinct Tribes - the Mohave, Chemehuevi, Hopi and Navajo. There are currently about 4,070 active Tribal members.
The CRIT Reservation was created in 1865 by the Federal Government for "Indians of the Colorado River and its tributaries," originally for the Mohave and Chemehuevi, who had inhabited the area for centuries. People of the Hopi and Navajo Tribes were relocated to the reservation in later years.
The reservation stretches along the Colorado River on both the Arizona and California side. It includes almost 300,000 acres of land, with the river serving as the focal point and lifeblood of the area.
The primary community in the CRIT Reservation is Parker, Arizona, which is located on a combination of Tribal land, leased land that is owned by CRIT and land owned by non-Native Americans. There are other, smaller communities on the reservation, including Poston, located 10 miles south of Parker.
Poston was the site in World War II of one of the United States' largest Japanese internment camps, where thousands of Japanese-Americans were held over a three-year period. The camp sites are now home to a monument dedicated to those who died and suffered while in internment, and CRIT is currently in the process of creating a museum to commemorate the era.
The primary economic activity on the CRIT Reservation has always been agriculture, going back to the days when mesquite trees were plentiful along the banks of the river and were relied upon for everything from food to cooking to Tribal traditions and ceremonies. CRIT continues to have a strong farming and agricultural industry, including growing cotton, alfalfa and sorghum.
However, in recent years the Tribal economy has diversified greatly, and now includes forays and businesses in several different fields. Sand and gravel, real estate development and retail stores have all been part of the Tribes' economic development efforts. And over the past decade, a heavy emphasis has turned toward tourism, as CRIT opened the BlueWater Resort and Casino in Parker and has endeavored to attract both cultural and recreational tourists to the area.