Meet Arizona Agriculture's Angle-Larson Family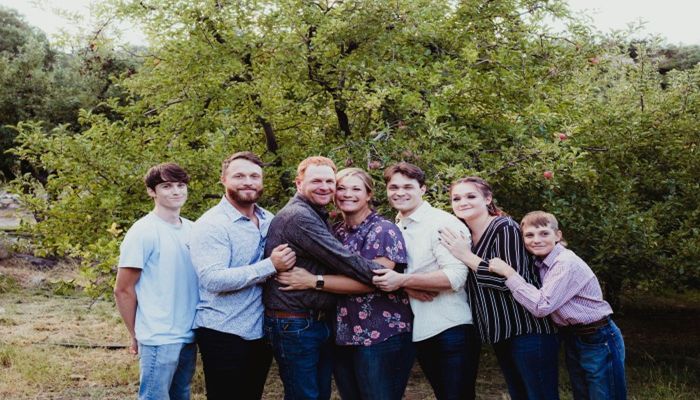 While we were searching high and low for another Farm Bureau family that would apply for the Century Farm and Ranch recognition, another member, Lucia Konrath from Graham County, alerted us to another fellow Graham County farm family that had hit the 100-year mark, Angle Orchard. Thanks to our network, we're keeping up with all our farm and ranch stories. 
This story has special meaning for the farm and ranch families in Graham County as this family's story begins in the shadow of Mount Graham. The mountain reaches 10,724 feet (3,269 m) in height and is the highest elevation in Graham County. Of worthy note, the mountain is also the southernmost peak and land area in the continental United States above 10,000 feet. As the name "Mount Graham" is often used by locals to refer to the entire mountain range, the peak itself is frequently referred to as "High Peak."
A farm profile of Paul Larson and Family, owner of Angle Orchard in Graham County.
An ongoing series of our farm and ranch families.
Tell Us About Your Century Orchard: Angle Orchard was founded by Andrew Preston Angle and Viola Cooper Angle in 1922. It all started with a discarded peach pit. 
The story goes, that between 1910 and 1920, some unknown person left a peach pit on the ground after enjoying the fruit. 
The seedling peach tree that grew would bear fruit year after year, even when the fruit in the Gila Valley would freeze. This fact came to the attention of Andrew Preston Angle, who lived at the base of the mountain. Andrew surmised that the area must have ideal thermals for preventing frost and growing superior fruit. 
Just as the trees started to bear fruit, Andrew Preston Angle died from an appendicitis attack in 1928. His two sons, Rome and Andrew, took over the orchard with Rome owning the orchard until 1962. 

Angle Orchard in Winter
In 1962, Andrew and Zereta Farnsworth Angle became owners of the orchard and over the next 18 years improving the health and quality of the trees. 
In 1980, Eldon Angle, son of Andrew and Zereta, purchased the orchard. Eldon did an amazing job planting, grafting and keeping the orchard in tip-top shape for the next 25 years. 
On July 1, 2005, Betty Ann Larson, Eldon's sister, purchased the orchard and managed it for several years with the help of her three adopted sons and eight children. In 2017, Betty was diagnosed with dementia and had to turn the running of the orchard over to her children.
In 2018, her son, Paul Larson, took ownership of the orchard and with the assistance of his siblings and cousins, is keeping Angle Orchard alive and well now going on 100 years.
What do you love the most about the agriculture industry in general? The ability to produce something tangible and the satisfaction you get from producing something that supports life. Also, I get enjoyment from the people I meet and serve.  
What is one fact or achievement that few people know about you? (Something about yourself we can't find on Google or Facebook.) I am a 4th generation apple farmer.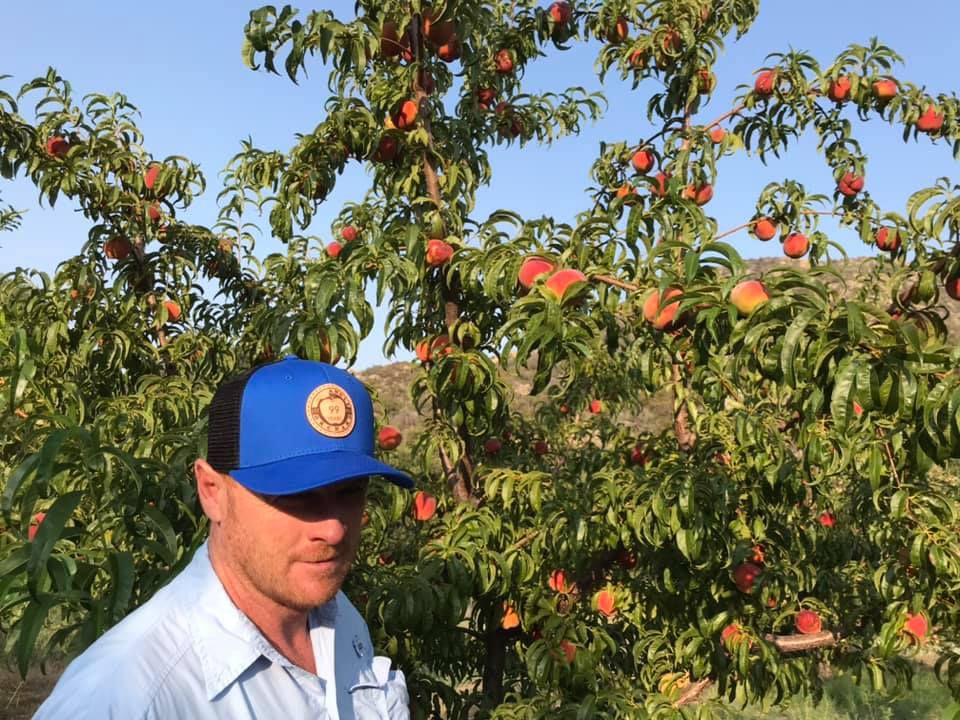 Paul Larson in front of some of his peach trees.
In your opinion, how will the next generation of agriculturalists need to operate to be successful? For smaller operators like me, I think having a diversification of income is the ticket to success. 
What is the best life advice that you have received and/or can give? Teach your children the value of hard work at a young age and never give up on your goals and dreams. 
What Fruit You'll Find at the Angle Orchard
For our orchard, the peach season starts around July 4th with the Saturn peaches and ends the first of September with O'Henry peaches. Angle Orchard has 15 varieties available. 
Currently, the peach crop looks to be doing well with plenty of peaches: David Sun, Saturn Sun, O' Henry, Elegant Lady, Ryan Sun, Red Globe, M A Blake, Glohaven, Cresthaven, July Elberta, Angelus, Hal-Berta Giant, Redhaven, and Elberta
The apple season kicks off in Mid-August with Gala apples and ends in late October with Fuji. The Orchard currently has 11 different varieties: Red Delicious, Golden Delicious, Blushing Golden, Winesap, Fuji, Elstar, Gala, Granny Smith, Arkansas Black, Empire and Jonathans.
Editor's Note: Angle Orchard will be receiving statewide recognition from Arizona Farm Bureau for their Century Farm status in November. For hours of operation, look for them on Facebook at @angleorchard