Meet Arizona Agriculture's Brody McGuire of Rocker 7 Farm Patch
By Justen Ollendick, Arizona Farm BureauCommunications, Education, and Marketing Intern, with contributions by Julie Murphree: Last week, Julie and I got the opportunity to dip out of the office for an afternoon to head west to Buckeye and check out Rocker 7 Farm Patch! This agricultural entity is not your typical U-pick pumpkin patch…in fact, their focus is generated more toward providing educational opportunities while on the farm. We have labeled that as "Agucation." Education is a major theme within Rocker 7 as the owner Brandon Leister, and his Executive Director Brody McGuire both have degrees in Agricultural Education, and several years in the classroom. In an earlier article on Rocker 7 Farm Patch's educational focus we drilled down on how this amazing on-farm experience came to be. 
 An interview with Brody McGuire, Executive Director of Rocker 7 Farm Patch in Buckeye, Arizona.
Part of an ongoing series about Arizona Farming and Ranching Families. 
Talk about your Rocker 7 Farm Patch and the facilities: I am the Executive Director of Rocker 7 Farm Patch located in Buckeye, Arizona, owned by Brandon and Katie Leister. Our whole premise through and through has been to provide people with the opportunity to learn about agriculture, where their food and fiber comes from, all of which were the driving force for what caused this operation to come together. We have two separate deals within the farm: on Friday, Saturday, and Sunday we are open to the public. Anyone can come in and enjoy the hayride, pumpkin patch, corn maze and lots of family friendly oriented activities. Tuesday through Thursday are school tours, where students are able to come in and enjoy the farm, while being educated on all of the different sections of this operation. We have over 800 students lined up for this season. They are educated on everything from corn and wheat, sunflowers and bees, to the dairy industry and even water in Arizona. They also get to go out to the corn maze to pick an ear of corn, husk it and explain how it grows.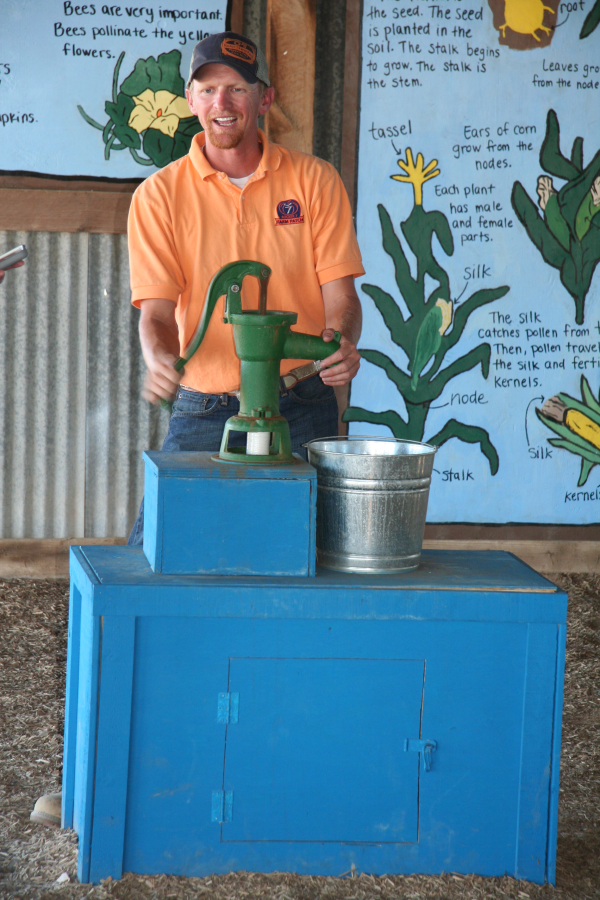 On Rocker 7 Farm Patch's on-farm "agucational" experience, Brody McGuire and owners, Brandon and Katie Leister, want to teach children and adults everything there is to learn about Arizona agriculture, including water conservation and management in our state by our farmers and ranchers. 
Where do you see your operation in the future (5, 10, even 15 years from now)? I really see expansion, making this operation bigger and better, while maintaining our vision. The key thing that we always ask ourselves is "how can we make this educational?" That has been the forefront of everything. Of course, we want to make this a fun and enjoyable experience for everyone, which is one of our bigger goals. Always, though, the ultimate goal is to educate people as to where their food and fiber comes from. I have been able to implement education into all aspects of what this operation does. In the end, I just want to see it grow and become an inspiration for people to understand what agriculture truly is.
Why did you choose to continue on in the agricultural industry? My teaching experience, passion for Arizona agriculture and family background in the industry. All of those add to the success and help to build the ideal team for Rocker 7 Farm Patch. We are able to create a fun, entertaining environment for families and an engaging, educational experience for students. My involvement and enthusiasm for agriculture is largely attributed to my family own heritage – specifically my grandfather's.
What generation of farming or ranching are you?  I am a third generation. Both sets of grandparents are production agriculturalist. Farming in the west valley predominately cotton and alfalfa, so much so to the point where my mom was driving a tractor until she was 8 months pregnant with me, the only reason she stopped was her father made her! My father's father owned a custom meat processing plant up in the White Tanks for over 40 years, which kept him busy. We are all also heavily involved in the National FFA Organization. My dad, my brother and myself were all Arizona State FFA Officers and my sister-in-law was also an avid FFA member.   
What do you do when you're not farming?  When I'm not making agriculture come to life for students and families or auctioneering, I like to spend time outdoors, hiking, hunting, fishing and traveling!
What is one fact/experience/achievement no one knows about you? I was voted "Best All Around Auctioneer" when I graduated from the Mendenhall School of Auctioneering in 2008. I received a Bachelor's degree in agricultural education from the University of Arizona in 2011. I also own a business called Brody McGuire Auction Services. Recently, I honed my auctioneering skills at the Auction Systems Advanced Auctioneer Academy in December 2013.
What do you think you do really well? Explain. I have a way of creating a fun, family farm experience and providing valuable school lessons for students at the same time, all from a certified Arizona educator nonetheless. We hope to make our tours not only fun but also informative to all students who come to Rocker 7 Farm Patch.
Why are you a farm bureau member? Why am I a Farm Bureau member…? WHY NOT! It's a lot of good stuff, I am always getting something out of everything that you all do. Being involved in the Young Farmers and Ranchers group is always a good time, to see how agriculture is all over our state is so rewarding!
How will the next generation of ranchers have to operate? The next generation will have to adapt to the needs of a growing population by doing more with less. They will have to be responsive to increased customer demand by embracing new technology to improve yield, efficiency, and sustainability. Not only will they have to provide a food source but also be able to provide a food supply that ensures individuals they are receiving a safe, wholesome, high quality product. They will have to do all of that while educating a world that is increasingly removed from the farm about where their food comes from and why that is important. It is a daunting task, but this generation is up for the challenge.