Meet Arizona Agriculture's Caywood Family
By Peggy Jo Goodfellow, Arizona Farm Bureau: This fourth-generation Arizona farm family encourages the next generation to be involved in decision-making today to better prepare them for the future. With ever changing rules and regulations, the next generation of farmers will have to keep informed and let their voices be heard.
An interview with Nancy Caywood- Robertson of Caywood Farms
Our ongoing series profiling Arizona Farm Bureau's farm and ranch families
Tell us about your farm:We are a fourth-generation farm. My grandfather purchased the land (247 acres) at 11-mile corner in Pinal County around 1930. My father, Tommy Caywood, grew up on the farm, graduated from Casa Grande Union High School in 1940 and then continued his education at the University of Arizona in Tucson (he was in the Aggie House). He never finished because WWII broke out and he went into the Navy serving on the USS Cimmaron, a Naval Tanker stationed in the South Pacific. After returning to Casa Grande, he purchased land near Stanfield and soon married Sammie Darr Caywood (in 1948) where they farmed until 1980. After selling the farm in Stanfield, they farmed the 11-mile corner place.
My son, Travis Hartman, began farming alongside my parents around 1995. Travis also became a Firefighter, Paramedic and is Captain for his shift at the Eloy Fire Department. I (Nancy Caywood-Robertson) worked for the University of California Desert Research and Extension Center in El Centro, California where I started the FARM SMART Program in 2001, an agricultural literacy program. On February 13, 2014, that program reached 100,000 attendees. I retired officially from the University of California in June 2013 but returned for the Winter Visitor Program in 2014. In 2011, our family decided to add Farm Tours on our family farm. They have been very successful and will hopefully grow. There are no farm tours in the area and many winter visitors spend the winter here and are very curious about cotton. During our tours, visitors watch a PowerPoint presentation on "Cottons Long Journey: From Seed to Fiber," they check out farm equipment including a cotton picker and module builder (we start them and show how they run), and they go on a hayride around our farm with a stop at the cotton field where they crack open green bolls and harvest some cotton. We conclude the program with door prizes and hand-outs. These tours will hopefully bring more revenue into the family.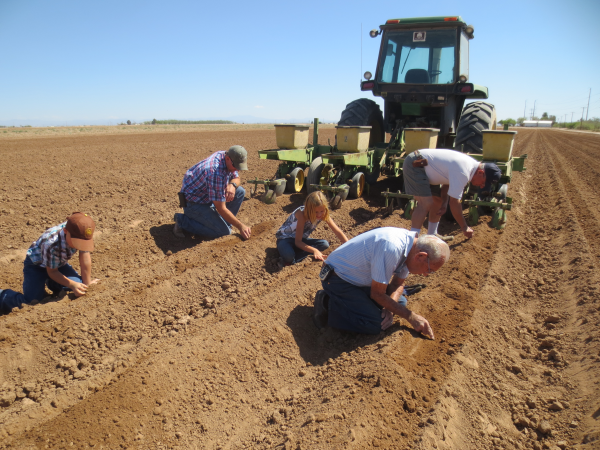 Four generations of Caywoods scratching for cotton seed.
Travis and his wife Mandy, have two children. Hannah is nine and Tommy is seven and they will hopefully become the 5th generation to farm Caywood Farms!
What changes have you seen in your lifetime as it relates to farming and? Improvement of equipment makes field work faster. More compliance to new rules and regulations create challenges.
Why did you choose to go into agriculture? My father grew up working on the farm and enjoyed it. After returning from the Navy, it was familiar work and his father helped him and my mom, Sammie, purchase a farm. Travis has also enjoyed farming his entire life and was a member and officer of FFA during his high school years. He wants to continue our family farming tradition.
Plus, I am passionate about agriculture. I taught 1st and 2nd grades and quickly learned kids have no idea that their food and fiber start on a farm! I completed my Masters Degree in Ag Education at the University of Arizona and relocated in El Centro in 2001 to give birth to the FARM SMART Program. My dream was coming true as I watched that program grow and evolve into what it is today. I retired and left it in loving arms and it continues to grow. My love for agriculture and family farms runs through my veins and I want everyone to love it as much as I do! So now that I am retired it is now time for me to concentrate on agricultural literacy and farm tours on our family farm. My husband, Al Robertson, is an amazing support system. He is a retired pilot from Southwest Airlines and I figured he could drive a tractor if he could fly a 737. He can definitely do that but he can teach and build props as well. We both play music. I play the fiddle and he plays the guitar and autoharp and we both sing. He writes parody songs relating to agriculture and we play lots of traditional fiddle songs at all of our farm tours. We believe "Fiddle music, popcorn and hayrides" make our tours fun! We have one important rule on our tours and that is "You have to have fun with us!" We will be offering tours to schools in addition to our Winter Visitor Programs.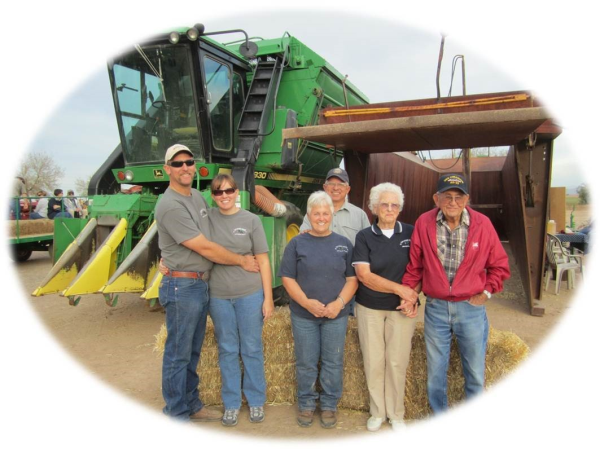 The Caywood family: (Left to Right) Travis and Mandy Hartman, Nancy Caywood-Robertson and Alan Robertson, Sammie and Tommy Caywood.
Will anyone in your family – younger generation – pursue farming and/or ranching? We hope that my grandchildren Hannah (age 9) and Tommy (age 7) will become interested in careers relating to agriculture. Hopefully, they will continue farming our family farm. They live on the farm and enjoy working alongside their dad and my dad (their Great Grandfather). Last spring, Travis was repairing some ditches and Hannah and Tommy were right there with him learning how to use a trowel and smooth the newly poured concrete. They know how to operate the cotton module builder. They help Travis spray ditch banks, scratch for cotton seed when it is germinating and are learning to farm with hands-on experience from my father (their great grandfather) and their father. There is something so special about growing up on the farm so hopefully this will help them decide to pursue a future of farming.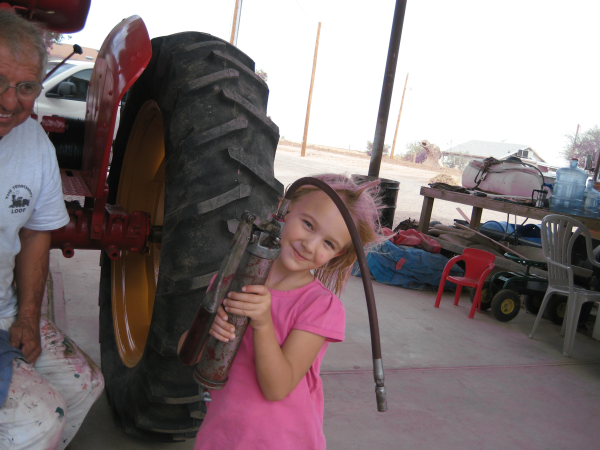 Hannah Hartman on the Caywood Farm helping Alan grease the zirks.
Would you ever consider growing an emerging crop or changing your farm or ranch model? Yes. Currently we are researching the possibility of growing olives. We are learning they grow well in arid lands using very little water. We will start out with only 50 trees using them for our farm tours. We hope they will attract the curious and entice them to attend a farm tour. It will take about 5 years before a harvest will happen, but if we find they grow well and will provide additional income with less water usage then will consider putting in more trees. We are currently seeking out other crops that require lower water consumptions. We are definitely open minded to different crops that may not be traditional in this area.
We are also incorporating Agri-Tourism on our family farm. We are hoping additional income from these tours will help pay farming costs.
What are your community activities? Why are you involved?
Tommy Caywood:
West Pinal Natural Resource Conservation District-1961 to present, Secretary-Treasurer
Agri-Business Council of Arizona-member, many years
Electrical District #1 in Stanfield, Founder and President
Casa Grande Industrial Development Authority-1978 – present, Secretary-Treasurer
11-Mile Corner Gin Board-2000 to present – Secretary-Treasurer
Casa Grande Chamber of Commerce Government Affairs Committee-past member
Maricopa-Stanfield Irrigation and Drainage District, Secretary-Treasurer (for 19 years)
Travis Hartman:
Calripkin Little League, Coach
Captain, Eloy Fire Department
Nancy Caywood-Robertson:
Casa Grande Government Affairs Committee, member
Arizona Farming and Ranching Hall of Fame, member
Casa Grande Elementary School District Career Camp Committee, member
Arizona Old-Time Fiddlers Association, member
What is the one fact/experience/achievement no one knows about you?
Tom Caywood:
Makes the best Dutch Oven Biscuits in the world!
Enjoys making golf clubs and putters and donating them to fund-raising events
Sammie Caywood:
Was the organizer and first president of the Casa Grande Valley Humane Society.
Travis Hartman:
Restored a 1946 Minneapolis Moline Tractor in FFA in 1999 and it placed 5th in the nation at the National FFA Convention.
Mandy Hartman:
Was a state officer in FFA after graduating from Casa Grande Union High School.
Nancy Caywood-Robertson:
Just got selected to be one of fifteen women in the United States to attend the American Farm Bureau Women's Communications Boot Camp in Washington, D.C.! Also, rode a buffalo in a wild buffalo race at Casa Grande's O'odham Tash Rodeo.
Alan Robertson:
Retired Navy Pilot and Captain for Southwest Airlines.
What do you think you do really well?
Tom and Sammie Caywood: Stays very focused on current agricultural issues that will directly affect our family farm. Tommy is a "jack of all trades" capable of engineering or modifying an existing part to make anything work or run again.
Travis Hartman: Excellent paramedic, firefighter and Captain of his shift. "Jack of all trades" with the capability of engineering or modifying existing parts to make anything work or run again. He learned most of that from his grandfather.
Nancy Caywood: I know that with my farming, teaching and music background that I can put on farm tours that are meaningful, fun and educational. I also play the fiddle, have won some fiddle contests and have played in several bands.
Alan Robertson: Excellent at woodworking and makes all of our program props. Also an excellent song writer and musician which compliments our farm programs.
Why are you a farm bureau member? We are members of farm bureau because we believe in agriculture. Farm Bureau addresses ag-related issues and through their meetings and newsletters, we can stay informed on current issues. Nancy is a member of the Farm Bureau in both Arizona and California and was the Imperial County Representative to California Ag in the Classroom. Nancy is interested in Arizona Ag in the Classroom and would like to become active.
How will the next generation of farmers have to operate? Water availability is always going to be a challenge. It will be important for the next generation to be involved in decision-making. With ever changing rules and regulations, the next generation of farmers will have to keep informed and let their voices be heard. With population increasing, water shortages and compliance with new rules and regulations there will be challenges unlike farmers in previous years have ever experienced.
With society being generations removed from the farm and farmers so few, education is key. People can vote on ag-related issues that can make farming nearly impossible. They outnumber the farmers! The cost of fuel, water, equipment, insurance and taxes force many farmers out of business. Many next-generation farmers are discouraged before they ever get started which could push them into other careers. These are all serious issues that regularly need to addressed.
Join our Family!