Meet Arizona Agriculture's Claridge Family
Julie Murphree, Arizona Farm Bureau: Dedicated to the community, this cotton- and alfalfa-farming family is focused on family and community involvement. In fact, if you don't see a Claridge family member doing something in the community, you're not paying attention.
An interview with Mark and Debbie Claridge of Safford, Arizona.
Part of an ongoing series about Arizona Farming and Ranching Families.
Talk about your farm: I grow long and short staple cotton. I also grow alfalfa hay that I primarily sell to the retail market.
What changes have you seen in your lifetime as it relates to farming and/or ranching? When I was growing up there were quite a few farms in our valley. Most were small family operations. As I've grown into adulthood I have seen family farms consolidate in order to survive. Essentially, there are the same number of acres, just consolidated to fewer family farmers.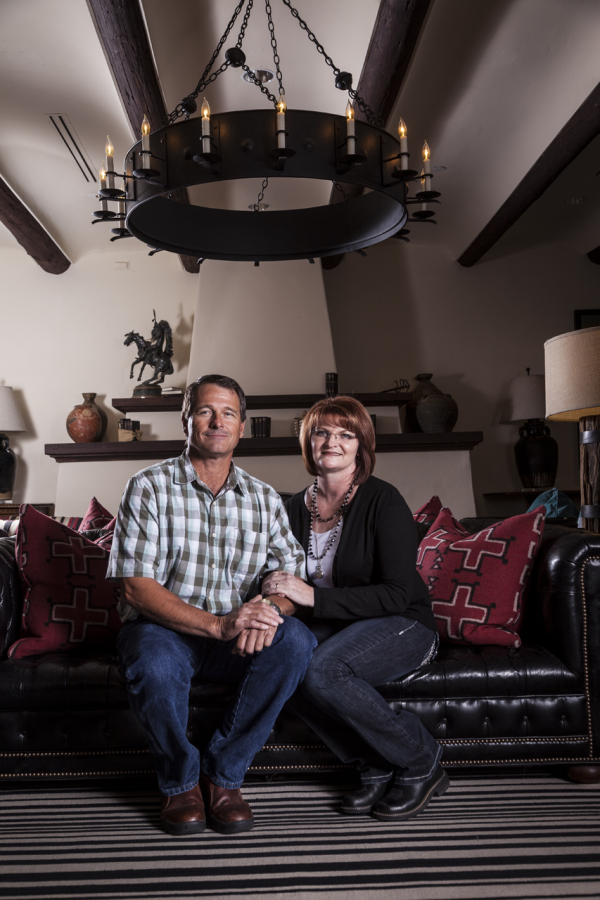 Farm Bureau members Mark and Debbie Claridge farm cotton and alfalfa in Graham County.
Why did you choose to go into agriculture? I grew up in it, was raised on a farm, and enjoyed the work that came with it. I enjoyed being active outdoors. Most of all I enjoyed working with the elements of the earth, the dirt and what not.
What generation of farming are you? I am the fourth generation farmer.
Will anyone in your family...younger generation...pursue farming? We have five children, four girls and one boy. I'm an only son and my son is an only son. If my son farms, he'd be the fifth generation in farming in my family farming on the same piece of dirt. If he wants to farm, it will be here for him after he gets his education. In farming today, we're making due with less and at the same time managing more of an investment to make the same money. It's tough.
The children are 27, 21, 18, 15, and 12 years old. We are not sure if they will go into an agricultural related field, but if they do that would be great. He says yes if you ask him directly! As my wife said, he'll have to get an education first and then can return back into the field.
Would you ever consider growing an emerging crop or changing your farm model? As I was growing up, my uncles would experiment with vegetables in this valley. My dad grew chilies at one time, but none were very economically viable at the time. We even tried grazing cattle and hogs over the years as well. We've had a fairly stable commodity market my entire adult life.
Changes in the Farm Bill as it relates to some major commodities, like cotton, will make it more challenging. I predict cotton acres will go down. There will be changes.
What are your community activities? Why are you involved? Over the years I have been involved with the Boy Scouts quite a bit. I currently serve on the county Planning and Zoning Commission. I, of course, have been involved in Farm Bureau on the County level, as a county President, and served as a state board member. I have also served on a Governor's committee.
We just enjoy being active in the community.
Debbie added: We're involved in our church and our kids are active in our church and a lot of community youth programs including our son being active in FFA. He raises and shows a steer every year at the County fair. Our girls' activities have been more scholastic but also include dance and gymnastics.
What is one fact/experience/achievement no one knows about you? Besides loving to hunt, one of the best qualities I love about Mark is he is one of the most honest people you will ever meet. For example, we have hay customers before that will come down to buy hay. They'll pay for it, leave, but as they leave a bale of hay will fall off as they're leaving town. Mark's gone out and deliver it to the customer that dropped it. One time he drove 115 miles to deliver that one bale to the customer, instead of just putting it back on the stack. That's what makes a great person! He also just finished with Project CENTRL.
From Mark: Debbie is just a really good person with a really good work ethic. She's great company. Said Debbie, "I always say Mark married me because I can drive heavy equipment."
Why are you a farm bureau member? Years ago, I was talking to a fellow farmer. I told him that in our valley that agriculture needs to be promoted a little more to the public. He took that as an interest in Farm Bureau and it influenced his personal involvement in Farm Bureau. Farm Bureau has a great ability to lobby for our agriculture issues.
Debbie added: Farm Bureau has given us a lot of opportunities, especially when Mark was County president, but for both of us to also lobby on behalf of the industry including going back in Washington, D.C. to talk to our Congressional representatives, including lobbying on issues that are pertinent to our community. It's nice that he and other farmers can have a voice in Washington D.C. about what's important in our community. For a small community, who knows more about that community than those of us from our farming communities?
How will the next generation of farmers have to operate, your son, Heston, for example if he wants to farm? He's going to have to be able to grow the business and do it in a way that's socially responsible. As farmers we have to be productive, we have to be competitive and also, since there is not very many of us, we need to make sure we connect with our customers. We don't want to do anything that would cause us to lose our license to produce what we produce. We must continue to do it in a way that reflects our commitment to healthy and socially responsible farming.
Added Debbie: I also think as our youth come of age to farm, they are so much more technically literate than we are, including social media, and they must be more communication-oriented and get their story out so that the public understands that farmers are not abusers of the land, but caretakers of the land. It's important that the message gets out to everyone and we keep the public truly informed about where their food comes from.