Meet Arizona Agriculture's Clifton Family
Justen Ollendick, Arizona Farm Bureau intern: Read about a single mom balancing three kids that are involved in anything and everything and a business, whose vision hasn't changed as she's worked hard to bridge the gap between new and old agriculture practices, and continues to build a successful business focused on "connecting agriculture and community." Wouldn't you say that's a lifetime commitment to success and the agricultural industry?
An interview with Gwen Clifton of Stronghold Feed & Supply – Willcox, Arizona.
Tell us about your agribusiness operation: My business is Stronghold Feed & Supply which is primarily a livestock and small animal feed store located in the heart of southern Arizona agriculture in Willcox. We also have a great selection of farm and ranch supplies including tack, horseshoeing supplies, farm/ranch equipment and animal health supplies and medicine. I have added a bit of a "woman's touch" with the addition of western apparel and decorative items as well. I've heard it said jokingly that we are the "Willcox Mall." The company itself has been around for over 30 years; I purchased it about three and a half years ago. With the help of dedicated staff members, we have been able to grow the company by simply listening to our customers and providing the items that they needed. Most of our customers are our friends and neighbors that we see on a day-to-day basis. We make it a point to know their animals and feed needs so that we can better serve them.
Gwen Clifton's store front. Those standing in front include a group of 4-H and FFA kids that participated in a Show Clinic, conducted in partnership with Kirk Steirwalt.
Tell us about yourself and your background: I grew up in Wyoming for the most part. My grandpa was a horse shoer and brand inspector in a small town. My family was very involved in 4-H and ranching/rodeo. I then moved here to Arizona and lived on a ranch that raised Brangus cattle. My actual degrees are in education, and I taught for a while at a Christian School, but decided to try my hand at being a small business owner. I have three pretty crazy awesome kids. Kodie, my oldest daughter, is very involved with the Willcox FFA chapter here in Willcox, she loves to ride and rope. She has a true passion for agriculture and everything that it stands for. My son, Jason, has Down syndrome, but is about the most normal 15-year-old boy you'll ever meet along with all the orneriness that goes with it. He also loves horses and occasionally goes out to help our horse shoer pull the shoes off. In all reality, the store was purchased with Jason in mind so that he would learn to work and become a productive member of society one day. The youngest, Hailey, is 12 and often works in the store as well. She's pretty efficient and does well in the sales area. She will soon be in high school and be involved with FFA along with her brother and sister.
Why did you choose to go into agriculture? Agriculture is important to me. It was an easy choice for me because I grew up in it, and I have enough background knowledge. It has helped me to survive, it's helped me financially, and is also a great way of life as far as I am concerned. Our slogan at the store is "Connecting Agriculture and Community." Everything here in Willcox revolves around agriculture in the area. Stronghold Feed & Supply serves to connect agriculture with the community in a different kind of way, and to bring it all together. We support a lot of youth activities that involve rodeo, 4H, FFA, and athletics. It is important that kids are supported in the agricultural culture that fosters a love for the industry as well as a desire to help it thrive and grow. Kids who are agriculturally minded know how to be respectful and how to work for what they get. They grow up to be adults who know the value of the dollar and are looking for ways to improve on their operations.
Within agriculture, we have a couple of different mentalities. Part of my goal was to bridge the gap between the two. You may have heard the adage, "If it ain't broke don't fix it!" Well there is a lot of truth to that for many farmers and ranchers. They have been in the industry for years, just like their fathers and grandfathers. It is difficult to change something that seems to be working well. Agriculture is an ever evolving industry. So as I studied feed and studied the ways that feed can really help to grow cattle with better health and vitality, I realized that there was a gap between what wasn't really "broke" and something that might make the cattle a little heavier and healthier than ever before. In these really awesome cattle markets, every pound is worth a whole lot of money. I figured somehow there had to be a way to bridge that gap to help ranchers to really understand what can benefit their cattle the most, and bring just a little more change in their pockets. My job is to give them all the options and possibilities, but ultimately each rancher knows what is best for his or her own herd. Of course there were skeptics as to my abilities to help, but I think most of them have come around to the idea that I might be able to give them some good information and if I don't know the answers I'll darn sure try my best to find out.
What changes have you seen in your lifetime as relates to farming/ranching? The science and research that have been put into feeds can really adjust and change an entire cycle of a cow and her life and the calf that she produces, the genetics, the way feeds work together, and the way they work in certain conditions. To be able to see the way those things have transformed within the production of cattle has been very interesting to me. There are also many more regulations that have happened within the industry, and we've had to focus on fighting that. Thank goodness for those people like you at Farm Bureau that fight for us.
On the rodeo side of agriculture I've seen a realization that the animals are athletes and need to be treated as such with the proper nutrition and equipment. The price of a good rodeo animal can be way up there. Rodeo cowboys and cowgirls are very particular in the care and feeding of their animals. It's become much more intricate than throwing out a flake of hay morning and night.
Will anyone in your family – younger generation – pursue farming, ranching, or carry on the family business? Kodie is very involved in FFA, and it is her goal to become an Agriculture Teacher with a twist: because of her brother she wants to develop a special needs program within agricultural education and FFA. Jason is awesome with people and working here at the feed store will be a great job for him to be able to load feed and help customers. Hailey is still young, and I don't know what direction she wants to go in, but it wouldn't surprise me if she chose to go in the direction of the store.
Kodie, Gwen and Jason.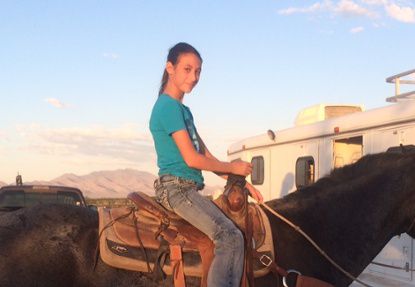 Hailey, along with older sister, Kodie and brother, Jason, all love riding.
Would you ever consider changing your business model? I believe that if you are not changing, then you're not doing anything at all, and not succeeding. I get regulars that are ornery about me changing the layout of the store all the time, but adding products and figuring out what the best products are for my customer base is a continual process in growing. Right now I'm working on a five- and ten-year plan. I am always watching those that have already been there and done that. There's no reason to reinvent the wheel, but there might be a reason to put a new twist in it. There's always a plan for some change, and it will probably even change a little within the next week!
What are your community activities/what are you involved in? Well since I have three children that are involved in anything and everything, I am also involved in all of those things. I am involved with the FFA. This last fall I helped coach the Willcox FFA Agricultural Sales team which was very cool. Both of my girls are involved with dance, so I do things with that. In Willcox, everything seems to be a whole community event. I attend lots of rodeo events, barrel races, and team roping representing Stronghold Feed & Supply; whether I'm displaying products or sponsoring an event. My latest is becoming a sponsor of the newly established Willcox Junior Rodeo Association. Anything that involves kids and agriculture, I'm all about!
Why are you a farm bureau member? It actually started out because the insurance was the best I could get for the value. I have been a Farm Bureau member for a long time, but I am also a Cochise/Graham Cattle Growers and Arizona Cattle Growers member as well. I see the value that those programs have in helping society to keep agriculture on the right track. Farm Bureau is also an amazing educational tool for children and adults. It's great for me since 80% of my customers are Arizona Farm Bureau members.
What does the future of the agribusiness industry look like? Trends in all industries seem to run in cycles. Agribusiness is no exception. When markets are up we get more business. When markets are down everyone is doing their best to get by with as little overhead cost as possible. There are certain things that are big news, then they die out, and become big once again. Government regulations continually affect the industry for both good and bad. There are certain technological advancements in the industry that can be extremely beneficial, but there is an ironing out process that has to happen first. The industries of the world are constantly changing and advancing.
Agriculture is an industry that touches every human life on some level. It is absolutely necessary for the survival of the human race. There are few industries that have that kind of far reaching connection on every level from local, to state, to federal, to the world. Those of us in agriculture understand this phenomenal responsibility and take our jobs very seriously. I believe we will continue to research and provide the best possible crops and products with the most efficient production methods possible. Agriculture will continue to thrive into the future as it has throughout history. It is an industry we can all be very proud of which to be a part.