Meet Arizona Agriculture's Killian Family
By Julie Murphree, Arizona Farm Bureau: Growing up in agriculture as a young man, C. Max Killian knew early on he didn't want to farm. So, he became an attorney, married, had two boys and in the midst of it all represented farm families throughout Arizona. Meanwhile as his two boys grew up around the extended family's farm environment and a ranch Max bought in Colorado, his kids returned to the farm, so-to-speak.
Today, you can find one of the Killian's farms quietly tucked away just south of Southern in Mesa between Higley and Greenfield. Surrounded by residential homes and commercial buildings this citrus orchard hides a bustling traditional and direct-market enterprise of grain- and grass-fed beef.
An Interview with C. Max Killian and his son, Mark.
An ongoing series of our Arizona Farmers and ranchers

Tell us about your farm, ranch, and other agriculture businesses. In 1930, Max's father, Ray Killian, moved the family from Graham County to Maricopa County in Mesa where he bought 60 acres and planted citrus trees along with 80 acres on Val Vista. The citrus market in the mid-1930s experienced a dramatic slump so the Killian family also began raising cattle.
(Max): I learned to ride a horse chasing cattle around these citrus trees. Between that and fighting the old Farmall tractor with steel wheels, I was ready to try anything else but farming.
We also had 100 acres that we planted various crops including alfalfa. We had a buck rake that Dad put me on with a team of horses. My job was to rake the hay.
Today, we've kept the center headquarters where the orchard is and sold everything else around us. But the reason I went to law school was partly because it was tough disking this grove (he chuckles).
Over the years, I've represented farmers for a number of reasons including taxation issues. I represented Farm Bureau and all the irrigation districts when they brought the lawsuit as a result of the railroad creating the problem of assessing the land for more than it was worth. For example, you could rent the land for $100 an acre; but they were assessing the land at $150. I was hired to lobby for a change in the law and work out a whole new assessment method for farm land. In the latter part of my career I dealt in zoning, helping farmers' transition land from farming to development.
Let me tell you why agriculture is important to us: My grandfather Ellsworth, a real businessman, began accumulating farm land and ranches. So the farm operation he started to put together and what we now own -- it came down through his children and I bought my cousins out. The ranch has been in our family since 1912. Today, it's a small part of what Grandfather Ellsworth once had, which is now 160,000 acres. Grandson, Phillip, now runs the ranch [Safford and Willcox area]. We also bought a ranch next to Three Links and that's part of our operation there. So here is our agriculture beginning just after the turn of the century with my family.
While much of the farming between the various families became too small in the Gila Valley to farm, my grandpa and dad decided to go into the citrus business branching out here [in Maricopa County].
We expanded to a 600-acre farm. Plus, the cattle business kept growing here. At the time, you could not sell farm products and make as much money if you fed it through cattle. We kept building corrals and feedlots [to accommodate the growth in the cattle business]. We ultimately had a 2,000 head family-operated feedlot here [in Mesa] until we subdivided.
Notwithstanding my desire to be an attorney, I wanted to have a cattle ranch. So, I bought my granddad's cattle ranch in Colorado when I got out of law school. We'd bring our calves down here to feed them out. We expanded and bought the 51 Ranch in Bloody Basin, we'd bring those cattle here [to the feedlot]. We just kept growing as we were expanding our ranching.
So, my dad's in the water business and farming, I'm a lawyer representing farmers and ranching, we're operating this citrus farm, we own a packing house and we packed citrus and shipped it all over the country – that's how and why it all came together. Water. Land. Cattle. Farming. It was all part of what our family was and what it still is today.
Now, we have farms in Pinal County, farms in Harquahala, I'm still representing some farm families, and more. Regarding the citrus, we only have 24-acres here [in Mesa off of southern between Higley and Greenfield]. No packing houses and we'll sell citrus to whoever wants it, or give it away. But we kept the original working cattle facilities here that we built up over the years. So, we're still feeding cattle today.
(Mark, Max's son) For our cattle market today, we do three things. All the calves that are weaned off the ranches come here. We process them. We do a program called VAC 45. Then, we separate the steers from the heifers, then separate the steers by color.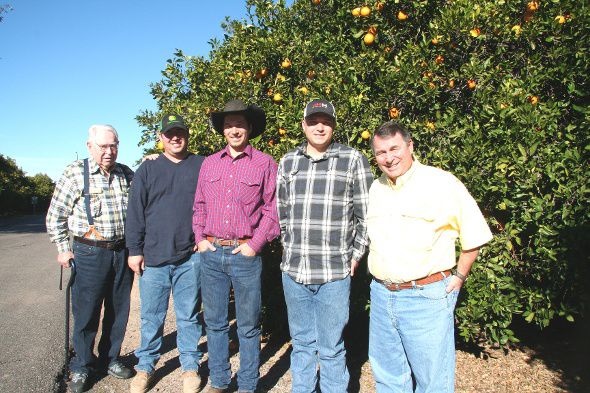 PART OF THE KILLIAN CLAN: (From left to right) Max Killian (attorney), Nathan Killian (Farming), Phillip Killian (ranching, horses), Matthew Killian (ranching, welding) and Mark Killian (all-around ag and real estate). Three generations stand in front of a citrus orchard that was first planted in Mesa, Arizona in the 1930s.
We market the steers when they get close to 700 pounds; take them to the auctions and sell them. We sold some on Superior Livestock.
Last year we started playing around with the direct market; all-natural beef we're selling to families -- which was very successful. This year, I have a line-up of people that want to buy cattle again. So, after we sell off most of the steers [through a traditional auction] we'll keep 25 to 30 of the best ones targeted for the direct-beef business. This year, we're doing grass-fed and corn-fed beef; providing two products. We call our direct market Killian Ranch Premium Beef.
Social media for direct-market farming and ranching is the wave of the future. If a farmer has a direct market he needs to use social media.
Regarding the agriculture enterprises my sons are involved in: We have Phillip running the ranch in the Safford, Willcox area including raising and selling "all-around" horses, Nathan is running the farm in Arizona City, and Matthew, our youngest son, lives in Show Low, takes care of our registered cows up in Pinedale, and plans on going to welding school.
The other thing we do here is grow out our replacement heifers. The ones that go back to Phillip in Safford; he takes and turns them out. We also take some to Show Low and some we breed here and sell as bred heifers. We also raise all our own bulls.
What changes have you seen in your lifetime as it relates to farming and/or ranching? (Max) Starting out with a pair of mules or a couple of horses to a tractor that drives itself that is something – that's really dramatic change. What we really learn is that farming is extremely scientific and you can't go out and farm today successfully without a solid knowledge of your technology options and an ability to use them. There are more areas of expertise in agriculture than in any other industry in America. You have to be a scientist because you need to understand soil types and fertilizer, you have to be a geneticist to understand seed and the type you have to grow, you have to understand the environment, you must understand the weather, you have to understand marketing which is totally different than it was 40 or 50 years ago. To be a successful farmer you must understand so much more.
(Mark) I'll take you down a bit of a different path. I believe the political and social pressures of farming today are much different than they were 60 or 70 years ago. The farmers and ranchers today deal with PETA, Sierra Club, the Center for Biological Diversity, they deal with the federal government, they deal with EPA, they deal with the counties on dust and air control, they deal with the Department of Agriculture, all kinds of rules on labeling. You go down the list of things that government and others have imposed on agriculture and it's a whole different environment. The urban masses do not appreciate the farming and ranching in its broadest sense because they've not been educated. Once they are educated and see what farm families do they change their approach and view of agriculture. For farm families to survive today they have to be very aggressively engaged. They have to be involved in government to protect their investment and their families. They have to go to meetings and speak up, they have to be diplomats. 100 years ago you had to fight the elements and Gila monsters. Today you have to fight radical environmentalists that want to put your family out of business. You regularly have to read the federal register to make sure someone hasn't listed an endangered species on your property that you might not even know about.
Unfortunately, agriculture is a bit behind in addressing these challenges we're facing today.
Why did you choose to go into agriculture? (Max) There wasn't anything else, though my dad was a banker.


Why has the family stayed in agriculture since the younger generation is in agriculture? (Mark) I'll talk about what influenced me. (Max, pipes in) It's a genetic defect.
(Mark) It is a genetic defect. When Grandpa Ellsworth was forced out in Safford due to drought he went to Colorado and bought the ranches. When I was just a child dad had the law practice here but the ranch in Colorado. In the summers we'd drive up and spend 2 weeks on the ranch and come back. Eventually we just spent the whole summers there. We left the day after school was out and came back to Arizona the day before school started. I was an adult before I spent a whole summer in Arizona. My brother and I grew up working the ranch; putting up hay and working the cattle.
My education was not in agriculture. It was in real estate and urban planning. My brother got his degree in political science. We started a landscaping and sweeping company and I did property management of shopping centers and commercial buildings and sold real estate. But at the same time the family farmed and ranched.
So the tradition through at least three generations of our family has been business, banking, law and agriculture. As we've grown up over time, my brother, David, and I still have a very active real estate brokerage practice. He's focused on the practice and I'm helping the boys with the farming and the ranching. It's a consolidated unit. We sit as a family and make decisions and hopefully they're the right ones.
Growing up, ranching was just a part of our lives. And, living in Mesa was part of our farming life.
(Editor's note: Mark has six children with three of his four sons in agriculture. If any of their children pursue agriculture, six generations of Killians will be involved in the farm and ranch industry.)
You've made adaptations to your farming and ranching based on the market and what works, what's not work. Talk about this for a bit. (Mark) We had this discussion the other day, with my son, Nathan. We asked ourselves what could we be growing out there right now [farm south of Arizona City] besides cotton? Cotton is a loser right now. The frustration we have is that we're not sure. When you think about what else you've grown, then you start to evaluate the situation, call other farmers, and often find out that everyone else is asking the same question. Is it vegetables, is it a new crop? Do we do more wheat or alfalfa? Do we do Milo or the sweet grazer that we're growing? As you go through those questions it comes down to the bottom line and what you can make money on. Will it pencil out?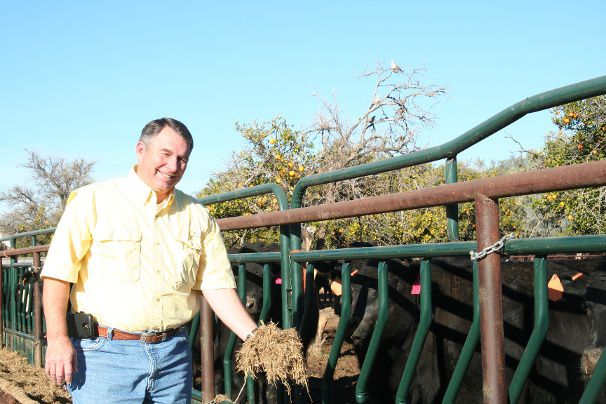 CITRUS AND CATTLE: Raising quality beef right in the city limits for three markets is an all-in-the-family effort for the Killians. Mark Killian explains the three markets: 1) traditional auction for market-weight steers, 2) all-natural beef for the direct-market, and 3) replacement heifers. Says Killian, "On our direct-market beef, we retail the steer, not the beef." In other words, he will sell you and me the whole steer.
So, we always move through those questions and the response right now is that no, on our Pinal County farm there isn't anything else right now, no other options.
Interestingly, some of the California vegetable growers are looking at the Eloy area to possibly come in and grow vegetables.


What are your community activities? Why are you involved? (Max) If you're in agriculture you have to be involved – in politics, in community, etc. My dad actually ran for state treasurer in 1930. Then my son, Mark, gets in the Arizona Legislature and eventually ends up Speaker of the House.
(Mark) When I was in the legislature I worked on a lot of agricultural issues because that was my interest. Now I'm chairman of the Green Reservoir Flood Control District, Chair of Santa Cruz River Alliance, I work on committees the mayor has asked me to be on, Rotary and church. I believe farm families have to be involved in the community. I always remind my family that they have to be involved in various organizations because if you don't someone else will make decisions for you that you can't live with. This gets back to advocacy.
We want to stay involved because so many urban families know nothing about agriculture.
(Max) Agriculture is losing its influence in the legislature because so few in the legislative body come from an agriculture background.


What is one fact/experience/achievement no one knows about you? (Mark) There are actually two things I did that not many know about, though it might have been reported on at the time. When I was a senior in High School, I was a state teenage Republican Chairman. We organized most of the charter clubs in the high schools throughout the state. That was the year Nixon was running for the second time. I went back and served as a page for John Rhodes at the time at the Republican National Convention. I was a staffer for the National Republican party for the Platform Committee. I got to see politics from the inside.
The second thing, I ran and was elected to the National Boy Scouts of America as Explorer Vice President. I toured all over the United States setting up Explorer posts and ended up doing a lot of work in the western United States.
I've continued to stay active with the Boy Scouts, serving as Grand Canyon Council Commissioner for two years.
(Max) Roping a cow on the dock in Quam when serving in the Navy is one event I've told the family. In High School I joined the Navy. I qualified for a program that required us to go to college and get a degree and get a commission. So I graduated from the University of Texas with a degree in Navel Science and Tactics and was sent to Harvard Business School for a semester to learn to do Navy Business. They sent me to Guam and put me in charge of the docks and I was all of 20 years old.
The Captain called me in one day and said Killian, you're from Arizona. Do you know anything about cattle? I told him, "Yes, sir." He told me they had a shipload of cattle and no one knows how to get them off the ship and get them where they have to be.
I was commanding a CB battalion and they were doing all the loading and unloading of these ships in Guam. Guam was the center of all the South Pacific shipping. So in comes this load of Holsteins. One of them had calved on the boat. So one of the first things I did was get a bucket and milk her because I hadn't had any fresh, decent milk for months. I took care of my milk problem for a few days. I had my own refrigerator and kitchen.
I had to figure how to get those cattle off the ship because the Guamanian government was trying to reestablish the dairy industry. So I had my crew build me a cattle trailer. Then I had them build me a place big enough to put a cow in that I could lift up off the ship, put down on the dock, take it out of the cage and put it on the truck.
Well, this cow with the calf, I didn't get her in the lift in time to be with the calf. So, she threw a fit. She jumped out of the truck. I did have halters on all of the cattle. So, she was hanging there; I ran over and cut the rope and she took off down the dock.
It was about a half-a-mile dock and we were working Japanese prisoner of war personnel, They were all over the deck and here comes this Holstein cow bellowing, running down this dock. I told my petty officer to get to my jeep. I jumped in the back, pulled up the rope to make me a lasso, sat in the back of the jeep going down the dock as fast as it would go and I roped her. It was a riot. All these people going this way and that way to get out of the way and people yelling and the cow bellowing and I only threw the rope once. The only time in my life I threw the rope once and caught a cow on the first try.
We tied her up and got her back. That's the story of that stupid cow. When you're twenty-years-old you can do all kinds of things.
What do you think you do really well? Explain. (Nathan, a son) We're good at butting heads [everyone chuckles]. A good argument to come to a good decision.
(Mark) I think what we do well, if you take each aspect of what we're doing in the aggregate, you discover we love what we're doing. We're dedicated to improving what we have. That philosophy probably comes from great-grandpa Ellsworth – which was every property he ever bought he always made it better. That's what grandpa did, that's what dad did, that is what we do. We're constantly asking ourselves how we can improve the business. In agriculture, every day is a new beginning, every day is a new day.
I also think we're good at helping people. We try to help the people we're around.
Why are you a farm bureau member? (Mark) I think it goes back to when grandpa was a Farm Bureau member. When I got in the legislature and went to the Farm Bureau dinner, I was not a member. I realized I needed to join the organization, even though we were in agriculture. But, I think we've been members ever since. I like the information we get from the organization.
Farm Bureau is good at advocacy. I've always said that with all the lobbyists I had to deal with I could trust everything Jim Klinker [Arizona Farm Bureau's chief administrative officer] told me. In fact as a freshman legislator, it was Jim Klinker, Rick Lavis, Doc Lange, and Cecil Miller who all took me under their wing and helped me be successful.


How will the next generation of farmers have to operate? (Max) The big issue is water. It's not resolvable unless it rains. But options exists.
(Mark) We're competing with the world. For agriculture to be successful in Arizona we have to compete successfully on the world market. Plus, agriculture is a strategic industry. For America to survive --- for the world and the future --- we have to remind the urban folks that food and fiber is the most important industry we have. If we can't feed and clothe our people, we become dependent on countries we don't want to become dependent on. It becomes a national security issue.