Meet Arizona Agriculture's Macfarland Donaldson Family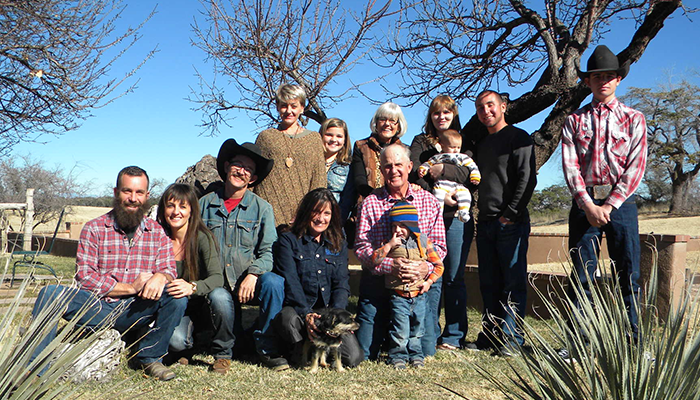 Arizona Farm Bureau member Macfarland Donaldson was raised in Southern Arizona and has spent his entire working life in ranching. Donaldson raised horses west of Tucson with his brother, John, and ranched in Colorado from 1988 to 1992 before returning to Arizona to partner with his father, John Donaldson, on the 135,000-acre Empire Ranch in Sonoita. 
The family held the lease on the Empire for 35 years until March 2009. Additionally, Donaldson ran his cattle on the Open Cross Ranch in Sonoita. His son, Sam Donaldson, continues the family ranching tradition on the Rosemont Ranch north of Sonoita.
Interview with Macfarland Donaldson, Santa Cruz County
An ongoing series of our Arizona farmers and ranchers
Tell us about your ranching: We retired from ranching in December of 2021. Previously, we ranched with family 1972-1978 Tortuga Ranch in Avra Valley, Arizona, 1978-2009 Empire Ranch, Sonoita AZ, 2009-2021 Open Cross Ranch in Elgin, Arizona. 
Why did you choose to go into agriculture: We've been a family ranching business since 1946.
What changes have you seen in your life as it relates to ranching? The influence of Black Angus genetics upon cow herds industrywide. 
Will anyone in your family – the younger generation - pursue farming, ranching, or agribusiness? Son, Samuel and Grandson, Colten are continuing in the business.
What sets ranching in the west apart from other parts of the country? Rainfall. We're always searching for those clouds in the sky. We'll always need it. Rainfall west of the 100th meridian is periodically lacking, and therefore, the management of our ranches is substantially different. 
What are your volunteer activities? U.S. Forest Resource Advisory Council.
Why are you involved: To have input in funding various projects.
What do you enjoy doing, and what is one fact that nobody knows about you? Riding a good horse and working with all the family that continues to ranch.
Why are you a farm bureau member? All Farm Bureau employees have been helpful in insurance and estate issues. All Farm Bureau employees have been very professional and helpful and their commitment to service has been commendable. 
What's the best business advice you've ever been given and/or experienced? Always have a year and a half of feed in front of you.