Meet Arizona Agriculture's Molovinsky Family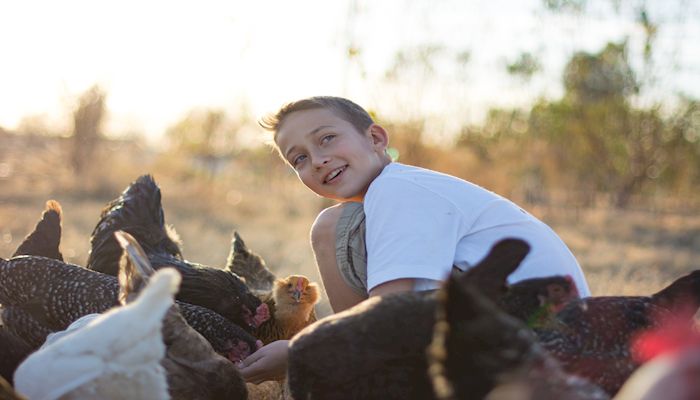 Certainly, it's not unusual to meet someone in the "foodie" world with a passion for the farmer and rancher. And, you will get a vibe from most restaurateurs that they want local food in their restaurant, at least when they can get it.
Oren Molovinsky and team are doing just that, including attempting to do some of his own farming. Oren and wife, Diana, moved back from Virginia not too many years ago, though Diana did grow up in Chandler, Arizona.
I keep calling Farmboy FarmBureau. But perhaps it's because they feel so much like Farm Bureau family already.
An Interview with Oreen Molovinsky, owner of Molovinsky Farms and Farmboy Restaurant in Chandler, Arizona
An ongoing series of our farm and ranch businesses.
Tell us about Molovinsky Farms and the Farmboy Restaurant : Mo'Lovin Farm is our family farm. We were fortunate to be able to purchase these three custom home lots in 2012 and convert them to an orchard and farm. We have since planted over 300 fruit trees and have a large flock of egg-laying hens, which roam freely on pasture. We grew everything organically on the farm, so we have goats that assist with weed-eating, and fertilizing. We have seen healthy harvests of our seven varieties of peaches, multiple apricot varieties, and delicious desert apples. We also have mulberries, figs, and pomegranates. Our five children are very active in the farm, which includes harvesting fruit, collecting eggs, caring for the chickens and goats, and all the other hard work that goes into managing a small farm.
The restaurant, Farmboy Market, Meats, Sandwiches is a local restaurant we opened in Chandler last year. The restaurant is an extension of our passion and appreciation for farming; and farmers! Farmboy has a small farmer's market within the restaurant, where we receive fresh products daily from many farmers and producers, mostly in Arizona. Farmboy features a large wood-smoker, and we prepare smoked meats daily. Those meats, and our produce, dairy, eggs, grains, coffee, pickled goods, wines, and craft beers are all produced by incredible farmers and producers here in Arizona. We are dedicated to working with Real Food, Real Farms, Real People. In that way, we know where the food we serve comes from, and we can Shake the Hand that Feeds Us. We are very focused on the highest quality ingredients you can find in Arizona, which allows us to really showcase the terroir of Arizona grown foods and beverages.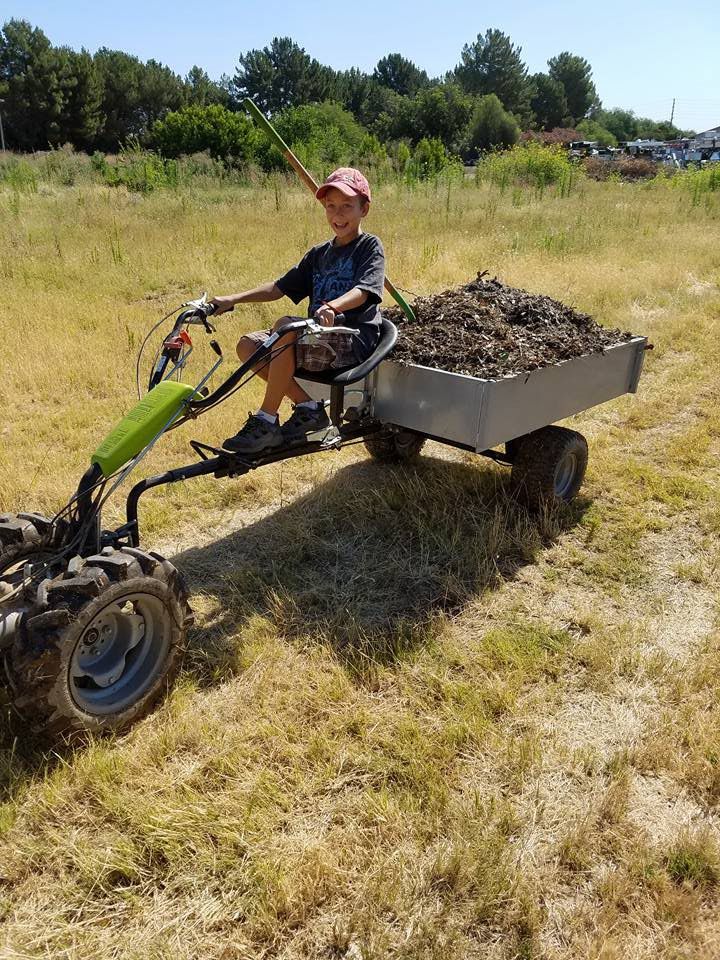 Any farming practices that highlight water conservation, soil health or and other special practice you instituted to save money and improve the farm ? We irrigate every two weeks using the Roosevelt Water Conservation District system. We have risers throughout the farm, that allow us to provide water only to the areas that we need it.
We use our goats and chickens to fertilize and aerate the soil. We also keep our tree trimmings on the ground where they fall, allowing them to develop a nice topsoil over time, and act as a natural mulch as they would in their natural environment.
We use a flail mower, and practice little to no till. The flail mower will mulch grass and weeds, keeping the root systems in the soil. This allows the roots to attract microbes, that will feed on the decaying roots and give us a very diverse soil structure.
Our practices are very labor intensive; however, we use very little fuel, and I don't need a gym membership!
What is your educational background (i.e. Degree(s), certifications, honors) ? Diana has a bachelor's degree in Hotel & Restaurant Management from Northern Arizona University. I do not have a college degree, but I did obtain a certificate in construction management, from Northern Virginia Community College.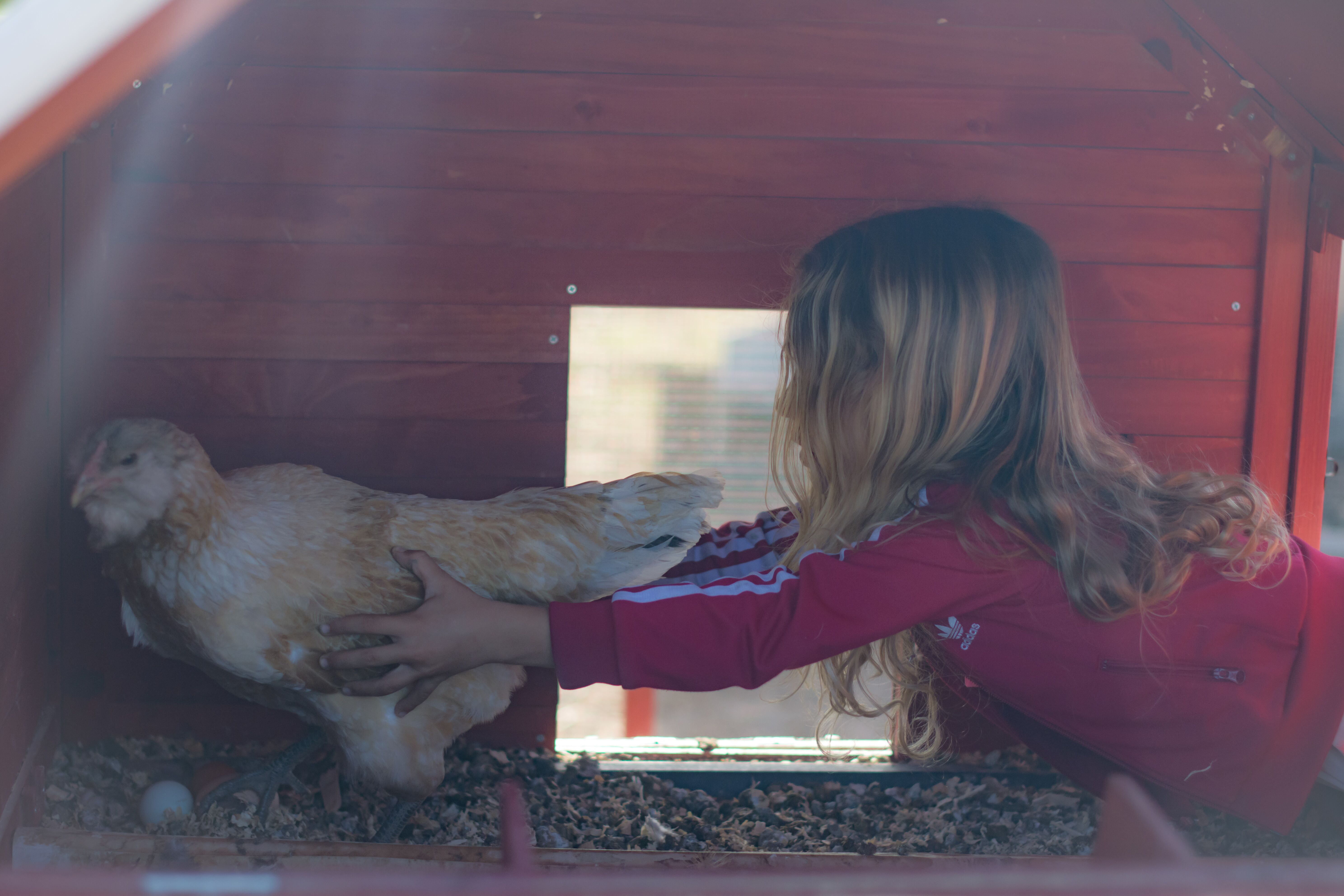 Farm fresh eggs.
What are your community activities ? I am very active, and on the advisory board for Playworks-Arizona. A non-profit focused on promoting inclusion, and anti-bullying in the elementary school recess yard. Playworks is a tremendous program, and I feel it is a program that will enrich our community from within. We were able to plant a fruit tree garden at a Playworks Title-1 school in Phoenix a few years ago. It was so great to work with Greg Peterson and the Urban Farm on that project. We taught families and students how to grow their own food, which is a sure way to feed yourself!
What do you love the most about farming, ranching, or the agriculture industry in general ? I love the trial and error, and then being able to literally see and taste the fruits of your labor. When I'm mowing in the summer, it's so refreshing to grab a delicious peach or apple and eat it and know that the hard work I'm doing will make our fruit more delicious and plentiful year after year. Also, the opportunity to make it a family activity; our kids have a strong connection to the farm, and we hope it will give them the desire to continue farming when they are adults.
In general, Arizona has an incredible network of farmers. We have been truly blessed to have such supporting farmers, ranchers and producers that believe in our mission, and help us support it while we support theirs.
What do you enjoy doing, and what is one fact/achievement that nobody knows about you ? I really love playing basketball, hiking, and listening to audio books. I will always be a student of everything that helps me grow as a father, farmer, and restaurateur.
One achievement has been completing 6 marathons and a half marathon in my 20s and 30s. When I was looking to keep my competitive edge, this was a great way for me to stay active and also achieve some very challenging goals.
Why are you a Farm Bureau member ? Whatever I can do to help bridge the gap between the consumer, and local farmers, I will do. It is very hard to get access to water as a farmer in Chandler. So hopefully, the Farm Bureau can assist in making that easier, so we can continue to develop a culture of agriculture in Chandler, and the East Valley, that has been such a rich part of Arizona's history.
How will the next generation of agriculturalists have to operate ? Efficient use of land will be critical. Being able to earn a living by farming on 1 to 5-acre farms, will be critical. This means efficient use of land, and resources.
Getting to understand how to market and sell products fresh, nutritious, and tasty products to the consumer, in a society that heavily values convenience and price. I'm envisioning a drive-thru farmer's market.
What is the best business advice that you've received ? When you purchase real estate…don't sell it.
Join Our Family