Search Benefits
Member Benefits
Featured Benefits
Member Benefits on the Go
provided by
Member Benefit App
USE YOUR MEMBER BENEFIT APP WHEN OUT AND ABOUT--  To-date we have over 275 state and local member benefits. The improved azfb.org website gives you easy access in finding all of the member benefits at www.azfb.org.
The Member Benefit app FB Benefits has been updated and refined. You can search by, "Nearby benefits," "Category" or "By Name."
Remember, the app also has an electronic copy of your membership card making it easy to show proof of membership…. it's on your smart phone!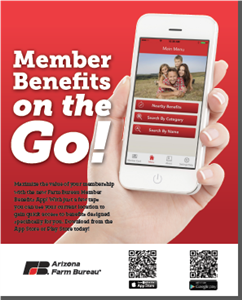 Member Benefits on the Go
provided by
2018 Member Benefits