Meet Arizona Agriculture's Morrison/Stewart/Ross Family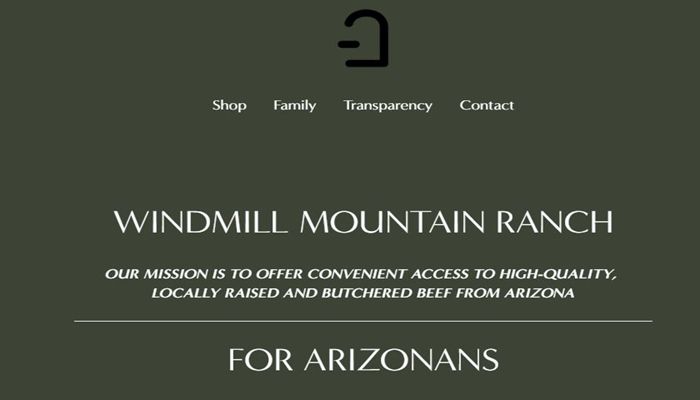 This Northern and central Arizona farm and ranch family represents a diversified family agricultural business that currently farms and dairies in western Maricopa County and produces beef in Yavapai and Coconino counties. 
Dustin and Becki Ross raised their sons, Wyatt and Nate, on the ranch near Sedona, Arizona, while also farming in Gilbert and Paloma. Both boys have ambitions to participate in the family business. And, in fact, are launching a new business line to do just that. Over the years, they've sold finished beef animals to close friends, assisting them in transporting the beef to local butchers. And as they say, "Word of mouth worked its magic, and soon, friends of friends and local butchers' patrons joined our ever-growing list of satisfied customers." 
The Windmill Mountain Ranch now sells beef directly to a wider audience. We're proud of this generational farm and ranch family and pleased to call them Farm Bureau members. 
Ever proud of her family, Becki likes to say her official title is cook, chauffeur, bookkeeper, maintenance, feeder, spoiler of all horses and dogs, and part-time cowboy. The family paused long enough to answer our questions about what this ranch and farm family does in this latest profile. 
A ranch family profile of the Morrison/Stewart/Ross Family of Maricopa, Yavapai and Coconino Counties. 
An ongoing series of our farm, ranch, and agribusiness families.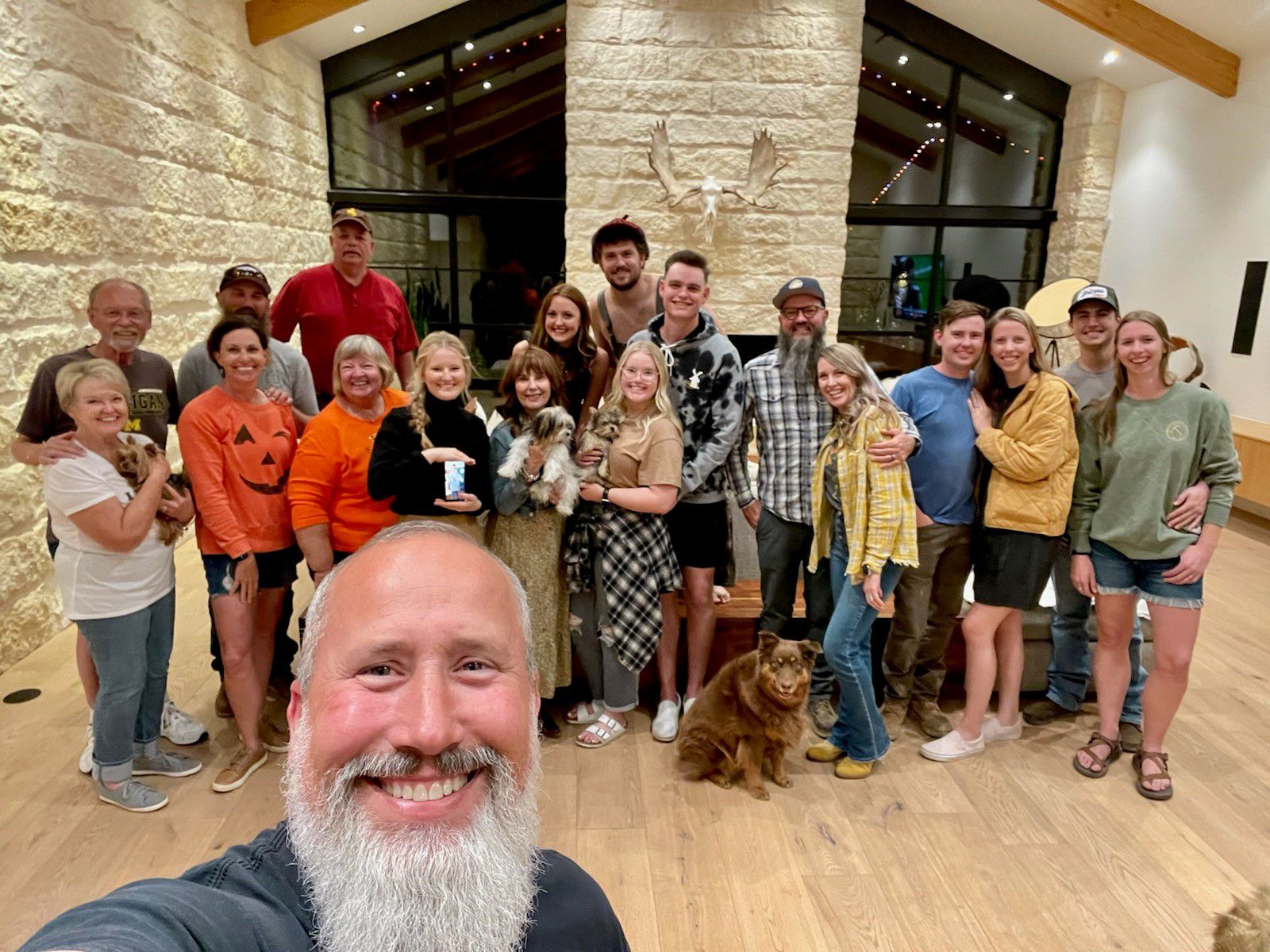 Representing a generational farming and ranching family, the Morrison, Stewart and Ross families have a great legacy in Arizona agriculture. 
Tell us the history, heritage, and status of your ag businesses: Over five generations, our family's farming legacy has flourished from humble beginnings in Gilbert during the 1920s to now encompassing thriving enterprises near Gila Bend, Yavapai, and Coconino Counties. The pivotal 1970s saw the establishment of a state-of-the-art dairy in Mesa, blending innovation and tradition, while our cow ranch found its home in the breathtaking landscapes of Yavapai and Coconino Counties. 
Throughout the years, our unwavering commitment to sustainability and responsible farming practices has guided our journey, as we continue to adapt to the ever-changing demands of industry. This is not just a story of farming and dairy, but a testament to the enduring spirit of a family deeply connected to the land they cherish and protect for future generations.
You have launched a new business line, tell us the story. As our farming and dairy endeavors continued to prosper, we found ourselves engaging in yet another heartwarming venture born out of our passion for quality beef. Over the years, we have been proudly selling finished beef animals to our close friends, assisting them in transporting their beef to local butchers. Word of mouth worked its magic, and soon, friends of friends and local butchers' patrons joined our ever-growing list of satisfied customers. The overwhelming feedback on the superior quality of our beef and the delight of our customers has been both humbling and inspiring.
As demand steadily increased, it became evident that we needed to take our operation to the next level, ensuring we could continue to provide exceptional customer service. Understanding this, Wyatt stepped up and spearheaded the creation of a dedicated website, Windmill Mountain Ranch, embracing the technological advancements that modern start-up companies employ. This move has brought a newfound sense of organization to our process, allowing us to efficiently cater to our expanding clientele.
We still use the traditional method of processing beef with aged meat and custom cuts, the same way we have done it for our families and friends for generations using the entire animal to achieve a specialized and high-quality experience. 
With the launch of the website, our reach has extended far beyond our local community. Enthusiastic testimonials and the ever-increasing number of repeat customers have further fueled our determination to deliver the finest beef to families across the region. We are grateful for the support we have received and excited to witness the evolution of this heartwarming venture that has grown from humble beginnings to a cherished and organized source of premium beef and exceptional customer service.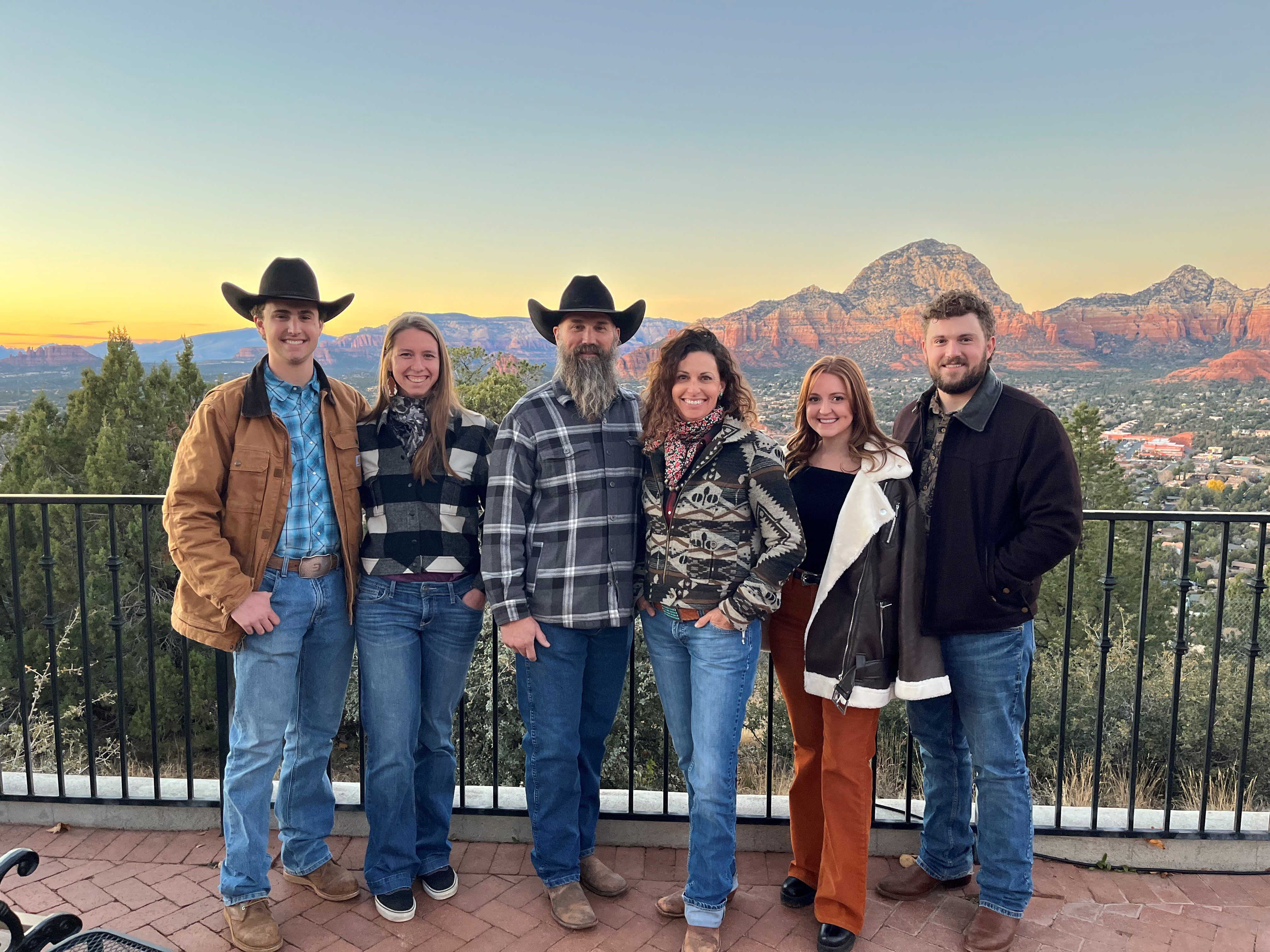 Dustin and Becki Ross flanked by their two sons, Wyatt and Nate, recently launched a retail beef business and can be found at windmillmountainranch.com. 
When the family reflects on the early years, what are some things that stick out most in relation to agriculture and/or your agricultural roots? As the 5th generation of farmers, our path into the family legacy faced unexpected hurdles. Initially discouraged by the older generations, it took the intervention of "Grandma Bunky" to land the first job on the farm for this generation. From picking up rocks in the fields and later working in the feedlot and at the ranch, the journey taught valuable lessons. Despite the challenges, our passion for agriculture remains steadfast, fueled by the perseverance instilled by our grandparents. Today, we embrace the triumphs and trials, proud to carry forward the farming tradition.
Through the years, what are some farming practices you have implemented to improve the farm/ranch? We wholeheartedly embrace technology to enhance our farming practices. From tracking collars on cows to robotic feed pushers, efficiency is our priority. GPS systems optimize tractor passes, and water-saving practices are paramount for crop irrigation. Rotational grazing, low-stress cattle handling practices and appropriate genetics for ranch cattle have been shown to be beneficial on the ranch. We strive to cultivate a sustainable legacy, blending tradition with innovation to pay for our farming habits.
What do you love the most about farming, ranching, and/or the agriculture industry in general? There is nothing as noble and rewarding as raising food for people. But navigating the farming landscape presents an enduring challenge. The volatility of prices, with fleeting highs and enduring lows, demands resilience and adaptability. We often find ourselves bracing against prolonged valleys, seeking survival strategies during less profitable times. Despite the difficulties, we remain steadfast, continually exploring innovative ways to weather these storms and secure the future of our farm. The challenge of it all is a blessing. It's a testament to the indomitable spirit of farmers - facing adversity head-on, persevering through tough times, and finding the strength to thrive once more when the clouds part and the sun shines upon the fields. 
What are some ways you and the family stay active in your community? As a family, we are deeply engaged in both our local churches and within our close-knit circle of friends. First and foremost, all strength and blessings are from God, and we all try to use his teaching to love people first. Now that schooling has ended for the 6th generation, our contributions to high school sports have also ended. Shifting interests, our active participation extends to the hunting community in Arizona, where Justin's exceptional contributions have earned him a distinguished place in the Game and Fish Outdoor Hall of Fame. With a shared passion for nature, conservation, and camaraderie, we actively embrace the joys of hunting and cherish the memories we create together in the great outdoors. Our collective involvement in these spheres not only strengthens our family bonds but also fosters meaningful connections with the wider community, leaving a lasting and positive impact on those we encounter along the way.
In your opinion, what will the next generation of agriculturalists need to do to operate more successfully? Recognizing the evolving landscape, we have been exploring opportunities to diversify our income streams to support our farming endeavors. As the world around us changes, we understand the importance of adapting and seeking alternative avenues to sustain our passion for agriculture. As we navigate these uncharted territories, we remain committed to preserving the essence of our farming heritage while opening doors to fresh horizons, igniting a spirit of innovation that will drive us forward into a promising future.
What is the best life advice that you have received and/or can give? This is an easy question: The longer you farm the dumber you get. 
Please complete this sentence: I am an AZ Farm Bureau member because… They have agriculture's best interest at heart. Farm Bureau advocates for us so we can focus on the business of producing food and fiber.