Meet Arizona Agriculture's Murdock Family
Author
By Justen Ollendick, Arizona Farm Bureau
 The author of The Mules Go in Front, Mrs. Shirley Murdock, was ecstatic when I contacted her with the opportunity to be able to tell the pioneering story of her family as they continue to expand their homestead in the heart of Mohawk Valley, the community of Roll, Arizona.
An interview with Shirley Murdock, 
Part of an ongoing series about Arizona's farmers and ranchers.
Talk about your farm and ranch: Our farming operation is in the heart of the Mohawk Valley, in the community of Roll, Arizona, about 45 miles east of Yuma. It has grown, through the years, from the 320 acres that I inherited from my parents in 1954, to about 1400 acres owned by the family today. We have purchased adjoining farms of various sizes through the years.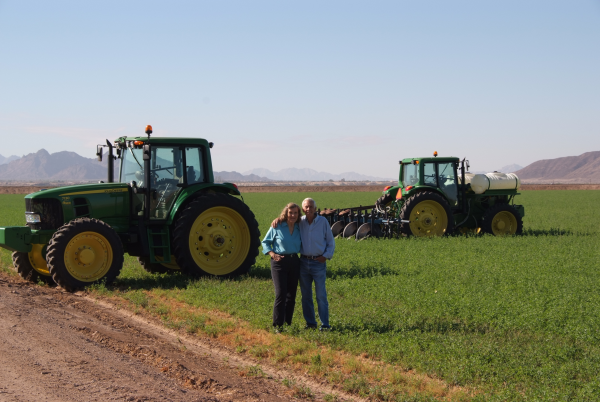 Shirley and George Murdock posing in one of their alfalfa fields for the Arizona Farm Bureau's Heritage Award, received in 2010.
What changes have you seen in your lifetime as it relates to farming/ranching? We have seen increased governmental regulations for farming, a greater shortage of water, and an increase in the varieties of crops that can be raised in this area. Also, equipment has improved an unbelievable amount and is much more expensive.
Why did you choose to go into agriculture? I grew up on this farm where my grandfather and my parents had pioneered (before that) in 1925. When my parents died in the crash of their private airplane in 1954, my brother and I each inherited about 320 acres. My husband and I had just begun to be involved in the farm with my parents at that time. He grew up on a farm inAlabama.
What generation of farming/ranching are you? Tell your story. How many generations in Arizona? I am in the third generation farming here, as my grandfather and then my parents had farmed this land. Now our own two sons and nine of our 14 grandchildren, (the fifth generation of the family) are in Arizona.
Will anyone in your family....younger generation...pursue farming and/or ranching? Yes, our own two sons, Kenny and Jimmy, have been involved on this farm for many years. They are partners with my husband, George. Two grandsons are involved in farming, and one granddaughter is studying some agribusiness subjects in college.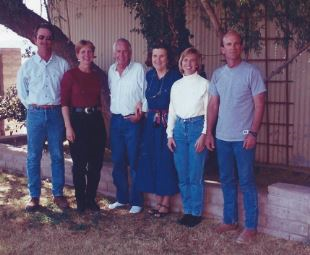 The Murdock Clan: For about 20 years at 6:00am every morning several young farmer neighbors gathered here at our house for coffee and cookies. There were usually four or five of us at the round-table in the family room. 
Would you ever consider growing an emerging crop or changing your farm or ranch model? We have leased some of our acreage to produce growers, and some new crops (to this area) have been involved in that acreage. This year, for example, corn for silage. We would look at what is economically viable and we would always be interested in seeing what is available.
If not different model, how about different type of market for your product?  Explain. There has been an increase in types of seed crops and in their marketing, and in the exporting of some crops during recent years.
What are your community activities? Why are you involved? I was a 4-H leader for many years, having been a 4-H member in my youth. I'm active in our small community church, having been an elder for over fifty years and organist for about twenty years.
What is one fact/experience/achievement no one know about you? Maybe just some regional honors back in my younger days.
What do you think you do really well? Explain. I'm not involved in the management of the farming operation, as our sons take care of that. I've been a homemaker, mother, and grandmother and I think that I've done those duties well, with a wonderful, loving family. We have the two aforementioned sons, two daughter, and fourteen grown grandchildren. I am now a great-grandmother of one baby girl and there's another great-grandbaby on the way. 
Why are you a farm bureau member? We appreciate all that Farm Bureau does in dealing with important matters, with the legislature, and all sorts of matters regarding farming and ranching.
How do you participate with your county Farm Bureau? Actually, we are not active participants, but avid supporters.
How will the next generation of farmers have to operate? It will be more difficult for them, as the government makes more and more regulations and limitations. Also, as water issues increase. It might be that drip irrigation becomes more prominent.