Meet Arizona Agriculture's Palmer Family
By Julie Murphree, Arizona Farm Bureau: Arden Palmer has a long history of leadership in Graham County agriculture. He also can trace his success to his commitment to family.

Their farm business. Farming in the Gila Valley area, the Palmer family grew primarily cotton and other crops such as wheat and alfalfa.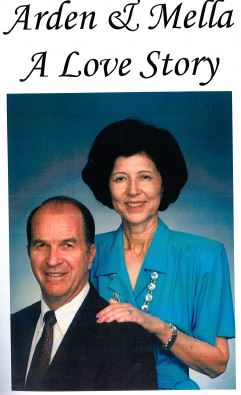 Arden's book, "Arden and Mella: A Love Story," gives a special insight into their farm life and leadership within the agriculture industry. Theirs is a true love story. 


What changes have you seen in your lifetime as it relates to farming? As told from Arden Palmer's recently published book, Arden and Mella: A Love Story, during their first few years of farming and newly married -- farms in the early 1950s -- the Palmers and other farm families were still picking cotton by hand. Today, technology means that cotton pickers can be 6-row pickers with onboard module building systems, full-time four-wheel drive and high-output sound systems for the enclosed cab. You'll pay $800,000 for a cotton picker today. The first cotton pickers that appeared in the mid- to late-1950s were one-row cotton pickers and usually cost under $10,000.

Why did you choose to go into agriculture? Promoting the cotton industry and farming in general with his wife, Mary Louise, "Mella," was always a given. They had mutually agreed when they first married and began their family that they would pursue farming as a vocation. Says Arden in his recently published book, Arden & Mella, A Love Story, "After a lot of discussion Mella and I felt more comfortable about staying in Thatcher where our families were and go into farming with my Dad initially. …Farming was good to us, it was hard but a great way to raise a family and be able to work with our children as they grew up."

Will anyone in your family - younger generation - pursue farming? Arden and Mella have six children, 28 grandchildren and 32 great grandchildren with 3 more on the way. While his own sons are not directly in farming any longer, several of the extended family is in production agriculture. From the book: "As our boys came into their teens they began to be a great help and probably the reason we were able to stay afloat.  … Only one of them stayed in farming, Jim, and the other two ended up as a lawyer, Dave, and John as a Dr. Jim later gave up farming and became a politician and is now, and has been for several years, serving as a member of the Board of Supervisors in Graham County and is well respected in the job he is doing."
Community activities: Actively involved in his community, Arden Palmer is a highly respected farmer in Graham County. He served on the Graham County Farm Bureau board for many years including county secretary in the early 1950s and county president in the late 50s. He served on the state board from 1958-1962. As county president he enlarged the county annual meeting, and he worked with the local auto and machinery dealerships and created a cotton fashion show to showcase the cotton industry.

In fact, the cotton industry has been served well by Arden's dedication. Arden served on the Arizona Cotton Growers Board in 1963 as well as vice president in 1965, and president in1969 and chairman of the board from 1971-1972. He served many years on the National Cotton Council Board of Directors starting in 1974. He was also a member of the Cotton Incorporated Board of Directors. 
He was on the Agricultural Stabilization and Conservation Service Committee from 1969 to 1973.  He was also a member of the Arizona Board of Pesticide Control.
The University of Arizona has recognized him with the Lifetime Achievement Award, Distinguished Citizen and Honorary Alumnus Award for his extensive work with the University on research projects relating to pink bollworm and whitefly suppression.
Arden's service to both Farm Bureau, other industry groups and the cotton industry left an impression on his family. Having exemplified leadership for them, many followed in his footsteps. Several of his family members have served on the Graham County Farm Bureau. His son is serving as Graham County Board of Supervisor, one of his son-in-laws has also served as county Farm Bureau president and on the state Farm Bureau board as well as several roles within the cotton industry and as president of Grand Canyon Electrical Cooperative Association. His grandson is the current Graham County Farm Bureau President and a member of the current Arizona Farm Bureau Board of Directors.
What is one fact/experience/achievement no one knows about you? Arden is licensed as a commercial pilot where during his career, in between everything else, he did quite a bit of charter work, flying air ambulance flights, flying for BLM, the Forest Service, Game and Fish  and much more. One of his greatest adventures flying was while on his way to Tucson delivering an official of Kennecott Copper Corporation, the engine died. Since he'd be unable to get the plane to Tucson Municipal Airport in time, the controllers called Davis Monthen Air Force Base and obtained clearance for landing despite the fact that at the time it was a Strategic Air Command base and highly restricted. Unable to reach the runway at Davis Monthen, they landed between two rows of old war planes stored on the desert inside of the base. From the Book: "The landing went well with no damage. Before we got the door open we were surrounded by six pickup loads of MPs and an ambulance. They weren't smiling or amused that we were there inside the SAC base. They had rifles and stood us up beside one of their vehicles until a base officer arrived to check us out. After a while they allowed our passenger to leave after checking his credentials and took him on over to the airport to catch his plane. Not so with Ewart [passenger with Arden] and I, we were hauled down to base headquarters and grilled. They were finally satisfied that we were Legit [sic] and not a threat to their security and we were allowed to leave."

What Mr. Palmer Does Really Well? While Arizona Farm Bureau has not asked Mr. Palmer directly since we've pulled most of this information from friends and his book, we'd like to suggest that Mr. Palmer is really good at leadership and connecting. He's also very good and being a father and husband, a quality the family can affirm with great joy each time one of them is asked about it. While Mella is no longer with us, Mr. Palmer's story of his life with her is a true love story. 
Why are you a farm bureau member? From the Book: "I suppose I inherited my appetite for involvement in what is going on around me from my dad. As long as I can remember I have liked to be involved and participating in those groups and activities that were pertinent to my life. Shortly after Mella and I were married, I became involved with the Graham County Farm Bureau organization [that extended to state-level involvement]. …I had a great many opportunities to be involved in agriculture-related entities for which I am grateful. Most were very satisfying experiences."
Editor's note: Arizona Farm Bureau is pleased to honor Arden Palmer with the Distinguished Service to Agriculture Award during our 93rd Annual Meeting in November in Scottsdale.