Meet Arizona Agriculture's Pearson Family
Author
By Arizona Farm Bureau's Communication Team
This 3rd generation farming family hopes to leave a legacy for their grandchildren. Cindi Pearson operates the shipping and cold storage of the melons while Larry Pearson manages the growing. Their partnership is truly unique in that they have been married for 37 years and make all business decisions together.
Arizona Farm Bureau's ongoing series highlighting our state's farmers, ranchers and dairy farmers.
An interview with Larry and Cindi Pearson, along with their daughter, Lisa Pearson-Podesta. 
Talk about your farm: We grow 4,000 acres of Cantaloupe and Honeydew in Maricopa, in Pinal County. We are one of the nation's leading melon producers and distributors. What makes us special is we have a 70,000-square-foot, state-of-the-art cooling facility which allows us to be efficient and maximizes storage capacity to guarantee quality.
We have been farming for more than 50 years and value a family farming business. Many of our employees have been with us for over 30 years. They are like family to us, and we couldn't do it without them.
Overall, we grow Cantaloupe, Honeydew, Mixed Melons and Cotton.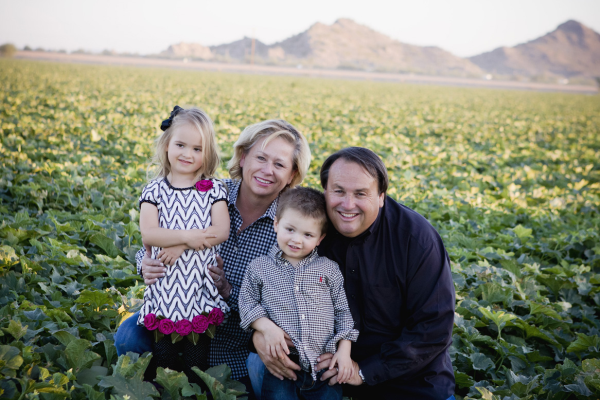 Cindi and Larry Pearson with their grandchildren, Maddy and Chase. Their melons are distributed nationally in various major chain grocery stores. 
What changes have you seen in your lifetime as it relates to farming and/or ranching? Farming has become more precise. We use fewer seeds, tractors are on GPS, and we are managing resources more precisely. Our entire farm is on drip irrigation where we can deliver fertilizer and water directly to the plant. As recent droughts have reminded us how precious water is, precision watering is becoming more important than ever.
What generation of farming are you? Tell your story. My father, Floyd Pearson, and my grandfather grew melons in Eloy and Parker for Dick Telles. We then moved to Yuma where we grew lettuce, cauliflower, sweet corn and cantaloupes. There was an opportunity to buy some ground in Maricopa at an auction so we decided to bid on it and won. The bank called Cindi and I as we were driving home to Yuma and asked us if we wanted to buy a cooler that was near the ground. We didn't know anything about cooling so we didn't really want it. The bank told us that they would greatly reduce the price so that they could get it off their books. We agreed and that is how we started our cooling operation.  We moved to Gilbert in 1991 and started growing and cooling melons and sweet corn. It was a little bit of luck and a little bit of fate that brought us to where we are today. I love what I do and couldn't imagine doing anything else.
Will anyone in your family ... younger generation ... pursue farming? Our only child, Lisa, worked every summer on the farm. She went to school in San Francisco and got her Ph.D. When she moved back to Arizona we wanted her to do some marketing and to set up a website for us. She slowly became more and more involved in the business and this year she started her own mixed melon company under the label, Agribella Farms. She is growing 200 acres of Orange Flesh, Hami's, Crenshaw, Galia, Canary, and Golden Honeydews. She also manages 1,500 acres of cotton production that we rotate with the melons.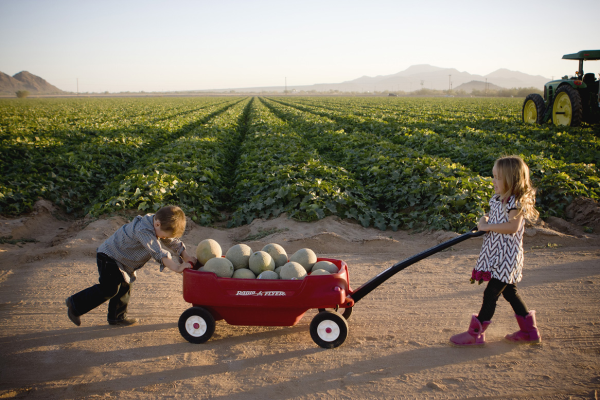 Grandchildren Chase and Maddy Podesta may be the next generation of melon farmers from Arizona. In the meantime, their mom, Lisa Pearson-Podesta launched her own mixed melon company under the label Agribella Farms. She's also managing 1,500 acres of cotton production. It's all in the family with the Pearsons!
Would you ever consider growing an emerging crop or changing your farm or ranch model? I'm always looking for new and innovative ways to run the farm. But I feel we have a good thing going on.
If not different model, how about different type of market for your product: Explain? We are constantly searching for different outlets for our melons.
What is one fact/experience/achievement no one knows about you? We are one of the first farmers to implement 100% drip irrigation. I feel like we have perfected drip irrigation resulting in high quality melons.
What do you think you do really well? Explain. Since July we are in 30% of all the Walmart stores nationwide. You have probably bought and had one of our melons in Fry's, Costco, Walmart or any of the national grocery stores. It's funny when my mother-in-law calls me from Michigan to tell me how delicious our cantaloupes are and that she bought it at her local Kroger store.
Why are you a farm bureau member? Farmers need an advocate and the Farm Bureau does just that. Lobbying for farmers to make sure our needs are known and met.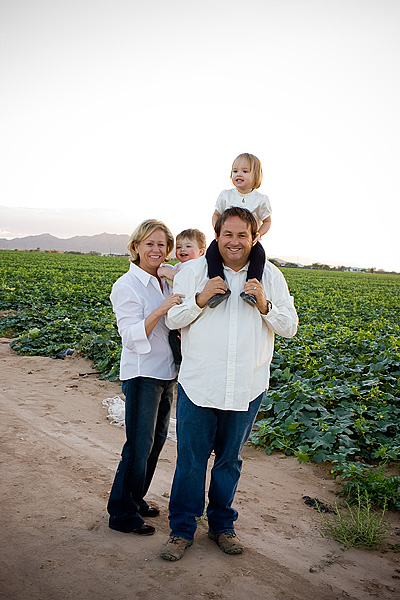 The Pearson family believes Farm Bureau advocates on behalf of farm and ranch families regardless of the type of operation. It's one of the reasons they are members.
How will the next generation of farmers have to operate? In farming we have to know a little bit about everything. We must be an accountant, entomologist, manager, marketer, grower, packer, shipper, and food safety expert. The next generation will have to know even more about every aspect of farming.