Modern Agriculture is Sustainable and Means Freedom
By Jim Klinker, Arizona Farm Bureau: I recently attended the dinner for the 25 teachers who spent four grueling days in a bus visiting Arizona agriculture. They visited a dairy, a ranch, pinto bean, pecan, wine grape, chili and drip irrigation farms as well as a livestock sale barn. They were hosted overnight by Cochise County farm families. They are teachers from both rural and urban Arizona.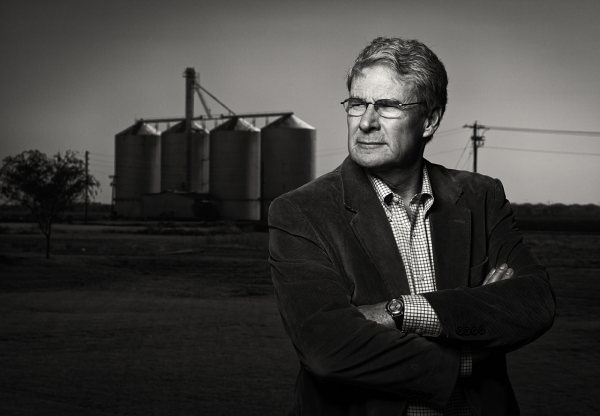 Chief Administrative Officer for Arizona Farm Bureau, Jim Klinker, represents a long line of Mid-west "aggies;" having grown up on a farm in the "Good Old Days," he will tell you he doesn't want to go back to them.
At this dinner each is asked for a brief recap of their experience and an "aha" moment. Most say they did not know the diversity of Arizona agriculture. They talk about how hard farmers work and their long days. Some are impressed with the technology now used. They envy the lifestyle and lament about their children missing what they saw farm children experiencing. In all, it is a very positive experience for the teachers, the diverse group of volunteers that put it together and for those of us who sponsor it with funding.
So driving home I wonder with the dedication we have in the volunteers within our agricultural organizations and our government and university professions that are pulling together to educate teachers and the public, why is agriculture under attack over clean air and water, use of chemicals and biotechnology. Why do people think we treat our animals poorly? And why do they think "big ag" is bad?
Sixty-eight years ago, I grew up on a 240-acre farm in the rolling hills of eastern Nebraska. We finished out 200 head of cattle per year, had a 15-sow farrow to finish hog barn and direct marketed eggs into Omaha from 300 chickens that were housed in a converted 12-cow dairy barn. We fed all of our corn and hay to the animals and grazed about 30 acres of brome grass in the summer. We had three ponds that caught most of the 30 inches of rain that fell, froze in the winter for hockey and drained from the property to running creeks when too much rain came at one time. That is also when you had to bring whatever equipment you had, a front loader and shovels to fix the washed out earthen impoundment.
I share this history to make the point that most of the public thinks we still farm this way and our critics want to take us back to these "good old days."
Well, I lived the "good old days" until I went to college. I would not trade that farm experience for any other. But that little farm with its terraces, waterways, ponds, antiquated fuel storage and inefficient equipment was no shining example of environmental or economic sustainability.
That farm is gone today, gobbled up by a growing west Omaha. But farms just like it all across Nebraska and the Midwest have disappeared and are now part of 'big ag." These large farms are family owned and operated. They own and lease thousands of acres to meet economic sustainability. They are environmentally sound. They no-till and minimum-till their fields to conserve water, reduce run-off, soil compaction and dust. They use genetic engineering to reduce their use of chemicals and satellite imagery to place fertilizer where it needs to be. Lagoons are required to capture runoff from livestock operations that also allow more efficient reuse of those nutrients back onto the fields.
Yes, my brothers and I still like to think of ourselves as farmers even though today we are just farm land owners. Both sides of our family left us that rich heritage. But today, we leave it to the professional families who make up less than one percent of the U.S population but produce enough food that I and those of you reading this had the freedom to explore and develop other interests and opportunities.
Editor's Note: Jim Klinker is Executive Secretary and Chief Administrative Officer for Arizona Farm Bureau.