Remember the Holiday Gifts Kids Can Make
By Peggy Jo Goodfellow, Arizona Farm Bureau: Christmas time was especially challenging when I was a single Mom trying to make every dollar count. Knowing that it's important for children to have the opportunity to give gifts to their teachers, family and friends, I used to wonder how I could make gift giving fun without breaking the bank.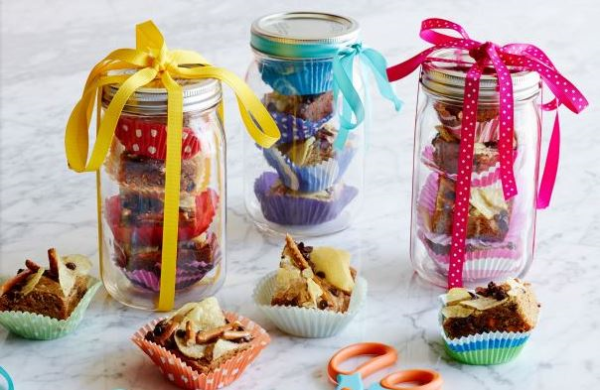 Making edible Christmas gifts with your children can be some of the most fun times you'll have with family during the holidays.
Since my daughters and I love to bake, we decided to make edible gifts for Christmas. The first year we baked a few of our family's favorite Christmas cookies for everyone on our list and put them in a reusuable container.
First we had to decide on an in-expensive container, wrappings and decorations. Then we went shopping! That's fun, right?
For the cookie containers we used mason jars. We'd decided to place 2-3 cookies in a paper cupcake cup so we could stack them in the jar without smashing the cookies. Then we added a cloth square or a ribbon to the jar lid for decoration.
One year we baked banana bread in flowerpots. These made a charming little gift - especially when we included seeds in a package for planting after the bread was gone. To wrap it up, we pushed a garden tag into the bread that said, "Merry Christmas" and hung the packet of seeds from a ribbon around the pot.
Other than delivering the gifts, I think the kids had the most fun assembling and decorating the containers.
Sharing Holiday Recipes
Here's one of our favorite …easy…cookie recipes:
Chewy Sugar Cookies
2 ¾ cups flour
1 tsp. baking soda
½ tsp. baking powder
1 C softened butter
1 ½ C white sugar
1 egg
1 tsp vanilla extract
3 to 4 Tbls. Buttermilk
Sprinkles or colored sugar for decorating
Directions:
Preheat oven to 375 degrees
In a small bowl, stir together flour, baking soda, and baking powder. Set aside.
In a large bowl, cream butter and sugar until smooth. Beat in the egg and vanilla. Blend in dry ingredients and add enough of the buttermilk to moisten the dough and make it soft, not wet.
Roll rounded teaspoons of dough into balls, place on ungreased cookie sheet. Brush the top of each cookie (you can use your fingers) with the remaining buttermilk and slightly flatten the top. Sprinkle with raw sugar or colored sprinkles.
Bake for 8 to 10 minutes until slightly golden. Let stand for 2 minutes before removing to cool on a rack. Makes 4 dozen cookies.
Your Options for Gift Giving in Holiday Season
We have so many creative ways to make holiday gifts creative and they can involve your children. Arizona Farm Bureau's Fill Your Plate blog recently posted an article called Four Ways to Celebrate the Holidays Affordably. They include practical tips that help the whole family get involved.
In the meantime, try my cookie recipe with the kids!
Happy baking!
Join our Family!