Top 6 Ways to Teach Arizona Agriculture in the Classroom and Elsewhere
By Julie Murphree, Arizona Farm Bureau: We're well into the 2014/2015 school season and Arizona Farm Bureau's Ag in the Classroom (AITC) program has been in the classroom right along with the students and the program can report perfect attendance! For October, we'll be in a classroom somewhere in Arizona for every day school is in session.
Checking in with Arizona Farm Bureau's Associate Education Director, Katie Aikins, we are set to give 428 (400 are pumpkins) classroom presentations in October. We are also doing 4 community events through the month. Our education intern, Jaren, is scheduled in two schools every day in October. Katie is also scheduled in two schools every day this month.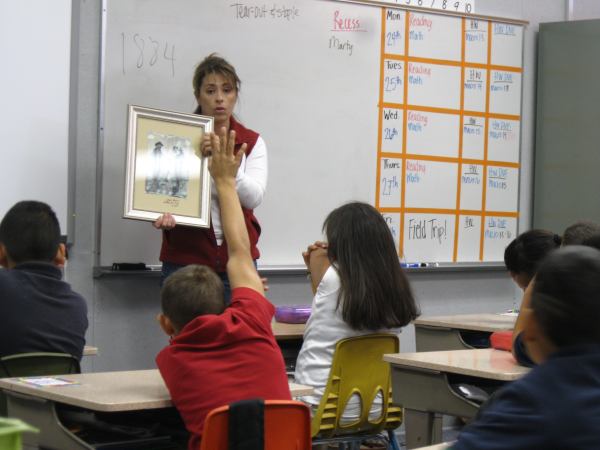 Arizona Farm Bureau's First Vice President Stefanie Smallhouse telling her family's ranch story. Note the date 1884 on the white board behind her: The year Carlink Ranch began. They're planning a big celebration this month for the 130 years that their ranch has existed.
By the time the month is over, Katie and Jaren will have reached thousands of students with Arizona agriculture's story. And this is just October!
Believe it or not, it's easy to join this dynamic duo in teaching agriculture, not only in the classroom but elsewhere, especially because it's October.
Schedule a classroom visit with AITC: Granted, in October Arizona Farm Bureau's program is fully booked but the school year isn't over. If you're a teacher or you'd like the program presented in one of your child's classes give us a call at 480.635.3608. It's better if you email Katie as she's in classroom all day right now: katieaikins@azfb.org.
Become a Pen Pal: Ag in the Classroom (AITC) has teamed up with Farm to School to celebrate Farm to School this month. To celebrate, AITC has offered schools the opportunity to Pen Pal with an Arizona Farmer/Rancher/Dairymen/etc. We currently have 48 classrooms signed up! We are looking for our Arizona producers that would be willing to correspond and share your story with our Arizona classrooms. If you are willing to help with this activity or know anyone else who might please respond via email to katieaikins@azfb.org. If you participate, you will then receive information regarding what school, grade, level and more.
Go into the Classroom as the farmer or rancher: Like Show and Tell, the most engaging way to teach agriculture is to go into one of your local classrooms and tell the students about what you do.
Share your story: You don't have to lean just on AITC to get the agriculture story told. Tell your own. Arizona Farm Bureau has made it simple with its latest article series, "Meet Arizona Agriculture's [FAMILY NAME] Family." We're weekly profiling an Arizona farm and/or ranch family by asking them 10 simple questions. We help you through the process. If you want to participate, email me at juliemurphree@azfb.org or Arizona Farm Bureau's communication intern, justenollendick@azfb.org. We'll send you the questions to answer yourself or schedule and interview.
Engage via Social Media: Have a Twitter of Facebook account? Or, are you on Instagram? If you are, "Like" Arizona Farm Bureau's various channels and make an effort to share our educational information we post daily via social media. Confused on how to get started? Contact me at juliemurphree@azfb.org.
Finally, simply spend the time talking to friends and family about agriculture: If someone asks you about biotechnology in agriculture, for example, feel free to send them to Arizona Farm Bureau's Biotechnology in Agriculture page on the website, but also simply share with them what you do and if you grow biotech crops. Don't be afraid to engage in conversation. And, if you don't have all the answers, say so. Be transparent and also be understanding. Most Americans today have a sincere interest but are unaware of the vast diversity and technological advances in our industry.
We're all part of the process today in educating Americans about the amazing industry we work in. Join us in continuing the exciting work to share Agriculture's amazing story.