Unveiling the Next Century at UA's Learning Lab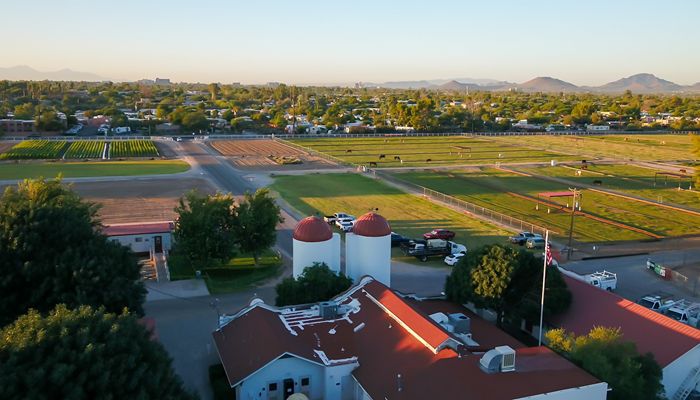 For more than a century, the Campus Agricultural Center (CAC) has served a vital role for the university as a hub of instruction, research, and extension. University of Arizona Vice President of Agriculture, Life and Veterinary Sciences, and Cooperative Extension Shane Burgess knows generations of students and faculty consider the 185-acre research facility as a second home, just as important to their UA experience as any classroom or laboratory on the main campus three miles to the south.
Now Burgess and the UA are planning for the CAC's next century, envisioning and building the infrastructures critical for the university to be a national leader in a multi-college, multi-disciplinary circular bioeconomy initiative.
"The CAC became part of Arizona's statewide Experiment Station system in 1909," Burgess said. "Since then, it has provided state-of-the-art infrastructure support enabling UA innovations in agriculture, horticulture, viticulture, human wellness, biomedicine, and engineering, to name a few. Research done at CAC helped Arizona's growers create today's $40 billion agricultural economy. Our circular bioeconomy initiative vision fulfills our mandate as a Land Grant University of making imagined inventions real, and then taking risks too great for the private sector to bear, to demonstrate economic feasibility."   
The Details
Specifically, the new College of Veterinary Medicine facilities at the CAC are almost complete. Next on the list is Food Product and Safety Lab modernization and building an animal feeding and sustainability facility, both inspired by UA President Robbins' Fourth Industrial Revolution strategic intention: artificial intelligence, robotics and the future for animal welfare and human nutrition.
"We simply must either plan to create the future or get out of the game," Burgess said. "We must either be a national leader or quit while we are behind. We must produce graduates who are the most employable for the world's employers, and who can out-compete any other graduate for the world's best graduate and professional schools. Our graduates must be able to do jobs that do not yet exist and create the new business and even whole economies of the future. We must be able to attract the best faculty in the world. This will cost money, and we will need to find the money. And Arizona's parents, children and employers should expect nothing less."  
UA's College of Veterinary Medicine students will learn in the Food Product and Safety Lab and this will give them a competitive edge in a high-need area.
The School of Animal and Comparative Biomedical Sciences faculty are rebuilding the Animal Sciences degree from the ground up. They are creating a degree for the highest paying jobs in work from animal production to bio-medical-technology, to reproductive surgery to human and veterinary health professions to zookeeping.
"In animal production alone, what we've known for a long time now has been re-emphasized during the pandemic: world demand for animal protein is growing, and consumers want meat products that also taste great and prevent cancer, heart disease and obesity, be a positive for the planet, and be good for the animals themselves," Burgess said. "We know now that this is not impossible. To do this requires a 'clouds to consumer' approach; agility, risk and accepting nothing less. We are one of only a very few universities in the world that can make this a reality. If we could write the final chapter to get Arizona a public vet school in the middle of the great recession, we can do this."
Arizona's Circular Bioeconomy
Burgess envisions the CAC as the birthplace of Arizona's circular bioeconomy. Simply defined, a circular bioeconomy is the creation of value-added secondary raw materials from waste biomass.
"The circular bioeconomy is simply what the planet does," Burgess explained. "It is not the failed circular economy of fossil fuels, which creates massive amounts of plastic that is not actually recycled and has become a serious environmental problem for the planet."
There are already solar panels in place at the property, which he said are an example of "first-generation green energy" and the next generations must go further.
"Energy is fundamental to the Fourth Industrial Revolution that UA President Robert Robbins talks about," Burgess said. "Nothing in the Fourth Industrial Revolution can be done without it; data sciences, robotics, computers, everything we do. But societal pressures are to have low carbon energy. This is something our national administration wants, previous administrations wanted, and something that consumers are pulling. Arizona doesn't have the petro-economic legacy, and that isn't a handicap today. Arizona is a state of the future economy."
"Our students must be learning in tomorrow's ruminant and other animal feeding systems," he added. "We already have a great example in Pinal County built by UA alums and dairy pioneers. We need to catch up to what they are doing already. Our 70-year-old facilities don't cut it. We are going to build a new Animal Feeding and Sustainability facility to capture everything, 'use everything but the moo', to steal a phrase, and capture methane and the other volatiles, and all the waste. This will be used for energy and for new more valuable products. Moreover, we will have accurate information on methane that the private sector needs to help craft national policy."
Burgess emphasized that the work at the CAC is simply the continuation of the vision established more than a century ago: "It's our job to be a leading bio-economic development engine for Arizona."