We Make it Easy to Talk to An Arizona Farmer or Rancher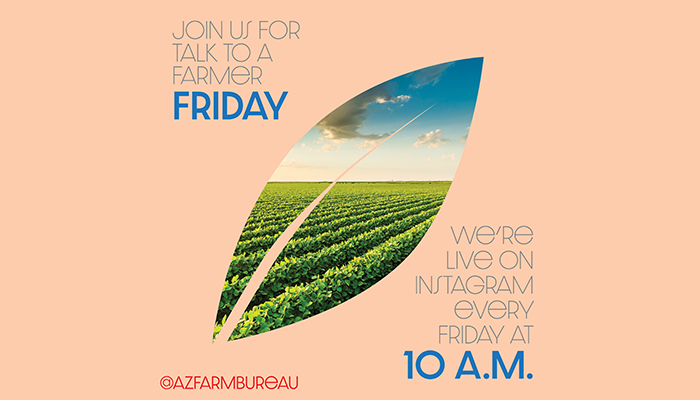 Through Instagram's "Live," split-screen feature, we're taking the time to visit with our Arizona farmers and ranchers and other stakeholders in the agriculture industry. We go all over the state. 
Arizona Farm Bureau's Talk to a Farmer Friday program launched in 2019 so Instagram followers to our @AZfarmbureau social media account can talk to Arizona farmers and ranchers live on their farms and ranches by posting a question on the Instagram Live feed. 
During the first Instagram Live, 100+ Instagram followers logged on to view the conversation we had with Trevor Bales, an alfalfa and Sudan grass hay farmer from Buckeye, Arizona. Bales has already attracted quite a following with friends and fans that watch him daily on Instagram talk about Arizona farming and his family-owned and operated business, Bales Hay Sales. 
We've also begun to feature monthly series that bring in a variety of voices for the Arizona agriculture industry. For example, we recently completed an alfalfa series, water series, Pinal County Farmer series and plan a series on water, soil, climate, and industry innovations with a University of Arizona professor.  
Mark your calendar for every Friday morning between 10:00 and 11:00. We've already visited with more than 120 Arizona farmers and ranchers and agri-business professionals. During the 20 to 30-minute live sessions with our farmers or ranchers, you'll have a chance to pose a question if you follow Arizona Farm Bureau on Instagram: @AZfarmbureau. Plus, we save the segment to our Instagram feed so you can listen to it later at a time that's convenient for you.
One of our "Talk to a Farmer" sessions was with Ashlee Mortimer of Mortimer Farms in Dewey-Humbolt, Arizona. Join us and stay connected to your Arizona farmers and ranchers that love to share their stories about farming and ranching in this vast and diverse agriculture state!