A Study in Leadership from One Arizona Agriculture Couple!
By Julie Murphree, Arizona Farm Bureau: Ever wondered the secrets to leadership? Want a crash course in knowing the key (or, maybe keys) to effective leadership? Maybe all you need to do is take a lesson from one Arizona agriculture couple.
In 2012, Gerald and Arlene Flake of Snowflake, Arizona received the Heritage Award from Arizona Farm Bureau. The award is a capstone for all that the Flakes have done for Farm Bureau and their community in general. The Heritage Award is given to individuals and families that are involved in agriculture and have given extraordinary voluntary service to their industry and to their Farm Bureau.
With a great grandfather helping settle Snowflake, Gerald is a 4th generation rancher. Perhaps a reflection of this generational heritage, his involvement with Farm Bureau began in the 1950s. Gerald first joined Farm Bureau when Floyd Hawkins was president (from 1951 to 1957) and his first leadership role was as secretary for the Navajo County Farm Bureau. Taking on leadership roles in lock step with her husband, Arlene took over the Secretary-Treasurer position and served Navajo County Farm Bureau for more than 30 years. She has also been active in the Women's Committee events and participates in Arizona Farm Bureau's Ag Education programming.
When he became president of the Navajo County Farm Bureau he began serving on the Arizona Farm Bureau Board of Directors from 1980 to1983. You might have thought his time in county leadership was done but he came back for a second act when he returned to be county president again and to the state board in 2001 and was elected second vice-president in 2004 and served through 2007.
And regarding the second vice president slot, when it opened up Gerald felt it was important to have a rancher represented in the officer team but when he couldn't find one willing to serve in the position he ran himself.
And by the way, he's been re-elected now for the third time as Navajo County Farm Bureau President and is once again serving on the Arizona Farm Bureau Board of Directors.
If he ever thought he wanted to hang up his volunteer hat, this rancher just doesn't get to!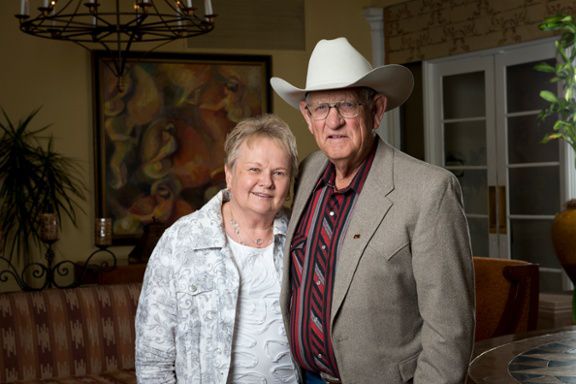 Arlene and Gerald Flake
This Ranching Couple has Lots of Moxy!
Arlene and Gerald have been married for 51 years. They have 8 children, 36 grandchildren and nine great grandchildren. Along the way, they've been completely engaged in their family and community.
All types of engagement exist, but Arlene's love of sports might be a good example to start with. Says Arlene, "I loved being secretary to the athletic director at Snowflake High School and still love High School athletics." Perhaps this is because in her youth she was a softball fast pitch catcher and could have played on a semi-pro team, but chose not to since the team played on Sundays. And, that's not counting the fact that around this time she was also the drum major of the marching band in high school and went to Girl's State.
One could get exhausted just reading all the things Arlene and Gerald have done and are doing. In fact, their list of service just keeps rolling on:
Gerald received the FFA Honorary Chapter Farmer Degree.
He and Arlene served an 18 month mission in Nebraska for the Latter Day Saints and continue to be active with their church.
Gerald is also a member of the Navajo County Cattleman's Association.
Arlene is past president of the Silver Creek Performing Association and volunteered to coach softball and basketball with the Snowflake recreation program.
She is currently serving as the Snowflake Heritage Foundation president.
They both support the local sports teams.
Both Gerald and Arlene studied at Arizona State University where Gerald earned a Bachelor of Science. Says Arlene, "I lack about two semesters to graduate from college and have not given up my dream of one day being a college graduate."
When asked what piece of knowledge about leadership they would share with other Farm Bureau members they both responded, "The more you put into Farm Bureau, the more you get out of it."
So, in a word, the key for Arlene and Gerald Flake on leadership is a simple seven letter word: Service!