Arizona Farm Bureau: In the Beginning …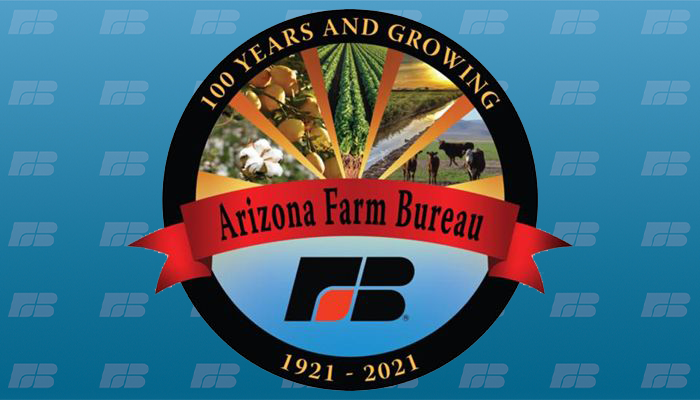 By the time the national organization, the American Farm Bureau Federation (AFBF), was organized in March 1919, "Farm Bureaus" throughout the country had been around in various ways for several years driven by a "grass roots' model that meant efforts started at the local level. In fact, several state Farm Bureau formed prior to the national organization. These state organizations generally started as county units, allied with local extension agents, and in some places ultimately developed into state organizations. 
Such was the case in Arizona, where the state Farm Bureau was formed in January 1918. The first president was Dr. J.C. Norton of Phoenix, the vice-president, C.S. Brown of Tucson. Within a year, Brown had become president, and on March 9, 1921, the Fifth Arizona Legislature passed SB 109, which made the county Farm Bureaus the official county agencies for handling each county's extension work. (Miller, 1972) With Brown at the helm and official recognition by the Arizona Legislature, Arizona Farm Bureau truly became a statewide coalition of the active counties' farmers and ranchers in 1921. 
Life was different back then, of course, and so was agriculture. Much of farming in Arizona was centered on the Salt River Valley, where Roosevelt Dam, completed in 1911, and related projects had created a reliable water supply for over 300,000 acres of prime land. The combination of plentiful water and a nearly year-round growing season made farming and stock-raising a major sector of the state economy, along with mining. And the sparse population —Phoenix had a population of about 30,000 people — meant there was plenty of land to be farmed in the Valley.
There were problems. Because this agricultural abundance was far greater than Arizona could absorb, and because the customers were overwhelmingly located in the northeastern part of the U.S., marketing and shipping were challenges. There was little financial or regulatory infrastructure to support this kind of export agriculture, so one of the first priorities of the new state and county Farm Bureaus was to help organize producers into commodity-based co-operative units to deal with railroads and distributors from a stronger position. County leaders and Arizona Farm Bureau was a key force in the formation of these organizations but also strove to represent all farmers and ranchers in whatever arena an issue arose, whether it was legislation, regulation, or business. 
To truly represent the agricultural community would require an active and involved membership, so the Arizona Farm Bureau method of bottom-up organization was crucial. And because of its involvement with the agricultural extension movement, education and outreach became a primary function of the Arizona Farm Bureau.
Life on an Arizona Farm or Ranch in the early 1900s
In this era when the state's population was small and farming and ranching were easily the most widespread occupations, Farm Bureau chapters were almost as numerous as school districts. A 1921 Arizona Republic newspaper listing gave the calendar for meetings in Maricopa County at Alhambra, Buckeye, Pendergast, Murphy, Laveen, Lehi, and Gilbert schools, and a dozen other locations. 
Almost every county Farm Bureau meeting was organized around some educational or informational topic. One meeting sought to promote the improvement of Pima cotton seed; another held a presentation promoting potatoes as a staple crop for the Salt River Valley. Other topics included boll weevil eradication, dairy improvement, swine feeding and home canning tips, according to an Arizona Republic news article. And while every newspaper in the state invariably featured articles of interest to farmers and ranchers, the leading voice of the community was The Arizona Producer, a publication sponsored by the major agricultural associations of the state, including the Arizona Farm Bureau, the Agricultural Extension Service, the Salt River Valley Water Users' Association (SRP) and all the large commodity/co-op groups. This bi-weekly magazine featured articles for every type of farmer: cotton, grape, poultry, hay and grain, citrus, sheep and more. It also contained information on social activities and farm home management.
The pages of the Producer offer ample evidence of how farming — and life — has changed since the 1920s. Farmers were just beginning to turn from animal power to tractors to clear land, plow, and pull combines. The development of mechanical cotton pickers was just beginning. Cooling of perishable produce required ice hauled from a central plant and kept in a special building on the farm. Then fruits and vegetables would be transported in special ice-cooled railroad cars. 
Most farm homes, isolated in the middle of hundreds of acres, had no electrical service, so lighting came from kerosene lamps, and cooking was done on a wood stove. But change was coming. The pages of local newspapers featured ads for electrical appliances like refrigerators, fans, and radios. And one advertisement featured a poetic, and educational, promotion of washing machines:
                                    This is the husband that Jill got.
                                    This is the washer that she soon bought.
                                    This is the plug at the end of the cord, 
                                    That carries electrical current toward,
                                    The motor that causes the washer to run
                                    So, Jill can get all of the washing done.
One can see the appeal when the alternative was heating water over a fire and working a washboard. And another article in 1927 found it necessary to urge people not to shoot at the new poles and high voltage power lines coming from the Salt River dams to the valley.
But for all the obvious differences with this faraway time, what is also striking is the similarity of some issues from then, to now, and in almost every era in between. And these issues were surfaced by the county Farm Bureaus and elevated to a statewide level depending on how widespread the issue. 
Join Our Family