Beef Arizona Agriculture Style
By Julie Murphree, Arizona Farm Bureau: Historically, Arizona agriculture's beef story is compelling enough. Many of our fifth and sixth generation ranch families in this state got their start in the industry back in territorial times by supplying quality beef to the U.S. Army.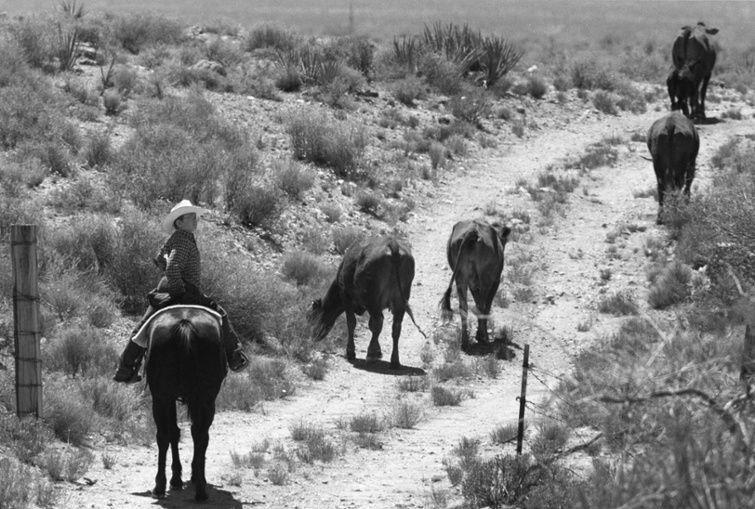 According to historians, while stock raising in Arizona began as early as the 1690s with Spanish settlers and missionaries, large-scale ranching did not really take place until after the American Civil War in 1865, when conditions were more favorable partially because the U.S. Army and seasoned war veterans were now available to protect a growing nation flung out across the northern continent.
As a result, cattle numbers in Arizona quickly grew. In addition, the windmill, which was used to pump groundwater into storage ponds, and two transcontinental railroads across Arizona, enabled large capital investments by businessmen seeking profit in the growing beef markets.
Livestock managed in the early 1890s ran as large as 1.5 million head of cattle, along with more than a million sheep, roaming the Arizona landscape. Just two decades earlier cattle numbers were no more than 40,000.
Severe droughts and other climate conditions changed a previously lush with grasses landscape. Plus, large landscape fires that kept shrub and mesquite encroachment in check were stopped.
Arizona history marks 1891 as Arizona's biggest calf crop during that time; in the interim less than one-half of the average rainfall soaked the ground. Dry years continued after that with 1893 marking the first recorded drought to have major impacts on the cattle industry in Arizona. The southern Arizona cattle population was decimated with up to 75% of all livestock dying. What was left was raced to market where prices plummeted. Only the hardiest of ranchers stayed.
Arizona's unique desert climate in the southern part of the state might be part and parcel why Arizona agriculture's beef industry can lay claim to some unique features in our ranching business in the state.
Beef Arizona Agriculture Style
The fifth-generation King family of Anvil Ranch in Pima County typifies Arizona's long-standing ranch families.
Quoting from Arizona Farm Bureau's Arizona Agriculture 2012 publication, "The family has always cared about the animals, the water and the land," said Micaela McGibbon, oldest sibling of three King children to parents John and Pat King.
Micaela remembers her dad telling stories about Grandpa King describing, "neighbor round-ups." She tells stories about how everyone used to gather when the range was unfenced between ranches. "They'd begin with round ups that would start in Sasabe and head north all the way to Red Rock. Neighbors along the way would join the round up, ride their part of the valley and gather and brand all the cattle. Since I've been little we never have gathered with our neighbors so these stories are unique to me."
The King family recognized the ongoing need for range management back then while holding on to their heritage as a ranching family.
Quoting from an article done by the Natural Resources Conservation Service (NRCS), "The long-term history of the ranch is interesting and carries great value," said Joe King, youngest of John and Pat King's children and currently president of Pima County Farm Bureau. "We know what the ranch was like before us and what it is capable of being. Ranching is what we do."
Adds Micaela, "I feel that my family has actual roots and are well grounded. We know where we came from. I was raised in the same place my dad was raised and grandfather and great grandfather. We feel it's our calling. We enjoy the land, the animals, and the work."
"One of our more challenging goals has been the reduction of mesquite, noxious plants and other encroaching shrubs," said Micaela's younger brother, John. "Working with NRCS, we utilized chemical, mechanical and fire. We found fire was the most cost effective. By setting aside a pasture for one entire year, we burned just before the summer rain and let the pasture rest for two growing seasons. We were able to burn about one fifth, or 12,000 acres, between the years of 1985 and 1997 and had a great program established until we were stopped by the Endangered Species Act. The result of the burning was dramatically positive and has been well documented by monitoring transects and pictures. Not only did the ranch recognize the benefit of the fires, hunters would stop by and ask where we had burned. They found greater numbers of all game on the newly burned areas. We also observed that many 'endangered' plants and animals seemed to thrive in these rejuvenated grasslands."

"There wasn't any cross fencing at that time either, so we worked with NRCS to put up fence," said mom Pat King. "We continued to do so through the 1980s and began our pasture rotations. Before we had cross fencing, it took time and a lot of man power to round-up the animals, count them and feed them."
All the King family's efforts meant better land conservation and a better legacy for their family including producing quality beef for the markets.
The Value Cattle Bring to the Land
The King family's tradition of caring for the land and their cattle is what you typically find with Arizona's ranch families.
Another ranching family with five and six generations of Arizona ranching families on both sides, the Tomerlins believe Arizona ranching possesses two unique features. "Something we can certainly distinguish from ranching in the Midwest (or even between Northwest and Southwest) would be Arizona's roughness and remoteness," says Danny Tomerlin, co-owner with his wife Kacie in Arizona Legacy Beef. "As a result, cattle add an immediate value to land in areas where development or crop farming is just not possible. Also, Ranch families in Arizona get to retain a lot of our heritage because this same land that's not practical for development or other types of farming maintains it pristine surroundings. Along with ongoing conservation practices, our ranch operations still run pretty much the same as the generations before."
Tomerlin, whose heritage breed of cattle, Criollo (kree-o-yo), jokes that sometimes their biggest expenses become "horseshoes and dog food."
And on the value of cattle, the Tomerlins understand the importance of a cattle herd. Having developed a direct-market beef, Danny and Kacie have gone to great lengths for quality beef. Criollo cattle possess the same genetics as their ancestors of long ago allowing them to perform well their entire lives on rangeland and pasture grasses. Due to their genetics, Criollo beef has exceptional flavor and tenderness yet is lower in total fat, saturated fatty acids and cholesterol than traditional breeds. This naturally lean beef has a higher proportion of red muscle fibers versus white muscle fibers and that translates into an increased amount of marbling and tenderness through all the cuts of meat.
Patrick Bray, executive director for the Arizona Cattle Growers' Association in a recent issue of Arizona Agriculture, agrees that the tools of the ranching trade have not changed much. "The desert sunset featuring a cowboy atop his horse is one that every American loves," said Bray. "It has been used to sell everything from cigarettes to real estate. Some of the tools of the trade have not changed much either, like the horse, rope and hot iron brand. While the city folk romanticize about being on horseback pushing that big herd underneath the western sky, that cowboy in the image is busy trying to stay competitive in an ever-changing market. Gone are the simple days of driving large herds of cattle to market, collecting a check and calling it a day. Great change has taken place over the years toward not only becoming more than sustainable but also to remain resilient in markets which move in gigabytes."
Speaking of Arizona's cattle market, Bray highlights that the cow herd and calf crops are at all-time lows. "Although we have seen this at other points in history, the market in which we compete today is highly sophisticated compared to the old horse and rope. Today, ranchers can watch and purchase from live cattle sales half way across the country, all while reclining in the comfort of an easy chair and have them delivered in a matter of days. Stop to think about that: just a decade ago that was not at all possible. So the question remains, how do we incorporate technology into a business that still heavily relies on a cowboy and rope? How do we harness the technology the average person is using to better our business? These are real issues that we have to consider if we are going to be a competitive ranching operation and compete in a global market."
Bray and others go on to explain that while any gathering of ranchers may focus on market prices, the techniques of monitoring changes in the landscape and stewardship also dominate the conversations. One important program is the University of Arizona Extension's program called "Reading the Range" for a few years collecting data to monitor trends and to assist producers in making critical decisions regarding grazing rotations.
Ultimately, a combination of tradition and technology advances are helping Arizona agriculture's ranch families make a difference in their futures and ensure quality Arizona beef.