Border Security for Arizona Ranchers: Meet a Momma Bear on the Border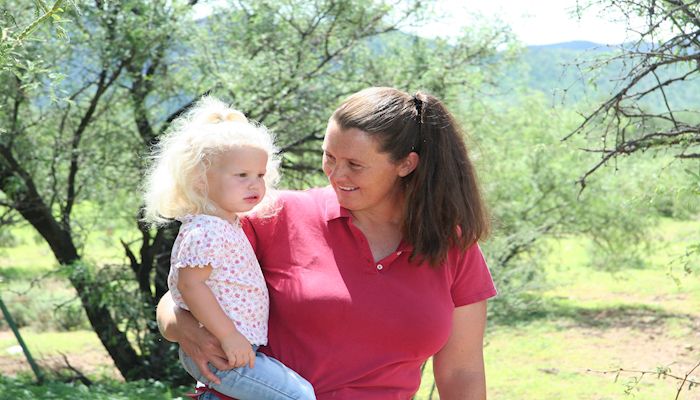 Editor's Note: First published in October 2010 in our monthly Arizona Agriculture, this story may have as much relevance for today as America debates the border wall as it did when first published. Eight years later, as I reread this article I wrote so long ago, not much has changed. This family still must operate very carefully when they are out and about on their ranch. I have my own story. Just three weeks ago, hanging out with dad on his property that's 70 miles from the border, we came across a Mexican national asking for "agua and comida." Thirsty and hungry, we fed him then called an overextended Border Patrol.
Some stories speak for themselves: "Back from Arizona Cattle Growers' Convention and already two illegal immigrants came to the house today," wrote Micaela McGibbon on her Facebook account in July, a rancher and mother of three living in southern Arizona. "The flow of illegals hasn't stopped yet! Crime is down? Really? I had two trespassers and three baby girls that I had to protect because of them. The encounter ruined our swim time. Let's secure the border now!"
Since Robert Krentz's murder on the border, last March by a suspected illegal alien and the passage of Arizona's SB1070, a horde of reporters have descended upon southern Arizona to get their own version of the story of life on the border.
No one's really talked to the moms and children living on the ranches. But Micaela McGibbon has a story she's willing to share with whoever might listen. She's a momma bear about it. And she won't stop talking until something's done. Her story is about border security in Arizona.
In the wild, a female bear will protect her cubs so fiercely that she would risk death for them. Most human mothers feel the same; risking personal injury or death to save a child is not out of the norm. For those farm and ranch moms reading this, are you facing potentially dangerous situations daily in a land that's become as notorious as the wild west was not too long ago? Some suggest worse.
It's our southern border where many Arizona ranch families make a living and want to raise their families. The McGibbon family is one example.
Arizona Farm Bureau members in leadership on the county level, Drew and Micaela McGibbon's three girls are ages nine, four and two. So, besides the normal routines of any agriculture family, the McGibbon family has other things on their list of daily experiences to contend with.
Lions, Tigers, and Bears … and Illegals, Oh My
It's rough land out in southern Arizona. Besides the occasional rattlesnake, the McGibbons' Santa Rita Ranch butts up against the beautiful Santa Rita Mountain range. They often must contend with mountain lions and bears.
That should be enough, but it isn't. Their more frequent encounter is with groups of illegal aliens that range in age from two to 40. "We average a sighting a week," says Micaela McGibbon, "so, as a family, we're conscientious about the dangers we face."
The children understand this more than one might think. Four-year-old Cora gave a prepared speech at this year's Cattle Growers' Convention. Cora used her stuffed animals to tell her story about domesticated and wild animals. When she came to her dog for the domesticated animal example, her explanation was "My dog protects me from snakes and illegals," she said rather matter-of-factly.
"I chose this lifestyle; that's why I am here," says Micaela. "It would be so much easier to live down the hill away from these challenges. But, I'm involved since I manage my own herd of registered Red Angus cattle. I want my children to do this with me. It's not acceptable that I should have to give this up because of what's happening on our border."
But as a result, Drew and Micaela must be more vigilant as parents to protect their family.
Drew and Micaela describe "never getting a break" from the illegal activity that's occurring right on their land. They know the more hardened element travels through their ranch because of the mountains. "It would be nice to go out for a walk and not feel threatened," says Micaela.
Micaela's epiphany moment about the level of risk they regularly face came when their oldest was three. "We were in the supply yard when a group crossing the desert began to approach us. The only thing that prevented them from coming closer was our dogs."
In fact, the family is never without their dogs. And since there are too many occasions when the men are out on the range, Micaela and Drew have set up strategies and resources (namely the dogs) to establish protection for the family and it's at these times when the momma-bear mode kicks in.
A momma bear, yes; a gun totting momma, no less. "I'm not out to get anything, just protecting," she says. "These groups are carrying automatic rifles so immediately they're much better armed. Especially when drugs are being hauled in a group, there's more than one person carrying a gun. It's useless for me to take my gun and go 'bang' when an automatic rifle from the drug traffickers will respond with rapid fire."
So her strategies include never going out without the dogs around, always letting Drew and others know where she's at, considering the risk factor before deciding where she'll go and what she'll be doing and never allowing the children to be without adult supervision.
And the dogs do go off. In fact, it always puts the family on high alert, especially since the dogs have different tones. "We've come to recognize their tone when it's a group of illegals," says Micaela. "Some of our dogs have been beaten by them so the dogs themselves have come to recognize the three-days-in-the-desert smell which puts the dogs in a rampage. Their primary job is to keep us safe. That's what we rely on. They are our eyes and ears when our backs are turned."
Becoming a Mom always changes one's perspective. It certainly did for Micaela. "As much as I speak out now about what happens on the southern border," says Micaela, "as a single person, I'd probably be one of those crazy people speaking out advocating for everything and more than I do now, even saying, 'come get me.' But I can't [put a target on mine nor my family's back]. I've got to protect my children. I try to push that line, but I can only go so far."
Micaela never imagined her role as a mom would have her on this level of safety alert. "When I was growing up my mom would tell us 'there's the door and I don't want to see you until I ring the dinner bell.' We went out, helped Dad, rode horseback, whatever."
And when ranch families find stashes of guns hidden in dry washes on their properties, they know the border situation has escalated. More than one ranch family's fatalistic question now becomes, "When will we be caught in the crossfire?"
On the McGibbons' Santa Rita Ranch, crossings are not quite as frequent near Drew and Micaela's house. At her parents' Anvil Ranch, south of Tucson, the sightings of illegal aliens at their house are almost daily.
"On the national level, you get the sense that our leadership couldn't care less," says Drew. "On the local level, they're more concerned about not offending specific groups."
And Drew and Micaela suggest the biggest victims in all this are the Mexican nationals crossing the border trying to make a decent living.
They tick off story after story of how Mexican nationals are being abused in this situation including one group of illegal immigrants carrying a vial with black liquid in it. Asked what it was, one illegal responded it was urine being used over and over again to keep their six-year-old son hydrated.
"Women and children are the people that get left behind," explains Micaela. "The Coyotes have a mission: a pick-up time and date. And the summer can be the worst because of the heat."
Because of southern Arizona ranchers' close proximity to the border, they see clear options on how to resolve this. "Enforce the border at the border," says Drew and Micaela McGibbon. They also suggest that "more boots on the ground at the border" truly means more boots; not manpower sent out here to push paper.
Many southern-border ranchers base the premise of more boots on the ground on National Guard training exercises done near the border. When the National Guard conducted exercises nearby, it became an automatic deterrent for illegal crossings in those areas.
Micaela McGibbon is a mother standing guard. She's standing guard, along with other farm and ranch families in southern Arizona, in a war zone. The battle cry is border security in Arizona!
In the meantime, the momma bear syndrome is alive and strong on the border. It has to be to survive.
Join Our Family