Farm Bureau: Raising Yarnell
By Brett Clausen, Arizona Business Unit Vice President for Farm Bureau Financial Services: On Saturday, September 14, we had the privilege of attending Yarnell's first groundbreaking ceremony. This was a monumental first step for the small neighborly town still recovering from the devastating fires that took the lives of the 19 Granite Mountain Hotshot firefighters and destroyed 129 structures within and surrounding this small hillside community here in Arizona. As we traveled through this picturesque community, charred boulders and partial foundations lie next to the neighbors' homes that escaped the devastating fires.
The wildfire ignited by lightning on June 28, 2013 was finally contained on July 10, 2013. Roughly 9 ½ weeks later, the first permit has been issued to Farm Bureau members and policyholders Roy and Stacy Pizzirusso, to lead the way for this tight knit community to rebuild, one home at a time, raising Yarnell once again.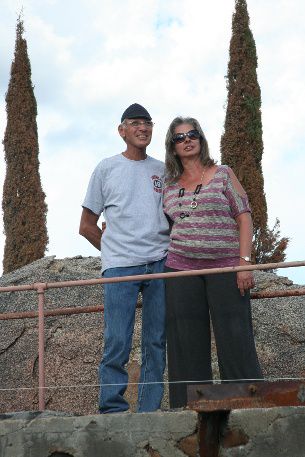 Spending time with Roy, Stacy and the Yarnell townspeople, listening to their stories, sharing a hug, wiping a tear, and being part of the celebration was humbling. Roy said it best, "This is Yarnell – no stop light within 23 miles – we are what Prescott used to be in the 1960's. Honest, hardworking people. We are a community. From the banker, local grocer to the local restaurant owner, everyone knows everyone. When we have conflict, we deal with them face to face and resolve our differences quickly. You don't find that in the big city."
As I toured the charred remains with Roy and Stacy, they were most appreciative of Farm Bureau Financial Services and the service provided by their agent Jill Steigleman. Now why is this significant? Six months prior to the loss Jill had just met with them to conduct their annual policy review. Stacy had just lost her job at the bank and knew that they needed to have adequate protection in place.
Had this not occurred, they would not have been able to be part of any groundbreaking. Congratulations Jill! I also have to commend Jill on going above and beyond. Knowing that Stacy collected Egyptian Perfume bottles and lost her entire collection in the fire, Jill and her assistant Barbara Miles found three of these antique collectibles, purchased them and presented them to Stacy at the groundbreaking. Yes, these were the first tears of the day and the beginning of restoring her treasured collection.
Where's Bobby? Is he going to be here tonight? At first, I was unsure of who Roy was referring to. He said that his first contact with Bobby was right after they called in the loss. Although Roy admitted that it didn't really register with him until several days later, he still remembers Bobby telling him they could rebuild – you have enough insurance. Then it hit me…it is none other than our very own field claims representative Bobby Zaabadick.
Roy went on to describe the uniqueness of their home, what drew them to purchase this property many years ago. The fireplace, the only standing part of the structure left, sold Stacy at first site. Unfortunately, the mahogany trees that graced the front entrance to the home had to be cut down in order to make room for the rebuild. "They were planted 14 years ago, but not all was lost. I was able to save the large mahogany pieces and plan to make me a new guitar. You know, I am a musician and nothing can make a guitar sound as nice as a good mahogany stock."
A sense of hope is rising in Yarnell. We can rebuild. Local musician, singer, DJ & entertainer Denise Roggio was there leading the townspeople in singing "raising Yarnell from the ashes" as well as many other well-known classic songs, providing a much needed festive atmosphere, to go along with the great BBQ potluck you would come to expect in the neighborly community of Yarnell.
A sense of pride was felt by all of us from Farm Bureau. We make insurance simple. The important work we do as agents, claims adjusters, underwriters and customer service often times goes without recognition. On this day, it was in the spotlight.
Mission accomplished!