Farm Family Experience at Rocker 7Farm Patch
By Peggy Jo Goodfellow, Arizona Farm Bureau: After more than six years of farming, Brandon and Katie Leister had a dream to open up their farm to welcome neighbors and the community. Their vision was to offer a fun, family farm experience, where they would educate as much as entertain families. Their dream became reality when Rocker 7 Farm Patch opened in the Fall of 2014.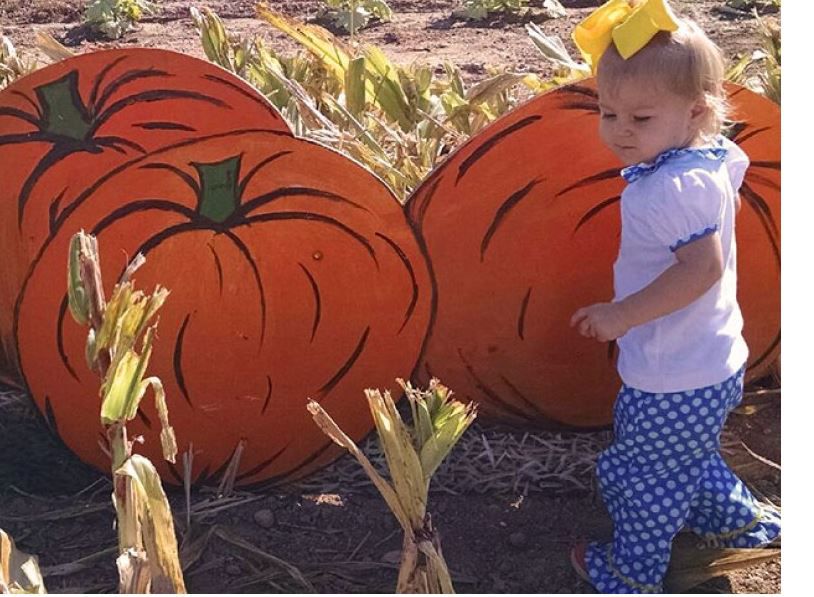 Brandon and Katie Leister are committed to helping Arizona families understand agriculture in Arizona. Their daughter is helping too. 
Brandon is a fourth generation Arizona agriculturalist. His role at the Farm Patch is to oversee the actual crop production of the pumpkins you will pick and the corn maze you will navigate.  Katie is involved in the business operations and promotion of the business. She makes sure everyone knows to visit the Farm Patch in the fall.

The Executive Director of the Rocker7 Farm Patch team is Brody McGuire. He uses his teaching experience, passion for Arizona agriculture and family background to create a fun, entertaining environment for families and an engaging educational experience for students.  Brody's enthusiasm brings agriculture to life for anyone he meets.
From their website: "Rocker7 Farm Patch is truly a family operation that has been years in the making. We are beyond excited to finally share the farm with other families, to help them create a memborable farm experience!"
Don't miss Rocker7 Farm Patch Fun during the last three weekends in October!
Starts:             October 10, 2015
Place:             19601 W Broadway Rd, Buckeye, AZ 85326
Hours:           Saturdays                    9 am to 6 pm
                        Sundays                      1 pm to 6 pm
Admission:     $9 per persdon   (Children in diapers are free of charge)
Admission Includes: The pumpkin patch, corn mace, barrel train, jumping pillow, hay ride, educational barn and lots more!    
Editor's note: This is the fifth in a series of Fall Festival articles: One of Arizona Agriculture's Happening Places: Schnepf Farms, Arizona Agriculture's Family Farm in the City: Tolmachoff Farms, Country Values Found in the City: Mother Nature's Farm and Wild Farm Fun at Mortimer's Family Farms. For more information on our member benefits including our regional benefits go to Arizona Farm Bureau's member benefits page online. Or, download the Member Benefits app (FB Benefits) to your smart phone for easy, everyday access to your benefits