Meet Arizona Agriculture's Korin Creech
By Julie Murphree, Arizona Farm Bureau: Meet a young woman dedicated to community supported agriculture celebrating the Farm Bureau family way. Though Korin Creech's farm business is young, she's tapping into a generation of experience to advance and improve her enterprise. Korin represents the growing number of female-owned farm enterprises.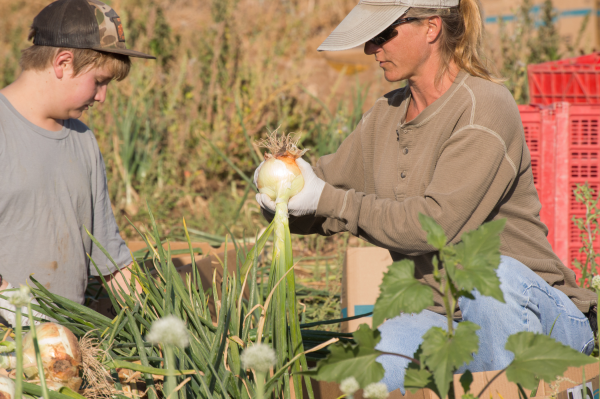 Korin with her nephew harvesting onions for the CSA and farmers' markets.
Tell us about your farm. We're a Queen-Creek based CSA, organic farm growing produce on about 30 acres called Desert Roots Farm. We understand that consumers place great value in knowing that the food they feed their families is as fresh and healthy as possible. Desert Roots Farm grows without the use of pesticides or synthetic fertilizers. The fresh produce that you'll receive in your weekly share as a member of the Desert Roots Farm CSA is all grown at our farm in Queen Creek, Arizona. Your veggies are harvested fresh from the farm and delivered directly, within 24 to 48 hours after harvest, to you for ultimate freshness and taste. As a member of the Desert Roots Farm CSA, you'll get the opportunity to try a diverse selection of crop varieties - many that you won't find at any grocery store. Each week, your veggie bag will include a "Recipe of the Week" that features one of the vegetables included in your bag that week. Our web-site also features a "RECIPE" page with hundreds of recipes listed and arranged by vegetable. Lots of opportunities to make the most of your vegetable share each week. Our goal is to bring the farm back to the community and the community back to the farm. Through this relationship, everyone benefits. We at Desert Roots Farm can continue doing what we love to do - GROW, and the community receives high quality produce and the benefit of knowing exactly who grew it and where it was grown. We serve the Gilbert Farmers Market. We're working to open one in Tempe.
What changes have you seen in your lifetime as it relates to farming and/or ranching

? Well, mine is a short-term perspective as I only started farming in 2008, six years ago. I started out working part-time for Kelly Saxer, the original owner of Desert Roots Farm. I had a part-time weeding position that ended up turning into a lifetime passion. My passion for farming continues to grow. It helped a bit that my Grandfather had a backyard farm in Michigan; very small and we grew produce just for our family.

Why did you choose to go into agriculture? Again, my part-time weeding position turned into a lifetime passion.
Will anyone in your family - younger generation - pursue farming and/or ranching? I have a daughter and a daughter-in-law. I would love to have them involved. So it's a "maybe." My nephew is very interested in it, though and helps me out a lot.
Would you ever consider growing an emerging crop or changing your farm or ranch model? I would and do think about it often. Right now I'm working to expand the farm. Working with our conservation district on water conservation efforts on the farm.
What are your community activities? Anything to do with life recovery groups. I am big on different types of recovery with different groups. Desert Roots Farm is now donating to a food bank in Phoenix.
What is one fact/experience/achievement no one knows about you? Well, I've just achieved seven years of sobriety. I've turned my life around so dramatically, from a horrific mess, to becoming a successful business owner and a proud member of our community. I'm proof that anyone can overcome a lifetime of addiction. Plus, you need people that believe in you and Kelly Saxer is one of those individuals.
What do you think you do really well? Explain. I think that I communicate well with people.
Why are you a farm bureau member? I could get insurance somewhere else but everything about Farm Bureau is based and geared to farm life and the unique aspects of farm and ranch businesses. I can call anytime and there are resources galore.
How will the next generation of farmers have to operate? Very carefully because I think we're going to be a lot more regulated.
Editor's note: As of 2017, Owner Korin Creech recently sold her business and is working as a farm manager for another retail farm operation in Arizona.
Join our Family!